With a varied geography and some great cities and college towns, Missouri is a fine place to settle down. During time off, residents can enjoy a weekend camping trip to the Ozarks or some great country music in glitzy Branson. Need some help choosing the best Missouri city to live in? Scope our list of the Show Me State's most liveable cities.
1. O'Fallon
Missouri's best city to live in is O'Fallon, a large community of over 87,000 in the St. Louis Metropolitan area.  Several large businesses, including Mastercard, operate in the city, providing a spark to the economy. O'Fallon has many acres of public parks that include playgrounds, football fields, and walking paths.
2. Lee's Summit
Lee's Summit is located in Jackson County on the western edge of the state. Lee's Summit boasts a well-educated population with a median household income above the state average. Many residents are employed in health and education, notably the University of Central Missouri.
3. Saint Peters
Placing #3 is Saint Peters, a pleasant city of around 57,000 in St. Charles County. Saint Peters' well-to-do residents enjoy over 1,000 acres of public parks and nature trails, as well as the St. Peters Rec-Plex, a huge training, and recreation complex next to the city hall.
4. Ballwin
We return to the St Louis metropolitan area for #4 Ballwin, an idyllic middle-class community of about 30,000 with a higher than average median household income and plenty of parkland for outdoor recreational activity.
5. Saint Charles
Closing out the top five is Saint Charles, a  mid-sized suburb of St. Louis with a riverfront area featuring shops, restaurants, and casinos that attracts residents and visitors, both, in addition to providing many jobs to the community.  
[table id=91 /]
Did your city make the list? Share the good news!
Feel free to share this badge of recognition. Please include attribution to https://www.chamberofcommerce.org/.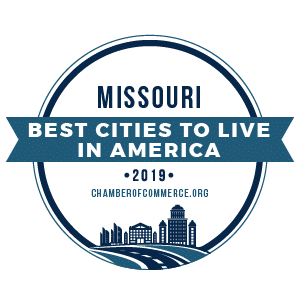 Methodology
We ranked a total of 2,509 qualified cities (those with populations above 25,000 and enough data for analysis) by five factors: employment (number of establishments, median earnings); housing (owner-occupied housing with a mortgage, monthly housing costs); quality of life (work commute, poverty levels); education (percentage with a bachelor's degree or higher); and health (obesity ratios).