As the birthplace of the blues and a main battleground of the 1960's civil rights movement, Mississippi has a ton of history and cultural cache. Nowadays, the Magnolia State is battling to improve its education system, healthcare, and economic standing. If the state at large takes cues from our picks for Mississippi's best cities to live in, things should improve in a short span.
1. Madison
Mississippi's best city to live in is Madison, a small city of around 26,000 named after the fourth president of the United States, James Madison. With an estimated median household income of over $100,000 (over twice the state average), Madison's residents are affluent and well educated.
2. Hattiesburg
Ranking #2 is Hattiesburg, the county seat of Forrest County. Hattiesburg's economy benefits from the presence of several large companies such as Kohler Engines, Regions Financial Corporation, and Coca-Cola Bottling Company United. Multiple theaters, museums, and art galleries ensure that there is always plenty to do in the city.
3. Brandon
East of the state capital lies #3 Brandon, a small city of around 24K with a median household income higher than the state average. The city is on the rise, with the local government investing in new infrastructure and new fire stations to increase the safety of its inhabitants.
4. Clinton
Our #4 Mississippi city, Clinton, is also located in the Jackson metropolitan area, making it a great, peaceful place to settle if one must commute to the capital for work. Clinton is home to Mississippi College, the oldest in the state and the second oldest Baptist college in America.
5. Ocean Springs
#5 Ocean Springs is a delightful little coastal city with a unique downtown area featuring a diverse array of shops and restaurants uncommon for a Mississippi community. Ocean Springs' offbeat character and art galleries make it a gem unlike any other in the state.
[table id=92 /]
Did your city make the list? Share the good news!
Feel free to share this badge of recognition. Please include attribution to https://www.chamberofcommerce.org/.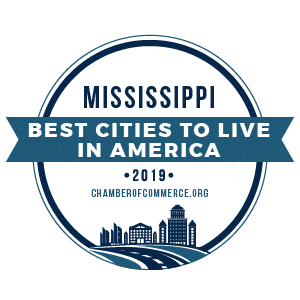 Methodology
We ranked a total of 2,509 qualified cities (those with populations above 25,000 and enough data for analysis) by five factors: employment (number of establishments, median earnings); housing (owner-occupied housing with a mortgage, monthly housing costs); quality of life (work commute, poverty levels); education (percentage with a bachelor's degree or higher); and health (obesity ratios).