Don't be afraid of the cold, snowy weather, Minnesota is one of the best states in the U.S.A. First of all, there are the lakes–all 10,000 of them–they are great for fishing, picnicking nearby, running around, or just gazing out wistfully into. Then, there's the Jucy Lucy, a burger where the cheese is actually inside the meat.
Most importantly, though, there's the well-educated, civic-minded populace, responsible for the fifth highest voter turnout in the nation in the last presidential election. If you have a move to Minnesota on the horizon and are wondering which city suits your needs the most, you can do no better than our list of the best Minnesota cities to live in.
1. Eden Prairie
Topping the list of Minnesota's best cities to live in is Eden Prairie, an edge city in the Minneapolis area with numerous corporate headquarters, lakes and walking trails, shopping centers, and excellent public schools. Eden Prairie's mixed-income model means that people from every socioeconomic background can afford housing in the city.
2. Rochester
Minnesota's #2 most liveable city is Rochester, the state's third largest and the county seat of Olmsted County. As home to a large IBM facility and the renowned Mayo Clinic (the largest employer in the state), Rochester's residents are well-paid and highly educated.   
3. Osseo
At just under 3,000, #3 Osseo is the smallest city in Minnesota's top five. The pleasant midwestern hamlet is renowned for its annual Lions Roar, a parade and celebration with crafts and food stands held in early September.
4. Minneapolis
Placing #4 is Minneapolis, the state's largest metropolis and a global city known for its thriving economy, liberal character, and excellent nightlife scene.
5. Hopkins
Another suburb of Minneapolis, Hopkins, places #5. Hopkins median home value is lower than its neighbors, making it an affordable, yet pleasant city to settle down in.
[table id=90 /]
Did your city make the list? Share the good news!
Feel free to share this badge of recognition. Please include attribution to https://www.chamberofcommerce.org/.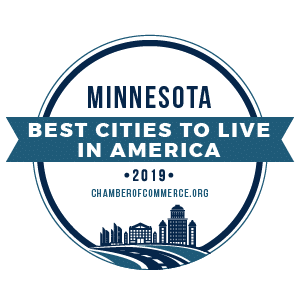 Methodology
We ranked a total of 2,509 qualified cities (those with populations above 25,000 and enough data for analysis) by five factors: employment (number of establishments, median earnings); housing (owner-occupied housing with a mortgage, monthly housing costs); quality of life (work commute, poverty levels); education (percentage with a bachelor's degree or higher); and health (obesity ratios).