Maryland is a land of contrasts: farmland in the north, cities in the south, mountains in the west and beaches in the east. Furthermore, depending on where you are coming from, it can be considered as either the north or the south and has characteristics of both. Where you decide to settle in the Old Line State depends on what type of environment you are most comfortable in, though we can help. Reading up on Maryland's five best cities to live in should let decide which aspects of the state's varied character attract you the most.
1. Towson
Maryland's best city to live in is Towson, a large suburb north of Baltimore. Towson is a great community with many varied neighborhoods, a developed business sector, and plenty of shopping districts. The city is home to Towson University, the second largest public university in the state, which supplies many jobs to the populace. Literature enthusiasts take note: F. Scott Fitzgerald conceived and began writing his classic novel, Tender is the Night, while living in Towson.
2. Bethesda
Northwest of Washington, DC lies #2 Bethesda, a large unincorporated community with sizable government, medical, and R&D economic sectors that make its populace one of the most well educated in the country. The thriving city is home to Bethesda Row, a lively downtown district with many shops and restaurants.
3. Olney
Third in the ranking is Olney, another bedroom community of Washington where many of America's best and brightest come to settle. The city is home to the Olney Theater, one of only two state theaters in Maryland.
Rounding out the top five are two Howard County suburbs of Baltimore: Colombia (#4) a unique planned community of 10 self-contained villages designed with utopian ideals in mind, and Elkridge (#5), an affluent community with a host of sprawling parks and recreation areas.
[table id=87 /]
Did your city make the list? Share the good news!
Feel free to share this badge of recognition. Please include attribution to https://www.chamberofcommerce.org/.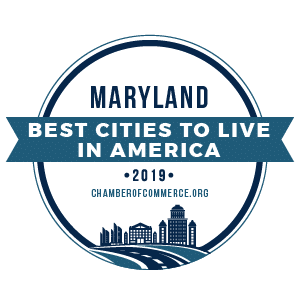 Methodology
We ranked a total of 2,509 qualified cities (those with populations above 25,000 and enough data for analysis) by five factors: employment (number of establishments, median earnings); housing (owner-occupied housing with a mortgage, monthly housing costs); quality of life (work commute, poverty levels); education (percentage with a bachelor's degree or higher); and health (obesity ratios).