Maine is a nature lover's paradise: pristine forests, snow-capped peaks, lovely lakes, and wildlife all around. While its a bit isolated from the hustle and bustle of southern New England, living in one of Maine's quiet, charming communities will change your life (for the better). Here's a closer look at Maine's five best cities to live in.
1. Portland
Portland is our pick for the best city in Maine to live in. The city of around 67,000 is the economic hub of northern New England with growing financial and technological sectors bringing tons of jobs into the area. Despite its economic success, Portland still has the feel of an old fishing port, with one of the best restaurant and bar scenes in the country for a city its size. Fresh lobster rolls, anyone?
2. South Portland
We don't have to travel far to hit #2 South Portland, a cozy waterfront city located on Portland Harbor overlooking its larger neighbor to the north. If Portland is too busy for your tastes, South Portland has all the New England waterfront town appeal without the tourists. Residents love Willard Beach, the last free beach in the region.
3. Bangor
Third on the list is Bangor, a small city with a population of 31,000 on the Penobscot River that began as a 19th-century shipping town and lumber port. Nowadays, Bangor's economy has shifted towards the service and education sectors, as the city is home to several public and private higher learning institutions, lending the city a youthful, bohemian vibe.
4. Waterville
Waterville is a quaint little city located on the Kennebec River that is the home of two colleges. Waterville brings to mind the setting of a Stephen King novel, without the ghosts or cabal of vampires.  
5. Augusta
Closing out Maine's top #5 is Waterville's neighbor and state capital, Augusta, another idyllic river city.
[table id=88 /]
Did your city make the list? Share the good news!
Feel free to share this badge of recognition. Please include attribution to https://www.chamberofcommerce.org/.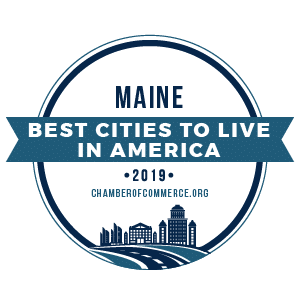 Methodology
We ranked a total of 2,509 qualified cities (those with populations above 25,000 and enough data for analysis) by five factors: employment (number of establishments, median earnings); housing (owner-occupied housing with a mortgage, monthly housing costs); quality of life (work commute, poverty levels); education (percentage with a bachelor's degree or higher); and health (obesity ratios).