Though Louisiana has its problems, few other U.S. states are as uniquely charming and distinctive in character as The Bayou State. With its hodgepodge of French, Spanish, African and American Southern traits, life in Louisiana can be delightful and varied.
However, not all of the state's cities are created equal, and if you are planning a move to Louisiana, choosing a city near the top of our ranking of the best Louisiana cities to live in is your best bet.
1. Mandeville
Mandeville, a cozy little city in St. Tammany Parish, is Louisiana's best city to live in. Mandeville is separated from New Orleans by Lake Pontchartrain, and shares much of the character and musical legacy of its larger neighbor while avoiding the crime and hedonism. In 2013, Mandeville won an eCity award due its forward-thinking small businesses aptly using internet marketing to attract consumers.
2. Covington
Ranking #2 in Louisiana is Covington, another small city in St. Tammany Parish at the fork of the Tchefuncte River and the Bogue Falaya. Covington boasts a history dating back to the early 1800's and has recently witnessed a population boom in the wake of Hurricane Katrina as displaced New Orleans residents relocated to the city.
3. Lafayette
Lafayette is the fourth largest city in the state and the parish seat of Lafayette Parish. Often considered the center for Cajun culture, Lafayette maintains a character quite unlike any other in the country. The city is home to a university and the last Borden's Ice Cream location in the United States.
4. Prairieville
Placing #4 is Prairieville, a mid-sized bedroom community of state capital Baton Rouge that has seen a lot of growth in recent decades due its great public schools and affordable housing.
5. Gonzales
Completing the top five is the nearby Gonzales, a colorful small city and self-proclaimed "Jambalaya Capital of the World", a status celebrated each year with the city's Jambalaya Festival.
[table id=85 /]
Did your city make the list? Share the good news!
Feel free to share this badge of recognition. Please include attribution to https://www.chamberofcommerce.org/.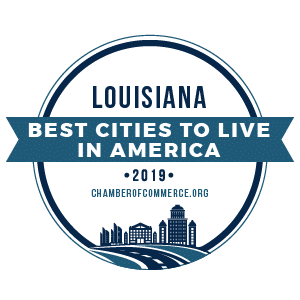 Methodology
We ranked a total of 2,509 qualified cities (those with populations above 25,000 and enough data for analysis) by five factors: employment (number of establishments, median earnings); housing (owner-occupied housing with a mortgage, monthly housing costs); quality of life (work commute, poverty levels); education (percentage with a bachelor's degree or higher); and health (obesity ratios).