Those searching for a different, more relaxed pace in life should look no further than settling in Kansas. With its friendly midwestern character, terrific BBQ and serious college basketball tradition, The Sunflower State has a ton to offer. Here's a look at the top five Kansas cities, where all of the state's qualities best shine through.
1. Leawood
Our choice for the #1 city in Kansas is Leawood. The Kansas City metro area suburb is affluent– with a median household income topping $117,000– and notable as the home of the United Methodist Church of the Resurrection, the largest Methodist church in the nation.
2. Mission
Mission, a modestly sized city of just under 10,000 in Johnson County, ranks #2 on the list. The first suburb of Kansas City, Mission retains its "small Midwestern city" vibe with modern 21st-century amenities.
3. Lenexa
Lenexa is also a Kansas City suburb, but five times the size as Mission, with a population topping 53,000. Industry has long boomed in the city: it is where the multinational tech company Garmin was founded and houses the regional headquarters of Kiewit Construction. Because of the many firms with a presence in Lenexa, the populace is more highly educated and better paid than the state at large.
4. Overland Park
Overland Park, the second most populous city in Kansas, is our pick for the #4 best city to live in. Its status as a hub of tech company activity–hosting the headquarters of Sprint, YRC Worldwide, and Netsmart Technologies–renders it an in-demand destination for young, highly educated professionals.
5. Olathe
Closing out the top 5 is Olathe, the county seat of Johnson County. Like many of its neighbors, Olathe pairs its rustic midwestern charm with thriving economic activity: the city has large industrial parks housing offices for Garmin, Honeywell, and others.
[table id=83 /]
Did your city make the list? Share the good news!
Feel free to share this badge of recognition. Please include attribution to https://www.chamberofcommerce.org/.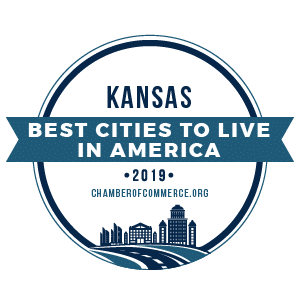 Methodology
We ranked a total of 2,509 qualified cities (those with populations above 25,000 and enough data for analysis) by five factors: employment (number of establishments, median earnings); housing (owner-occupied housing with a mortgage, monthly housing costs); quality of life (work commute, poverty levels); education (percentage with a bachelor's degree or higher); and health (obesity ratios).