The Hawkeye state is a great place for families to settle for a number of reasons: low crime, low unemployment, and great universities. While it may not be the most exciting state in the country to reside in, Iowa has a number of small cities that make perennial lists of the best spots to live in the US. Here's what we think are Iowa's best cities to live in.
1. West Des Moines
Iowa's best city to live in is West Des Moines, a city of around 65,000 that's the second largest city in the Des Moines metropolitan area. With a median income of over $54,000 and a strong financial sector providing thousands of jobs to residents, West Des Moines is a fine place to settle down.
2. Urbandale
Closeby is Iowa's #2 city to live in, Urbandale, a picturesque suburb with hundreds of acres of parks and miles of nature trails.
3. Iowa City
One of the hippest college towns in the midwest, Iowa City, ranks #3 on our list of Iowa's most liveable cities. Iowa City benefits greatly from being the home of the University of Iowa, with a great restaurant and nightlife scene, and hosts exciting yearly events such as the Iowa City Jazz Festival.
4. Bettendorf
We head to Iowa's eastern edge for #4 Bettendorf, one of the quad cities, a metropolitan area comprising two Illinois and two Iowa cities. Bettendorf is the smallest of the four, and perhaps the most relaxed and comfortable to settle in.
5. Ankeny
Ankeny, another suburb of the Des Moines area, is our #5 best city in Iowa. Ankeny's idyllic midwestern setting and a strong economy have resulted in remarkable recent growth, with the US Census labeling it the fastest growing city in the Midwest for cities with populations of 50,000 or higher in 2018.
[table id=79 /]
Did your city make the list? Share the good news!
Feel free to share this badge of recognition. Please include attribution to https://www.chamberofcommerce.org/.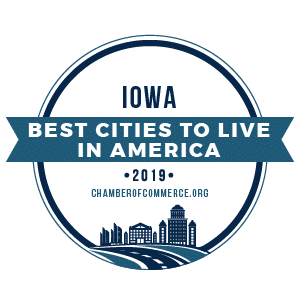 Methodology
We ranked a total of 2,509 qualified cities (those with populations above 25,000 and enough data for analysis) by five factors: employment (number of establishments, median earnings); housing (owner-occupied housing with a mortgage, monthly housing costs); quality of life (work commute, poverty levels); education (percentage with a bachelor's degree or higher); and health (obesity ratios).