Ah, Indiana, the "Crossroads of America". Over its history, many have passed through its confines to reach other destinations, but why not consider settling down there? Yes, it's not the flashiest state, but Indiana has many great small cities to live in with a low cost of living and lots of parks and nature reserves. Which are among the best? Here's a glance at our top five best Indiana cities to live in.
1. Bloomington
Topping our ranking is Bloomington, a city of around 85,000 and the county seat of Monroe County. As the home of Indiana University – which is one of the city's main employers – Bloomington is more youthful, well-educated, dynamic, and vibrant than many other Indiana cities.
2. Carmel
The #2 slot goes to Carmel, a fast-growing city of over 92,000 in Hamilton County. With a median household income of over 100,000, Carmel is one of the most affluent cities in Indiana. The 40 plus corporate headquarters based in the city explains its wealthy and well-educated populace.
3. Fishers
Another Hamilton County city, Fishers, is #3 in the ranking. Like Carmel, Fishers is a fast growing and wealthy suburb of Indianapolis with lots of parkland and lucrative employment opportunities.
4. Westfield
Westfield, also located in Hamilton, is a bit smaller than the previous two entries on the list, but it features Grand Park, the biggest youth sports campus in the country, making it a prime choice for bringing up little athletic hopefuls.
5. Zionsville
Located northwest of Indianapolis is our #5 best Indiana city to live in, Zionsville. With a population under 30,000 and an old-fashioned downtown area with brick-paved streets, Zionsville is a glimpse into America's small-town past.
[table id=82 /]
Did your city make the list? Share the good news!
Feel free to share this badge of recognition. Please include attribution to https://www.chamberofcommerce.org/.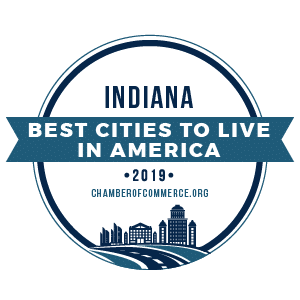 Methodology
We ranked a total of 2,509 qualified cities (those with populations above 25,000 and enough data for analysis) by five factors: employment (number of establishments, median earnings); housing (owner-occupied housing with a mortgage, monthly housing costs); quality of life (work commute, poverty levels); education (percentage with a bachelor's degree or higher); and health (obesity ratios).