Who wouldn't want to live in Hawaii?  It's a tropical paradise a world apart from the rest of the United States with picturesque beaches, dense forests, and breathtaking volcanoes. The relaxed pace of life in Hawaii is a suitable match for its backdrop and stands in contrast to the frenzied character of life in big cities in the U.S. mainland. So, in which cities do all these distinct Hawaiian attributes come together the most harmoniously? Read this overview of Hawaii's top five best cities to live in to find out.
1. Hilo
Hilo is Hawaii's most liveable city. The county seat of the County of Hawai'i, Hilo is idyllically located at the base of the Mauna Loa and Mauna Kea volcanos, which can be seen from within the city.  The city's tourist and agricultural sectors are very lucrative and provide many jobs for residents.
2. Kailua Kona
Also in Hawai'i County is the state's #2 most liveable city, Kailua. The city is the base of the tourist and commercial industries of the west part of the Island and features a number of parks where snorkeling and swimming are popular.
3. Wailuku
#3 Wailuku on the island of Maui has a storied past as the home of many Hawaiian kings and as the early tourist hotspot of the island a century ago. While tourism has died down in the town, it remains a great place to live, as it is beautifully situated in the Iao Valley.
4. Mililani
We move over to Oahu for #4 Mililani, located in the central valley of the island between the major mountains making up Oahu. The city offers a public golf club along with numerous other amenities, including shopping centers and parks.
5. Wahiawa
Filling out Hawaii's top five best cities to live in is Wahiawa, another peaceful Honolulu bedroom community bordered on three sides by the scenic Lake Wilson.
[table id=78 /]
Did your city make the list? Share the good news!
Feel free to share this badge of recognition. Please include attribution to https://www.chamberofcommerce.org/.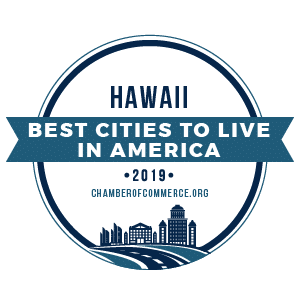 Methodology
We ranked a total of 2,509 qualified cities (those with populations above 25,000 and enough data for analysis) by five factors: employment (number of establishments, median earnings); housing (owner-occupied housing with a mortgage, monthly housing costs); quality of life (work commute, poverty levels); education (percentage with a bachelor's degree or higher); and health (obesity ratios).