The Peach State is diverse and beautiful, home to big cities and peaceful rural towns, sandy beaches and jaw dropping mountain ranges. Whether you prefer urban nightlife, or outdoor recreation, George has what you are looking for. If you are wondering which city in Georgia is the right place for you to settle down, this closer look at the state's five most liveable cities should point you in the right direction.
1. Roswell
Georgia's best city to live in is Roswell, located in Fulton County and situated around many beautiful natural features including Vickery Creek and the Chattahoochee River. For its modest size, Fulton is home to the headquarters of several large businesses, including Pharsalia Technologies and Tripwire Interactive, that provide jobs to the city's residents.
2. Macon
Macon, located smack dab in the center of the state, is justifiably known as 'The Heart of Georgia". The city is large, with a population of over 150,000, and packs a lot into its confines. Residents enjoy a multitude of museums, theaters, and annual festivals. Additionally, Macon is home to a number of universities and colleges.
3. Smyrna
We head to the Atlanta metropolitan area and Cobb County for #3 Smyrna, a city of about 56,000 that is one of the fastest growing in the state. Known as the "Jonquil City" for the thousands of flowers filling the city's gardens in spring, families have flocked to Smyrna for its beauty and employment opportunities, with UCB and IBM being two of many businesses providing hundreds of jobs in the city.
4. Kennesaw
Kennesaw, also in Cobb County, is Georgia's #4 best city to live in. Kennesaw boasts a median household income well over the state average, and is a great place to settle for gun lovers, as city law actually requires each household to own one.
5. Marietta
Rounding out the top 5 is Marietta, our third Cobb County city in a row and home to the Dobbins Air Reserve Base.
[table id=117 /]
Did your city make the list? Share the good news!
Feel free to share this badge of recognition. Please include attribution to https://www.chamberofcommerce.org/.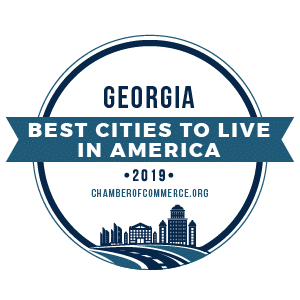 Methodology
We ranked a total of 2,509 qualified cities (those with populations above 25,000 and enough data for analysis) by five factors: employment (number of establishments, median earnings); housing (owner-occupied housing with a mortgage, monthly housing costs); quality of life (work commute, poverty levels); education (percentage with a bachelor's degree or higher); and health (obesity ratios).