With over 1,300 miles of coastline, sunny, warm weather all year round, and lots of professional sports teams, who wouldn't want to live in Florida? Turns out a lot of people do, as The Sunshine State's population of over 21 million makes it the 3rd most populous state in the nation.
From Tallahassee to Miami, Florida is home to myriad cities, all with their own unique character, but which are among the best? Let's have a glance at our ranking of Florida's top five cities to live in.
1. Palm Beach Gardens
Florida's best city to live in is Palm Beach Gardens, a community of around 55,000 in the Miami metropolitan area. Palm Beach Gardens is as nice as it sounds, with lush gated communities and a whopping 12 golf courses.
2. Venice
Venice, an idyllic city of around 22,000 in Sarasota County, is Florida's 2nd most livable city. The city has a thriving arts district, with the largest community theater in the country and a long stretch of beautiful coastline.
3. Ponte Vedra Beach
The third best city in Florida is Ponte Vedra Beach, a coastal community in St. Johns County, which is the wealthiest county in the state. Ponte Vedra is packed with fancy resorts, golf courses, and beaches where watersports are very popular. A great place to live if you can afford it.  
4. Saint Johns
Neighboring St. Johns ranks #4 on the list. The city has a similar character to Ponte Vedra Beach, with golf courses and pleasant gated communities. Due to its status as an in-demand place to live, the population has exploded in the past two decades.
5. Miami Beach
We head back south for #5 Miami Beach, one of the choicest resort cities in the country located on several islands separating the city from Miami proper. Miami Beach's Art Deco district is a wonderful throwback to the architecture style of the early 1940s.
[table id=77 /]
Did your city make the list? Share the good news!
Feel free to share this badge of recognition. Please include attribution to https://www.chamberofcommerce.org/.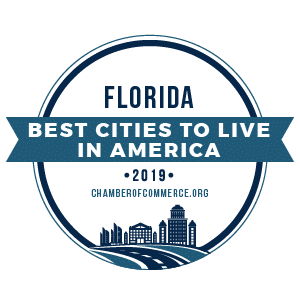 Methodology
We ranked a total of 2,509 qualified cities (those with populations above 25,000 and enough data for analysis) by five factors: employment (number of establishments, median earnings); housing (owner-occupied housing with a mortgage, monthly housing costs); quality of life (work commute, poverty levels); education (percentage with a bachelor's degree or higher); and health (obesity ratios).