Delaware may not be the most exciting state in the nation to call home, but it does offer a number of great perks for residents, including the country's lowest real estate taxes, low income taxes, and some pretty great beaches and amusement parks. Now that we've gotten your ear, where are the best cities to live in if you'd like to relocate to the Blue Hen State? Here's a closer look at our top five Delaware cities to live in.
1. Newark
Newark, a city of about 33,000 in New Castle County, is Delaware's best city to live in. For a small city, Newark has a lot to offer: it's the home of the University of Delaware, it enjoys close proximity to lots of public parkland, and is known as an epicenter of the figure skating world, with many Olympic and World champions going to train at the University of Delaware Figure Skating Club.
2. Bear
Nearby Bear, also in New Castle County, is #2 in the ranking. Once a rural area, development boomed in Bear beginning in the late 1980s and now it is known for its many shopping centers and for being the location of White Hall, a historic 19th century home that belongs to the National Register of Historic Places.
3. Middletown
A stone's throw from Bear is #3 Middletown, a quintessential Delaware town featured in the classic film Dead Poets Society, which was mostly filmed in the city's St. Andrew's School. Visitors and residents flock to the annual Olde Tyme Peach Festival for its live music, games and tasty peach treats.
Filling out Delaware's top five cities to live in are #4 New Castle, a small city with hundreds of historic buildings and #5 Wilmington, a charming riverfront city that–while only possessing a population of around 73,000–is the largest in the state.
[table id=76 /]
Did your city make the list? Share the good news!
Feel free to share this badge of recognition. Please include attribution to https://www.chamberofcommerce.org/.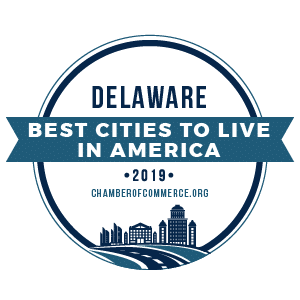 Methodology
We ranked a total of 2,509 qualified cities (those with populations above 25,000 and enough data for analysis) by five factors: employment (number of establishments, median earnings); housing (owner-occupied housing with a mortgage, monthly housing costs); quality of life (work commute, poverty levels); education (percentage with a bachelor's degree or higher); and health (obesity ratios).