Connecticut is a great state to live in: lots of history, a high median household income, great education ratings, miles of coastline, and even its own unique pizza style. Although it's the third smallest state, it's also one of the most densely populated, packing many cities into its diminutive boundaries. So what Connecticut communities are the best to live in? Here's our top five.
1. Glastonbury
Glastonbury, a city of around 35,000 in Hartford County, is our pick for Connecticut's most liveable city. With a history stretching back into the mid-17th century, Glastonbury boasts a rich tradition and vintage New England feel. Residents enjoy proximity to the Meshomash State Forest and a position along the Connecticut River, where the longest running ferry in American history is still in operation.  
2. West Hartford
Placing second is West Hartford, another charming Hartford County city with over 300 years of history. The city is home to two universities and the West Hartford Center, a downtown area with shops, restaurants, and other amenities that have existed since the 17th century.
3. South Windsor
South Windsor is our third affluent Hartford County city in a row. The modestly sized suburb boasts a median income of over $73,000 and is home to several areas on the National Register of Historic Places, including the East Windsor Hill District, with old houses in a number of architectural styles dating back hundreds of years.
4. Cheshire
We finally move out of Hartford County for #4 Cheshire, a quaint city with historic residential districts, museums, and plenty of opportunity for outdoor recreation in nearby trails like the Quinnipiac Trail and the Farmington Canal Heritage Trail.
5. Hartford
It's back to Hartford County for #5 Hartford, with a popular of around 122,000 is the largest city in the top 5, as well as the capital of the state. Many of the city's residents work for one of the many insurance companies based in the city.
[table id=75 /]
Did your city make the list? Share the good news!
Feel free to share this badge of recognition. Please include attribution to https://www.chamberofcommerce.org/.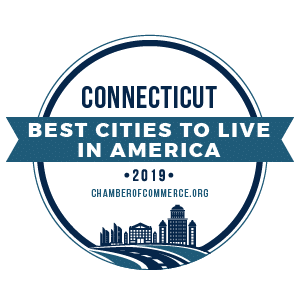 Methodology
We ranked a total of 2,509 qualified cities (those with populations above 25,000 and enough data for analysis) by five factors: employment (number of establishments, median earnings); housing (owner-occupied housing with a mortgage, monthly housing costs); quality of life (work commute, poverty levels); education (percentage with a bachelor's degree or higher); and health (obesity ratios).