Considering its large area, varied landscape, and huge GDP which would make it the fifth largest in the world if it were its own country, California is practically a nation unto itself. The Golden State is the nation's most populous, while many others dream of someday making a home in its borders.
With all of the great California communities, it's hard to say which ones ought to top a list of the best cities to live in, but the following ones truly distinguish themselves as extremely comfortable communities.  
1. Santa Clara
Just west of San Jose in the Bay Area lies Santa Clara, California's most liveable city. As part of the fabled Silicon Valley, Santa Clara is the home base for over a dozen top tech companies, including Synaptics and Intel. Additionally, Santa Clara University and a number of other universities are within the city's borders. The combination of thriving industry and an atmosphere of higher learning leads to a high-earning, well-educated populace.
2. Aliso Viejo
We head to SoCal and Orange County for #2 Aliso Viejo. The newest city in the county and the only one to be incorporated this century, Aliso Viejo boasts a median household income of over $92,000 and borders the beautiful Aliso and Wood Canyons Regional Park.
3. Santa Barbara
Santa Barbara is a large city along the Pacific coast that has it all: a bustling economy, resorts, national parkland, and a thriving education sector. UC Santa Barbara is the city's largest employer, but the city is also home to a significant aerospace and defense sector.
4. Lompoc
We head to neighboring Lompoc for #4 on the list. The city of around 44,000 benefits from the excellent Mediterranean climate of the area and names Vandenberg Air Force Base as its most dominant economic force.
Closing out the top five is the idyllic lakeside community of South Lake Tahoe.
[table id=73 /]
Did your city make the list? Share the good news!
Feel free to share this badge of recognition. Please include attribution to https://www.chamberofcommerce.org/.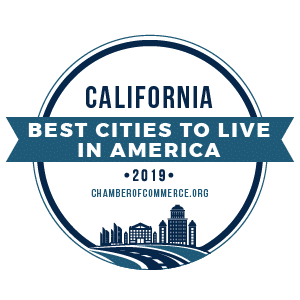 Methodology
We ranked a total of 2,509 qualified cities (those with populations above 25,000 and enough data for analysis) by five factors: employment (number of establishments, median earnings); housing (owner-occupied housing with a mortgage, monthly housing costs); quality of life (work commute, poverty levels); education (percentage with a bachelor's degree or higher); and health (obesity ratios).