Alaska is a state of extremes: it's by far the largest state in the U.S. by area, but also 48th in population. In fact, of the state's cities, only Anchorage's population tops 40,000. However, that doesn't mean that Alaska's small cities are a bummer to live in, as long as you are inured to cold weather.
High median wages, a relaxed character, and closeness to nature all make Alaska's choice communities pretty great places to settle down. Let's take a closer look at the northernmost state's top five cities to live in.
1. Fairbanks
The city of Fairbanks, in the heart of the state, is our #1 Alaskan city to live in. Bolstered by a high median household income, the city of around 33,000 has a lot to offer despite being the coldest large city in the nation. Fairbanks' attractions include the Museum of the North, with exhibits centered on Alaskan art and history, and Pioneer Park, a fun little theme park with a historical theme.
2. Anchorage
Anchorage, Alaska's largest city, comes in second. Beautifully situated outside of the Chugach Mountains, Anchorage is considered one of the most tax-friendly cities in the United States.
3. Juneau
The third best city in Alaska to settle in is Juneau, the state capital. With strong fishing and tourism industries, as well as a sizable government sector, there are plenty of jobs to be found.
Two small communities in the Matanuska-Susitna borough, Palmer (#4) and Wasilla (#5) close out Alaska's top five. With populations below 10,000, neither is a large city, but both are very pleasant bedroom communities of Anchorage, where much of the workforces of Palmer and Wasilla commute.  Palmer, in particular, is notable for its large vegetable harvests as carrots, broccoli, and cabbage thrive in the cold climate.
[table id=69 /]
Did your city make the list? Share the good news!
Feel free to share this badge of recognition. Please include attribution to https://www.chamberofcommerce.org/.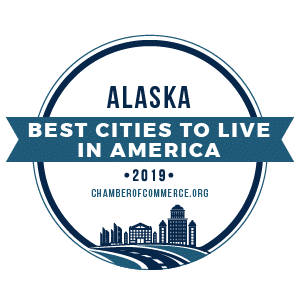 Methodology
We ranked a total of 2,509 qualified cities (those with populations above 25,000 and enough data for analysis) by five factors: employment (number of establishments, median earnings); housing (owner-occupied housing with a mortgage, monthly housing costs); quality of life (work commute, poverty levels); education (percentage with a bachelor's degree or higher); and health (obesity ratios).