McDonald's, Marriott International, 7 Eleven, Hertz, and Ace Hardware Corporation are some of the most successful and well-known brands in the world.  They also happen to be franchised.
Franchise businesses are a driving force in the US economy. In fact, they make up approximately 4% of all small businesses in the United States, and on average, a new franchise opens every 8 minutes.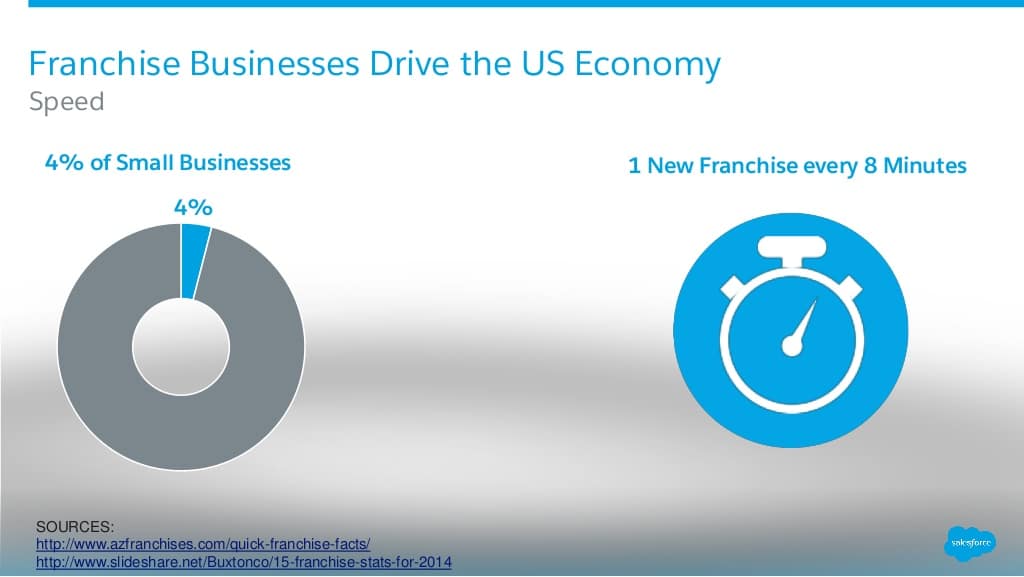 Developing a brand – and opening a new business – is a huge undertaking, and can be especially daunting for people who are looking to start a business for the first time.
If you want to dive into the world of business ownership, and would rather skip the brand building process, opening a franchise is a great option. To open a franchise, you simply have to pay a fee to a franchisor. A franchisor is the owner of a company – they own all the assets, products, services and trademarks.
Paying the initial fee will allow you to not only the license to run the business under the franchisor's name, but also tap into a variety of services, including training and support.
What's more, opening a franchise doesn't require that you have any specific qualifications or background. You do, however, need to know what you are doing before you sign the franchise agreement contract.
It's important to note that while franchising carries many benefits, there are also some downsides. And like everything in life, you need to have a plan before going forward with the franchise purchase. Determining what you can live with – and without – while you're running a franchise is important.
This article discusses the franchise business model, as well as what you need to know and a few tips for first time small business franchise owners.
What is the franchise business model?
Simply put, a franchise allows you – the franchisee – to run a business under the name of the franchisor. For example, if you purchase a Burger King franchise, you will be the proud owner of a Burger King fast-food restaurant.
To get started, you'll have to pay an initial fee, which is called the franchise fee. This will give you brand name access.  In addition, you'll incur a variety of other fees depending on the franchisor.
In exchange, you will get:
The Business System of the Franchisor. This includes everything from information on where to buy stock and access ingredients, as well as a business framework and marketing material.

The right to use the brand name for a set number of years.

Ongoing assistance and support from the franchisor.
What are the benefits of buying a franchise?
A franchise provides many unique advantages that make it a very appealing option for small business owners.
Everything is ready at the get-go
Buying a franchise is similar to buying a house. After you have paid for the house, all you need to do is move in and your new life begins. With franchises, the franchisor will work with you to get everything set up.  All you need to do is to "move in" and start earning.
Also keep in mind that with franchises, you'll be running a business with a proven track record of success. The business model and concept has worked for countless people before you, so it's very likely that it will work again if you follow the recipe.
There's also no need to build up and grow a new brand since it's already widely-recognized. If you are new to entrepreneurship, you can sleep soundly at night knowing that business risk is minimized.  
Financing options are available
Choosing to buy a franchise opens many doors to different financing options. In fact, banks and other financial institutions are more likely to grant you a loan to buy a franchise than to buy your own house.
Why?
Because there's a lower risk.  They trust in the brand value and they recognize the franchisor's successful business model.
And it's not just banks that are willing to lend money. Credit unions and other lenders that specialize in franchise financing are also options.
Some franchisors even provide special financing themselves.
The brand name
Franchise brands are famous brands. It is significantly easier to get customers when they are already familiar with the brand. As such, you don't have to spend nearly as much time and effort on marketing.
Being associated with a brand can also give your business a sense of exclusivity, popularity from the franchisor's viral marketing, and even a cult following.
For example, fans of the famous show "Rick and Morty" were begging McDonald's to sell them Szechuan Sauce after its appearance on the show. People were actually lining up in front of McDonald's restaurants to buy packs of sauce. Talk about a cult following!
Franchisor's support
With a franchise comes franchisor support. This includes everything from technical operations to customer support to training. It's literally an all-in-one business solution.
Continuing with the Burger King example above, when you purchase a franchise from Burger King, they will:
Help you find a suitable location

Provide you with in-restaurant training, operator/manager training, and director training

Show you everything you need to know about how to operate the restaurant – from how to cook certain items on the menu to food serving and delivery

Share advice on management, marketing, and HR

Host workshops and seminars to help you succeed
You will also have access to:
A support network of other franchisees, mentors, and other supporting personnel.

Raw material/ingredients and service providers that have special discounts and/or only work for the franchisor
What are the drawbacks of buying a franchise?
Here are the three most important things to consider before signing the franchise agreement contract.
The cost
Outside of the initial fees that you'll have to pay to get access to the brand name and all the franchisor's services, you'll also have to pay:
Ongoing Royalty Fees

– This is a percentage of your gross income that you will have to pay weekly or monthly to the franchisor. It's important to note that depending on the contract, you may have to pay this royalty, even if you're losing money or decide to terminate the contract early.

Advertising and Training Fees

– Again, depending on the franchise, you may have to pay for advertising and staff training continuously.
Let's take a look at Merry Maids to understand how significant these costs can be. Merry Maid is a popular franchisor for house and window cleaning services. They mostly serve residents who lack either the time or the drive to clean regularly.
From their Franchise Disclosure Document (FDD), the estimated initial investment that you need to make can range from as low as $86,750 to around $123,750. That includes fees and expenses like:
The initial "buy-in" fee

Real estate fees – for store and territory assignment

Store improvement fees – for store decoration and design

Hardware and software

Equipment and insurance

Marketing expenses for the first 3 months

Working capital
After this initial investment amount is paid, you'll also be on the hook for:
7% of your gross sale revenue (5% from $500,000 and above)

Software and hardware leasing expenses

Various training expenses

Renewal fees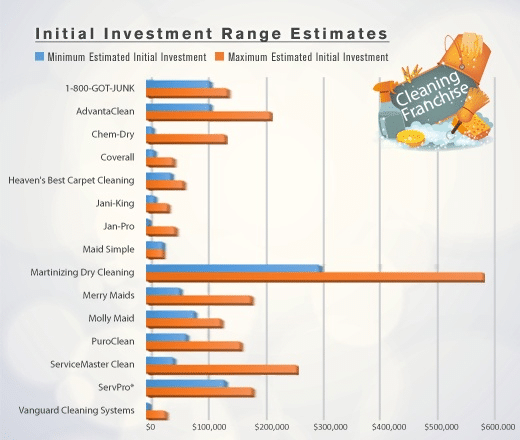 These continuous payments based on your gross sale revenue can be extremely high in the long run, since it scales with your total revenue before you start deducting costs.
In short, make sure you know what you are getting into before taking the franchising path.
Lack of autonomy
Franchisors usually impose certain limitations on how you can run your franchise. This is done to ensure the consistency and legitimacy of the brand name. These limitations can significantly confine your business decision-making options, so pay close attention to the fine print in your franchising contract.
The franchisor can put limitations on:
The Franchise Location

– Often times they will dictate where your business should be located, and reject site selections that don't fit specific baseline criteria.

Design of the Franchise

– This includes everything from how the franchise is designed and decorated to staff uniforms.

Sales of Goods and Services

– You will only be allowed to sell certain goods or provide certain services. For example, you can't add or remove certain items on a Burger King's menu.

Operation Methods

– A franchisor can dictate your opening and closing hours, your marketing methodologies, and even accounting practices.
Merry Maids requires that:
Outside of initial mandatory training, a franchisee must also attend (at their own expense) the Annual National Seminar

A manager must directly be responsible for the supervision of the business if the franchisee is not directly managing it

Employee background checks and drug testing must be conducted prior to hiring
Furthermore, franchisees:
Are not allowed to advertise and accept orders outside of their designated market

Must adhere to a strict quality assurance operation structure
The contract
When you purchase a franchise, you must enter a franchise agreement contract with the franchisor. This contract will last for a number of years and renewal is contingent on your compliance with the contract terms.
The franchisor can terminate your contract for a number of reasons, including failure to make payments and/or meet the franchisor's performance standards. Having your contract terminated means that you will lose your initial investment. For small business owners, this can be financially devastating, so be careful!
Another thing that you need to know about your contract is contract renewal. Some contracts can run for as long as 20 years, but most run for anywhere between 5 and 10 years.
At the end of the term, it's important to note that the contract is not automatically renewed. Depending on your conduct, they may – or may not – offer a renewal. What's more, this new offer may not have the same terms and conditions as the original.
For example, your franchisor may decide to:
Increase your ongoing payment amounts

Incorporate new business standards and operating procedures that you'll need to follow

Change your business market and/or territory
In short, don't expect your franchise to never change. Opting for a franchise business model means that you are at the mercy of your franchisor.
Is franchising for you?
Just like any other investment, before you put down your money, you need to make a plan. Be extremely honest with yourself and ask yourself the following questions.
About the investment
How much capital do you have?

How much can you afford to invest?

Do you need to finance this franchise? If yes, from where and how?

What is your current credit score and rating?

What is your current income?

In case the franchise fails, do you have enough saved in the bank to cover your bills and living expenses?
About yourself
What technical qualification/skill/knowledge does this franchise require?

What unique quality can you bring to this franchise?

Do you have any work experience that would contribute to the success of the franchise?

Have you ever been a manager/business owner?

If you have management experience, is it relevant to the franchise?
About what you want to achieve with the franchise
Why are you buying this particular franchise?

Does this franchise require a minimum level of income?

Are you interested in working in this field?

Do you want to become a good or service provider?

Are you planning to directly manage this franchise or will you be hiring a manager to do it for you?

How much do you plan to work?

Will this franchise be your main source of income, or will it act as a passive income investment?

Is this a short-term or long-term investment?

How much control are you willing to give up to incorporate the franchise?
Let's use Century 21 – a real estate sale franchise – as an example. Century 21 is a very good choice for new entrepreneurs and small business owners because of its low fee.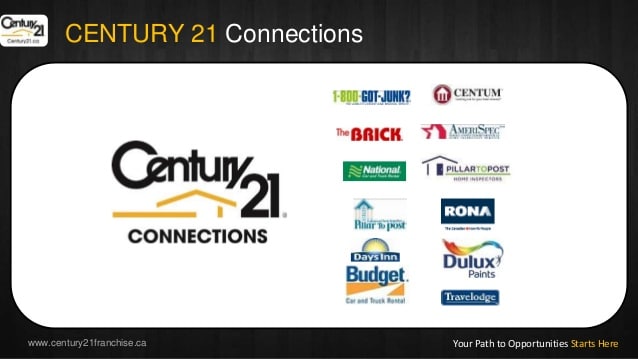 The initial franchise fee that you have to pay can be as low as $0!  Of course, there are still mandatory fees that you need to pay, including legal expenditures and office supplies. In comparison to other big brand names out there, however, Century 21 has a surprisingly low startup cost.
But, there's a catch…
According to their FDD, a franchisee must make a minimum payment of at least $500 each month and an annual payment that varies based on location. On top of that, there's also the standard royalty fee of 6% of gross sales and other miscellaneous ongoing fees.
Although the franchisor offers a very low upstart cost, the ongoing fees are significantly higher. This can be quite a deal breaker if you're in it for the long term.
Where can you find franchising opportunities?
If you've decided that franchising is the best option for your goals and ambitions, what's next?
The answer is you should start looking for the franchise that fits you.
Here are some resources that'll help you gather more information about available franchises, and franchising in general.
Local franchises
Visit local franchised outlets and talk to the owners/managers there to learn more about their experience and gather useful information.
Franchise handbooks
A franchise handbook is a book that indexes all the available franchises in a certain field or industry. You can find these handbooks at either your local library or online. Here are some online handbooks that are worth reviewing:
Franchise expos
Attending an event like a franchise expo allows you to see a lot of franchise opportunities in a short period of time. You'll also have the opportunity to meet and speak with representatives from the franchisor directly.
To make the most out of an expo, here are some questions to ask:
How many franchise outlets the brand has, and where are they located

What the initial franchise fee is

What other startup costs will be incurred

The support that you will receive following the franchise purchase

The percentage of the ongoing royalty fee

Franchisor history, business operations, revenues, and projections

The franchisor's performance standards and the degree to which they control your business
At the expo, you may be offered a private meeting for further discussion with the franchisor. This is a good opportunity to learn more about the franchise you're interested in. Make sure to ask questions to fill in all the gaps. Knowledge is power.
Always stick to your plan and carefully consider any offer made by the franchisor at an expo. Do your research and come prepared, and be ready to walk away from a deal if it doesn't meet your expectations.
Here are some great franchise expos to consider: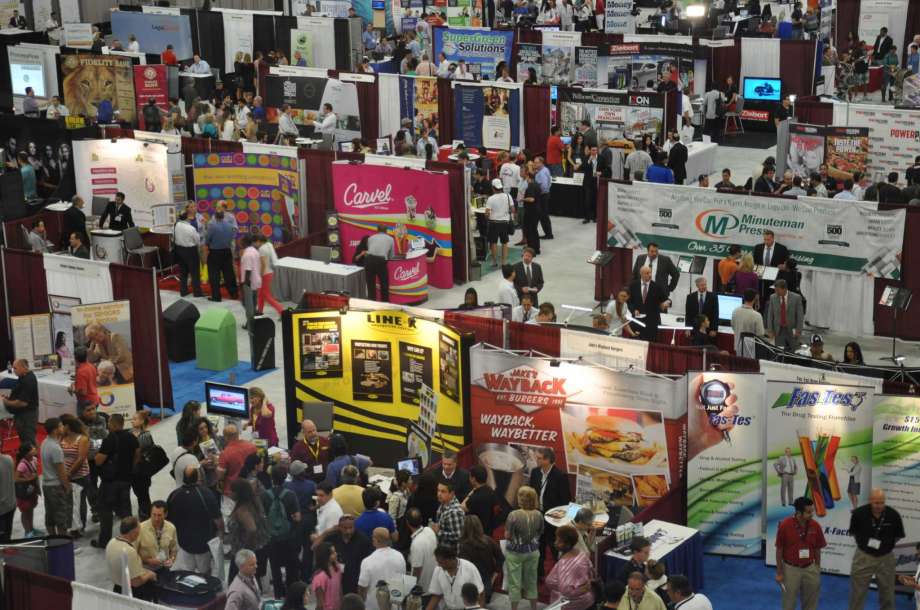 Is franchising in your future?
Franchises are a great option for aspiring small business owners.  They offer many benefits, but the most compelling is a low-risk business opportunity that can almost guarantee a return on investment.
Alongside these benefits, however, are substantial costs – and pitfalls – that you need to plan for. Always do your research and have a plan before buying a franchise. Gather as much information as you can, and know what you are getting into ahead of time.