Wise Agent is an all-in-one CRM specifically designed for the real estate industry. The company combines automation of leads, responses, appointments and transactions with impressive reporting features.
Wise Agent truly is the best of both worlds for the real estate industry – the CRM is a powerful contact and lead management system along with industry-specific tools designed to make your job easier. What's best is that Wise Agent provides all this with a relatively affordable price that doesn't require you to pay hidden or surprise fees for extra features.
Features
Wise Agent has a number of features that are particularly attractive to real estate agents and brokers. Their lead automation system automatically pulls social data from your emails, allowing no-hassle integration for your contacts. The CRM also offers automated drip marketing campaigns that you can set up and schedule for the future.
Wise Agent also has time management tools that help agents and brokers boost their productivity by allowing them to organize their daily schedules. They can set up text and email alerts that can be sent to just you or other members of your team as well, and you're able to create to-do lists for you and/or your team. This feature would also allow brokers to track and monitor their team's progress through the pipeline.
Some of the other top features include:
Landing pages with easy-to-use templates to generate more leads

Other impressive team features that allow a broker to manage each individual agent

Integration with a number of other software programs and tools that are customizable to your needs

Transaction management for all your deals

An impressive suite of reporting for individuals and teams
Pricing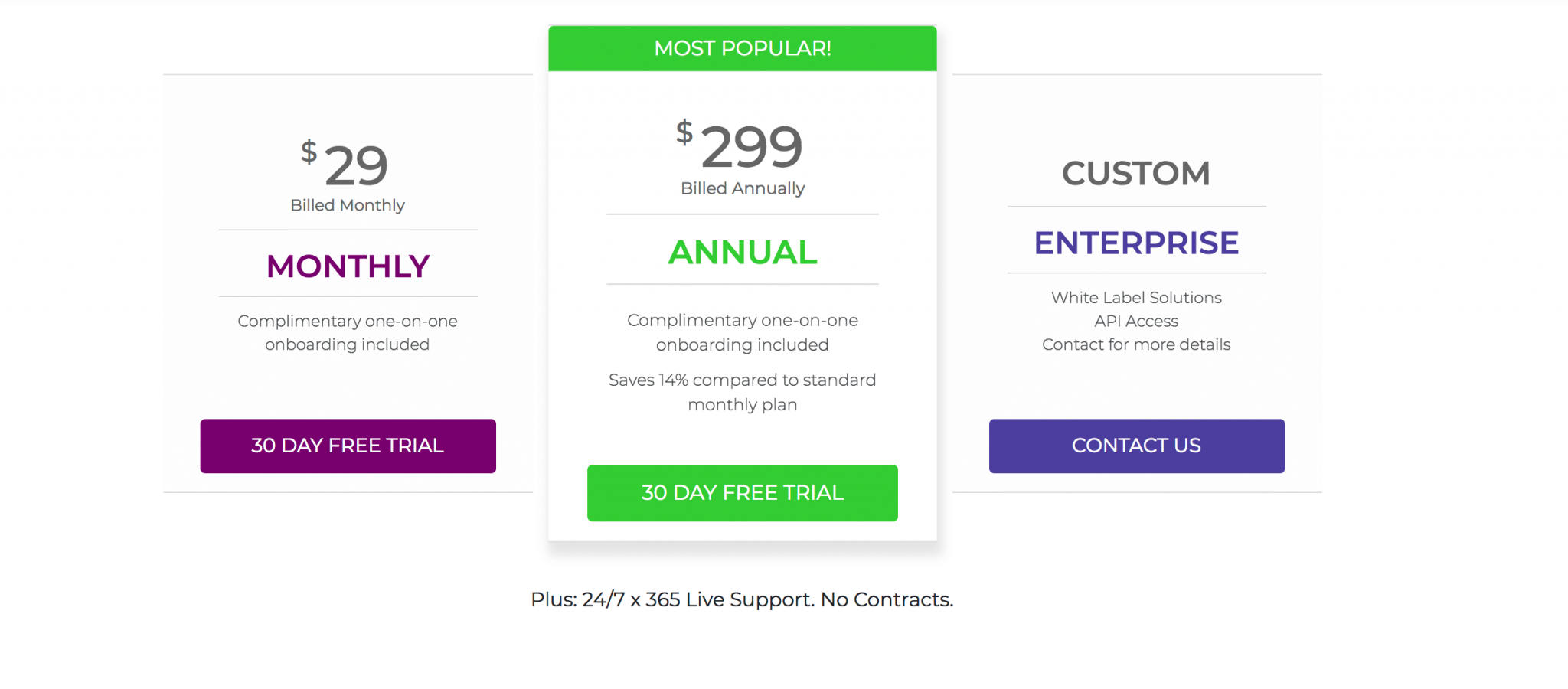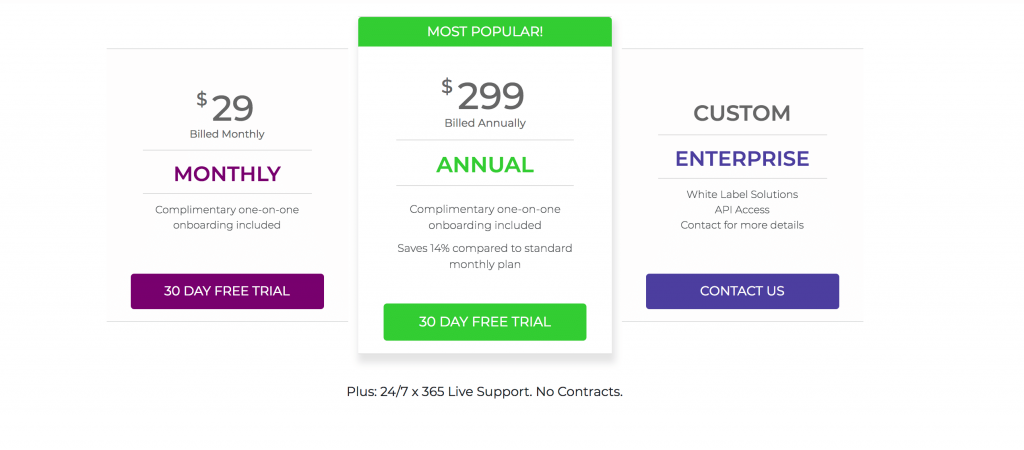 Wise Agent takes a different approach to pricing than some of their competitors. Instead of having a tiered pricing system with added features as you purchase a more expensive plan, the company instead charges a flat fee that gives you all the same features at the same price. The only changes in their pricing structure come if:
You are billed annually ($25 per month) instead of monthly ($29 per month)

You need to add more team members (each account comes with five)

You need a custom white label solution with API access (for Enterprise customers)

You want to add extra features (such as contact enhancement, content sharing or additional restrictive logins)
This simplified pricing plan is very transparent and takes the guessing game out of it for potential customers. Wise Agent also provides a 30-day free trial to all new customers so you can try it out with no commitment. They also don't require any contracts.
Customer support
Wise Agent's customer support is very strong. As a real estate-specific CRM, the company caters to their customers who often are very busy and active after normal business hours. They provide live customer support 24 hours a day, seven days a week, 365 days a year.
In addition, each new customer receives a complimentary one-on-one onboarding session to help them get set up with the CRM quickly and get them using it as soon as possible. Wise Agent also publishes a blog on their website that provides helpful hints, tips and tricks for customers who want more information without contact an agent.
What's lacking
The one thing that Wise Agent is missing is a solution for lead generation and advertising. These are features that some other real estate CRMs offer, so Wise Agent is lacking a little in this regard. Still, because the program is very customizable, you could easily connect Wise Agent to other third-party solutions that handle these tasks. It would be nice if Wise Agent would have these features integrated right into the program, but having them available on other real estate CRMs might not be worth the extra cost of doing so.
Pros
CRM designed specifically for the real estate industry

Impressive suite of features

Easy to use for both agents and brokers as well

Simple pricing structure that is affordable

Same features offered no matter how many members on your team

Outstanding 24/7/365 customer support

Complimentary one-on-one onboarding
Cons
Larger real estate teams might want more features

Could also get expensive for larger teams as they add team members

No lead generation or advertising integration native in the CRM
Rating breakdown
Overall:

4.8

Pricing:

4.8

Features:

4.6

Customer Support:

4.9

Ease of Use:

4.7