No matter the size of a business, adequate management of customers, sales, and other relevant departments can provide a significant improvement in a company's ability to grow and become more successful. This is exactly why CRM platforms have become such an essential part of the modern-day business world. These platforms allow companies to take control of how they manage their customers, improving their sales process, giving them opportunities for cross-sales and up-sales, and to ensure business owners have access to analytic and status reports whenever they need it.
Today, we are looking at Salesforce, a platform that claims to be the number one CRM platform for companies that need a system that can help them take control of their customer relations, as well as close more sales. The software has grown substantially in recent years and is now used by some of the world's largest organizations, including Unilever and Financial Times.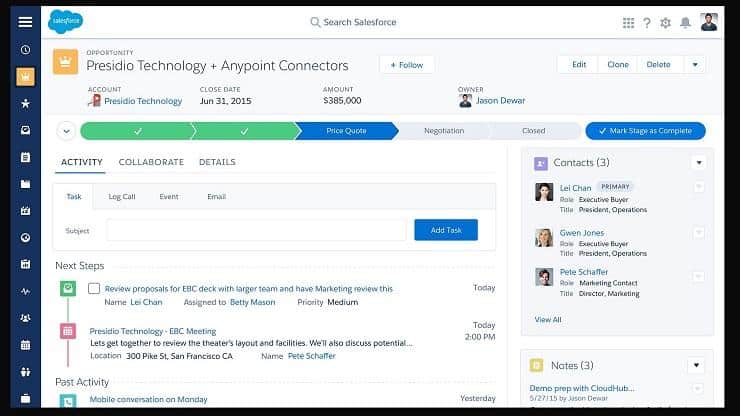 Salesforce pricing
As any small business owner already knows, expenses make it more difficult to run the business. Thus, it is vital to consider how much a CRM system like Salesforce would cost your business before making any decisions. Luckily, Salesforce is relatively affordable when compared to competing platforms out there – it does, however, depend on what plan you opt for.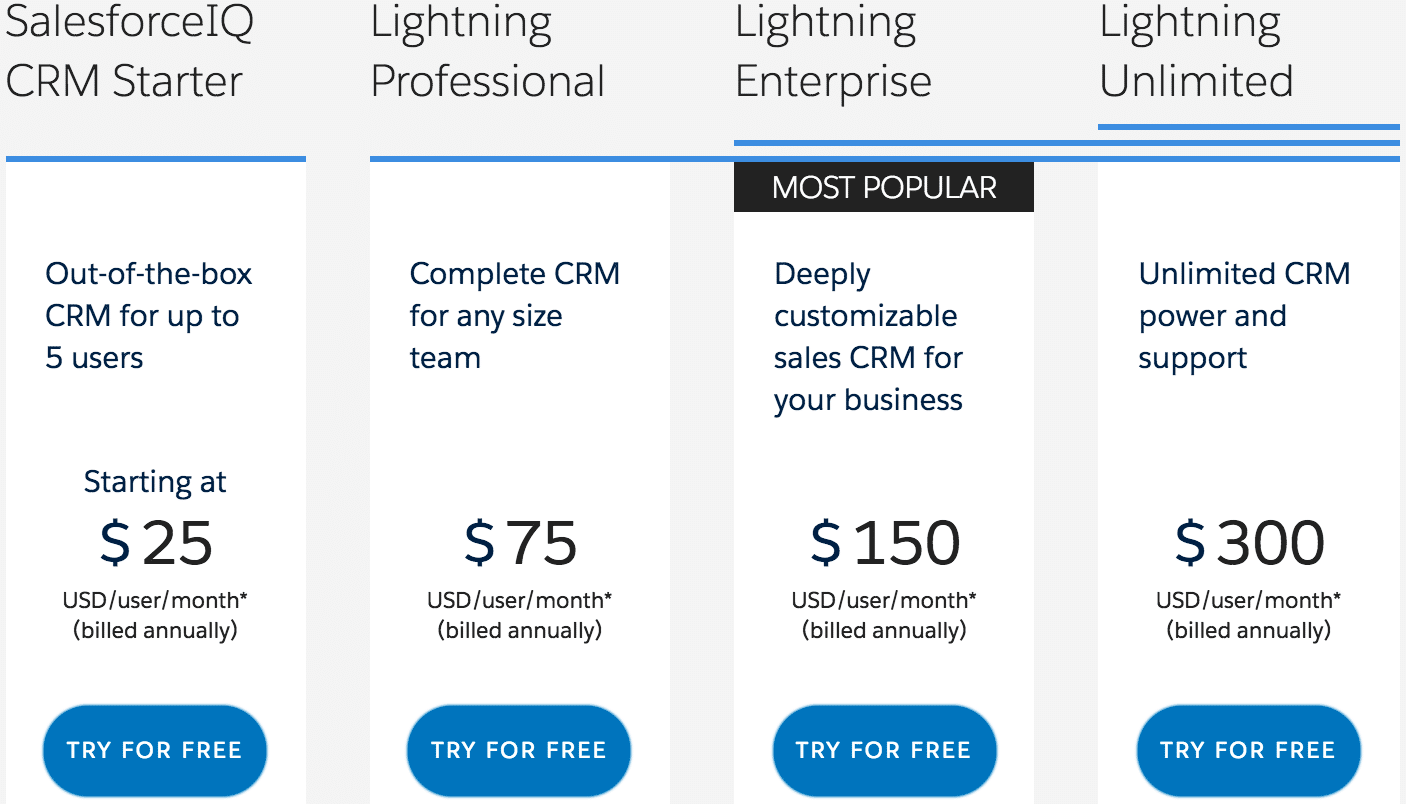 NOTE: All prices are charged for each user that will be using the platform.
Salesforce Essentials ($25 per month, billed annually) – The most basic plan offered by the platform, giving growing businesses access to the features they need to get ahead of the game. Track leads and opportunities, manage customer accounts, and solve customer cases.
Lightning Professional ($75 per month, billed annually) – Comes with additional features that allow you to track opportunities, leads, and sales. You can also manage orders, as well as marketing campaigns.
Lightning Enterprise ($150 per month, billed annually) – A more advanced option for larger organizations. Comes with modules that help to automate several business processes, custom record types, as well as a more advanced integration system that gives you access to the Salesforce web services API.

Lightning Unlimited

($500 per month, billed annually) – The top plan that is perfect for large businesses that needs software with no limits. This plan offers access to more than 100 different admin services, a customized version of Salesforce, custom tabs, sandbox modes, custom apps, and online training.
Features of Salesforce
Salesforce is a multi-functional CRM system that was designed to deliver more than just a way to manage customers. The platform was developed to help a company better manage leads and sales, existing customers, and have a way to organize and track opportunities. The platform also features an advanced and unique artificial intelligence system that gives you insights and suggestions to help you grow your business, follow up on the most promising leads, and get more sales.
Some noteworthy features of the Salesforce CRM system include:
Contact management

Account management

File system

Offline functionality on mobile devices

Opportunity management

Sales console

Lead capture system

Task management

Activity Feed

Integration with Microsoft Outlook

Integration with Gmail

Integration with Google Apps Suite

Team management

Email templates and sender

Case management

Campaign management

Analytics and reporting
Salesforce also offers mobile applications for Android and iOS that give all employees the ability to work on-the-go – whether they need to close a sale or follow up on a lead.
In addition to the main Sales Cloud platform that this company offers, their platform is also connected to other apps that can further help to grow your business. These apps include their Service Cloud, Marketing Cloud, Quip system, Commerce Cloud, and the Salesforce Platform that is used to build custom applications for your business.  
Customer support
Salesforce does offer support, but it is a little complicated. Pre-sales support is readily available for anyone who has questions regarding the use of their suite of business-related apps, including their CRM platform. The problem, however, is that it does not seem they offer advanced support and training to clients unless the client subscribes to the unlimited plan, which will cost them $300 per month (that is a per-user rate). The company does, however, offer basic support, including a live chat feature, for customers on other plans. Additionally, customers are given access to a series of training videos to help them get started with the Salesforce platform.
What's missing in Salesforce CRM?
Salesforce already offers most features that companies in today's business world may need, but we do find the fact that they do not have any free plans for start-ups and small businesses to get started with a disadvantage. A free trial offer is available from the company, but is only valid for a couple of days – after that, the customer needs to pay for a plan, which starts at $25 per user, per month – and the amount should be paid for 12 months upfront. Thus, we do find that the platform misses a free plan at the moment.
In short
The right CRM system can make a tremendous change in your business, giving you a better overview of how well you are interacting with customers, following through on leads, and closing in on sales opportunities. Salesforce offers a number of different plans to choose from, ensuring both start-up companies and those businesses that have already risen to the top can gain access to the features they need to increase their sales and boost customer relationships.