Promo Republic is a social media management tool for businesses that aims to make creating content as fast and simple as possible. This all begins with their content ideas and templates. Businesses can browse over 6,000 professional templates for their content to inspire their next viral post. This unique feature makes the design process much more streamlined, especially for businesses without in-house design staff.
The built-in image designer makes editing the pre-created templates easy. There's no need for additional software or costs. Once the posts have been created, businesses can either send them to their fans and followers immediately or schedule the post for the future.
After the content has been posted, Promo Republic offers analytics tools to review the success of the post and get a better understanding of their audience to continue producing more effective social media content. The tools allow users to simply and clearly understand which posts are performing. To help boost success, Promo Republic can even suggest optimal times for posting content to drive engagement even further.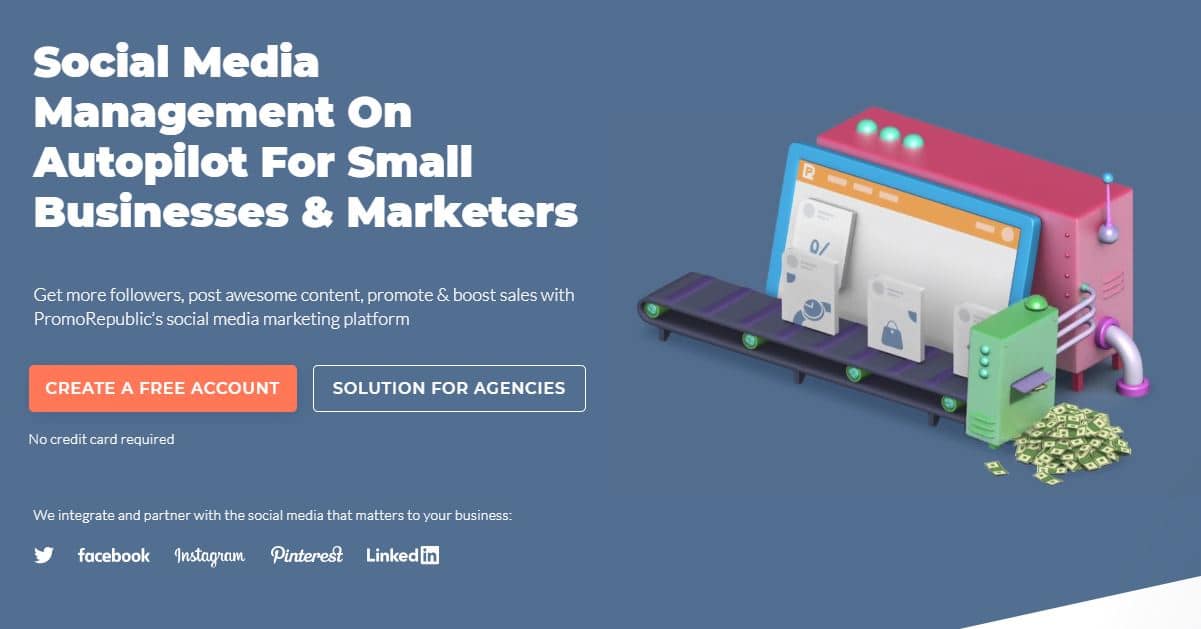 Who Promo Republic is best for
Promo Republic greatly reduces the learning curve for businesses looking to bring in their social media management to one platform. The image editor, planner, analysis, suggestions, and templates are all designed to make Promo Republic the one service that businesses need. This makes it a great option for beginners and small teams.
The lack of some social network integrations makes Promo Republic limited for users who may want to reach out beyond just the major social networks. In addition, professional designers may find some of the Promo Republic features to be unnecessary or limited.
Promo Republic pricing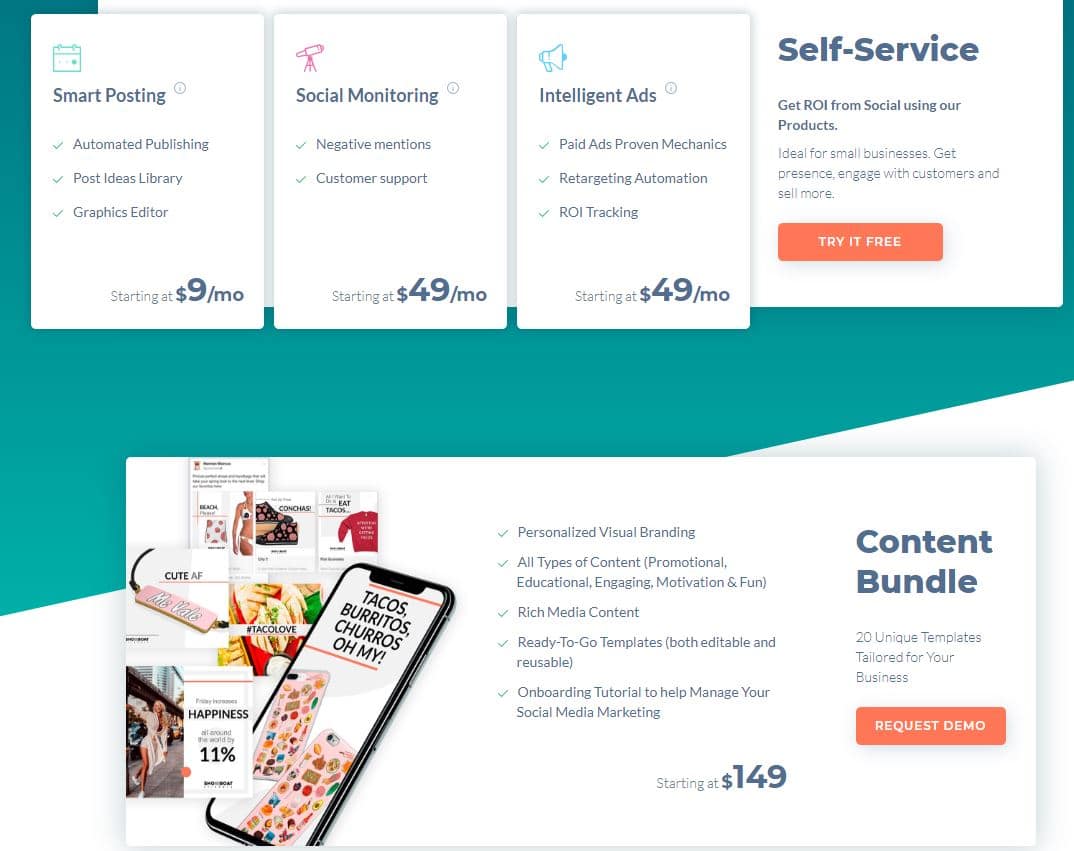 Users are able to try Promo Republic free for 14-days before making a payment.
Smart Posting – Starting at $9 per month, users will have access to the publishing and planning dashboard, the idea and template library, as well as the built-in editor.
Social Monitoring – At $49 per month, users can better monitor activity on their social media channels with customer support tools and negative mention monitoring.
Intelligent Ads – For $49 per month, businesses have the ability to add advertising capability to their plan with ROI monitoring, ad retargeting, and proven paid ad mechanics.
Content Bundle – At $149 per month, business get personalized branding, rich media content, additional templates, and a personalized onboarding tutorial.
Promo Republic customer support
Promo Republic offers a searchable database of help articles for both newbies and advanced users. This is in addition to their email support. Their blog is an additional source of information and tips and is constantly being updated with new content. Users that opt for the top tier Content Bundle will also be able to take advantage of personalized onboarding support to help them get started with the platform right away.
Pros
Built-in design tool

Free trial available

A la carte feature pricing
Cons
Basic analytics and reports

Limited social network support
Rating breakdown
Overall:

4

Features:

4

Pricing:

4.5

Ease of Use:

3.5

Customer Service:

4