How a business is managed essentially determines how successful it will be. When inadequate management techniques are executed, sales will suffer, the company will struggle to gain new clients and existing clients will start to look for alternative businesses that can offer them better customer service. There are different types of systems that can be used to streamline internal business operations, with a CRM being one particularly important option to be implemented in any type of business – even those who have only been founded recently.
There are different options that companies can choose from when they want to start using a CRM system. In this post, we're going to look at Pipedrive CRM. This CRM platform claims to help make any company's salespeople "unstoppable" and to offer a considerable boost in productivity by introducing a high-quality system to help the company manage their customers, as well as sales, leads, and more.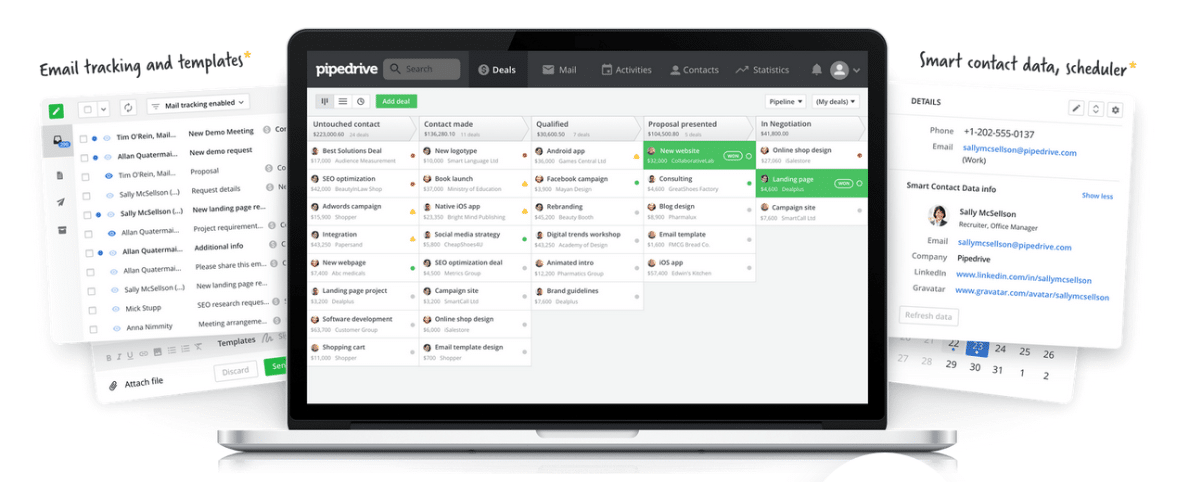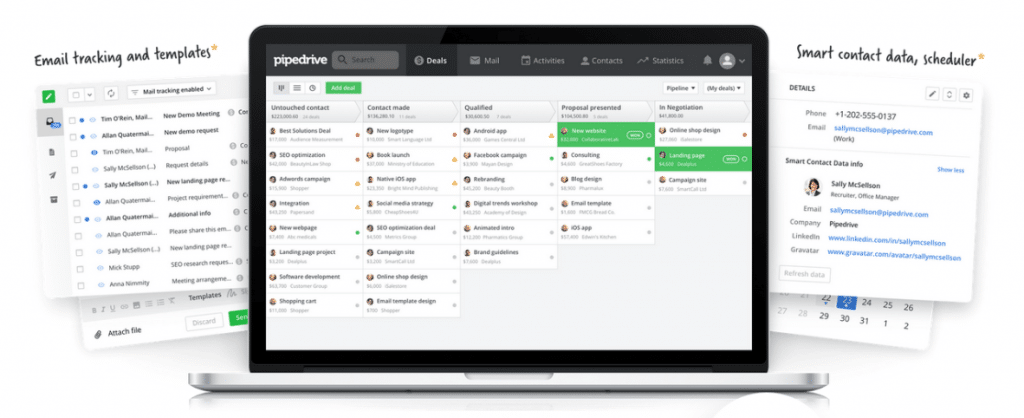 Pipedrive CRM pricing
Pipedrive is a relatively affordable CRM system that comes with a basic plan for startups and smaller businesses. Clients can choose to pay a monthly fee or pay for a full year ahead. Monthly payment plans hold no contracts, and the client can cancel their subscription at any time. Additionally, the Pipedrive CRM does not charge any setup fees and provides a clear overview of what customers get on each plan.


Silver Plan ($15 per month / $150 per annum) – Offers access to calendar, contact timeline, smart email BCC, customizable dashboards, as well as support.
Gold Plan ($29 per month / $290,40 per annum) – Offers access to sales inbox, workflow automation, smart contact data, scheduler, and products.
Platinum Plan ($59 per month / $590,04 per annum) – Offers access to multiple dashboards, revenue forecast reports, Single Sign-On, email templates, and phone-based support.
All prices are charged per user that is needed to use the platform by the client's business.
Features of Pipedrive CRM
Pipedrive CRM is used by more than 75,000 companies to help them get a better overview of their customers and to manage their sales effectively. This platform comes with a great number of features that companies can make use of to help them track contacts from lead to customer.
Customers are given access to multiple pipelines, and each team member can have their own account on the platform. Multiple customized dashboards can be configured to help each team member obtain a clear overview of projects, clients, sales, and other aspects they are managing at the time being.
Pipedrive CRM also comes with more than 100 different apps that can be used with this platform, as well as several integration modules that enables the customer to sync their platform with Google Contacts, Google Drive, and Google Calendar, among others.
The company has also released mobile applications on Google Play Store and Apple's Mobile App Store. These apps can be used to manage customers and sales, to track emails and calls, and to request instant reports on customers, projects, deals, and more.
Customers can also use the platform to track all activities of team members, as well as to set reminders that will send them notifications to ensure they do not miss important deadlines. A calendar view is also available that gives the team member a view on important dates that are coming up, as well as to provide them with instant access to notifications and reminders that they need to attend to.
Other noteworthy features that the platform also offers include:
Reports on revenue forecasts

A task scheduler, which is integrated with the calendar and the reminder module

The ability to create products and services, and link them to sales

2-way email synchronization

A complete set of email templates, with the ability to easily send an email to a single customer or to all customers

Smart contact data

A timeline view of activities for each customer

A complete sales inbox module

Analytics and reporting tools for all data that has been captured on the system
Customer support
Customer support is an important part of successfully transitioning to any type of CRM platform. The problem, however, is that a large number of CRM platforms only offer customer support when the customer subscribes to their enterprise plans. Fortunately, Pipedrive CRM comes with support on all plan levels. Once logged into the dashboard, you can use the question mark at the top of the platform to gain access to both live chat support and email support. Customers who subscribe to the platinum plan can also get in touch with a dedicated support team via a phone call.
What's missing in Pipedrive CRM?
Overall, Pipedrive CRM comes with enough features to satisfy the needs of any company that is looking for an effective platform to help them manage sales and customers. We did find the number of users available on the basic plans somewhat limited. Companies who require additional "seats," as the company refers to user accounts, will need to get a quotation for a customized plan, which can cost considerably more than the standard plans offered by the platform.
In short
Pipedrive is one of the more advanced CRM solutions on the market today that comes with customizable dashboards, a convenient contact manager, a sales inbox, as well as many other convenient features. The platform offers three different price plans to ensure any type of business can take advantage of the sales and customer management tools offered by the system. All plans come with email and chat support, and the premium plan also offers the customer access to support over the phone.