Mautic is a unique open source digital marketing platform. It is a crowdsourced software that relies on the online community for its source code, maintenance, and features development. It also has a marketplace where additional mixins – specific tasks like integration with a particular web property – can be downloaded.
Since it's open-source, it's free and there are no costs associated with using its services, which makes it perfect for freelancers, as well as small and medium businesses and larger scale enterprises.
We might receive compensation from the companies whose products we review. We are independently owned and the opinions here are our own.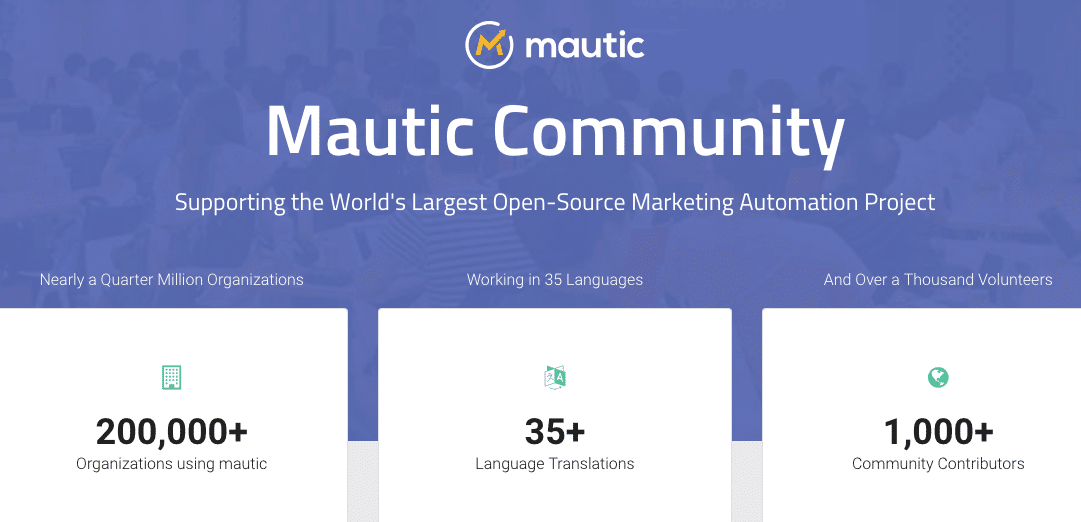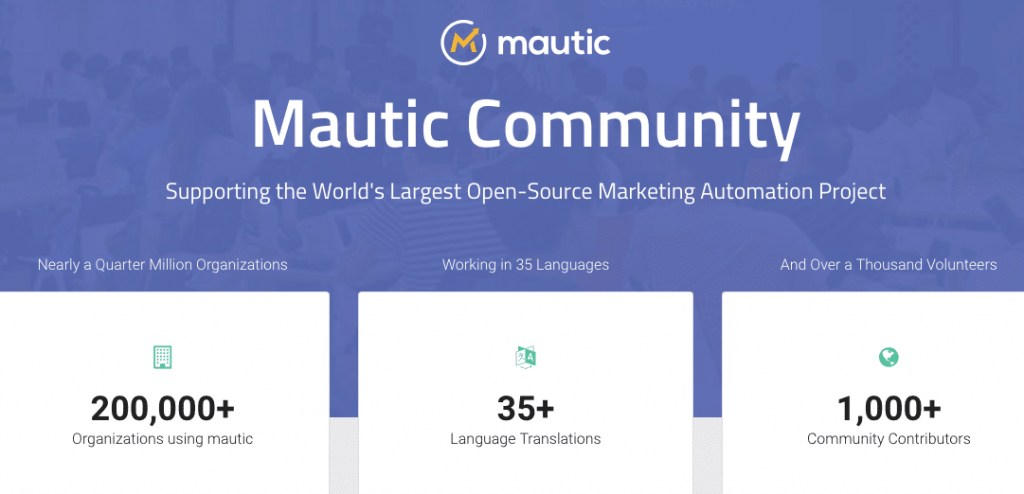 Mautic features
You must register for an account online, and then install Mautic natively on your computer before you can use its automated marketing services.
There's a simple dashboard that allows for the creation and management of contacts lists, as well as the ability to import contacts from other platforms, manage segmentation, use filters and frequency rules, oversee message queues, monitor dynamic content publishing, forms, profile user data, create landing pages, create and manage email marketing channels, and much more.
Standout features include:
Integration with external CRMs, apps, tools, and e-commerce platforms.

Customizable and personalized email channels, themes, templates, forms, and other data publishing formats.

Visual drag-and-drop workflow module creations, as well as tagging and scoring for content, campaigns, sources, and terms.
Check out our roundup of the Best Marketing Automation Software
Mautic pricing
Signing up with Mautic and accessing its suite of features is completely free.  There's no subscription fee, no transactional fee, or any other hidden fees.
Mautic customer support
Mautic doesn't have a traditional customer support team. Instead, there's an active community forum where users exchange ideas, experiences, and answer simple queries. There's also a live chat forum called 'Slack,' where you can get instant replies for urgent concerns. This chat service needs to be installed on your system though.
Serious issues like technical glitches and feature requests/ideas can be reported on the 'Issue Reporting' page. One of the developers or power users will eventually get back to you.
Pros
Opensource and free! Enjoy the benefits of customized and automated marketing campaigns, totally free of cost

User feedback is taken seriously and acted upon by the growing open source community, which provides users the ability to contribute to the development of useful new features

It offers advanced features that are only available at very high costs on enterprise marketing software solutions elsewhere
Cons
Since the platform is crowdsourced, there's no rhyme or reason to the growth structure. While there are plenty of advanced features, some basic features are missing like optimal send times for email for better conversions.

The platform itself isn't easy to understand, and it's difficult to make sense of features to create a cohesive campaign

It's in the nascent stages of development so there are a lot of glitches and bugs
Rating breakdown
Overall: 

3.8

Features: 

4.5

Price: 

5

Ease of Use: 

3.5

Customer Service: 

2.5