Clients are the backbone of any business, whether a small business or an international corporation. As such, the relationship that a company builds with their clients should of utmost importance. But without the right solutions in place, managing customer relations, contacts, leads, and even projects can be a significant challenge.
A Customer Relationship Management solution, or CRM, offers the perfect platform for setting up a system that allows a company to keep track of their clients and contacts, manage their relationship with customers, and to ensure the company can continue to grow.
Insightly CRM has captured the attention of many companies, offering an effective solution to managing customer relations, while providing a fully integrated solution that works for Google's suite of apps, as well as Outlook.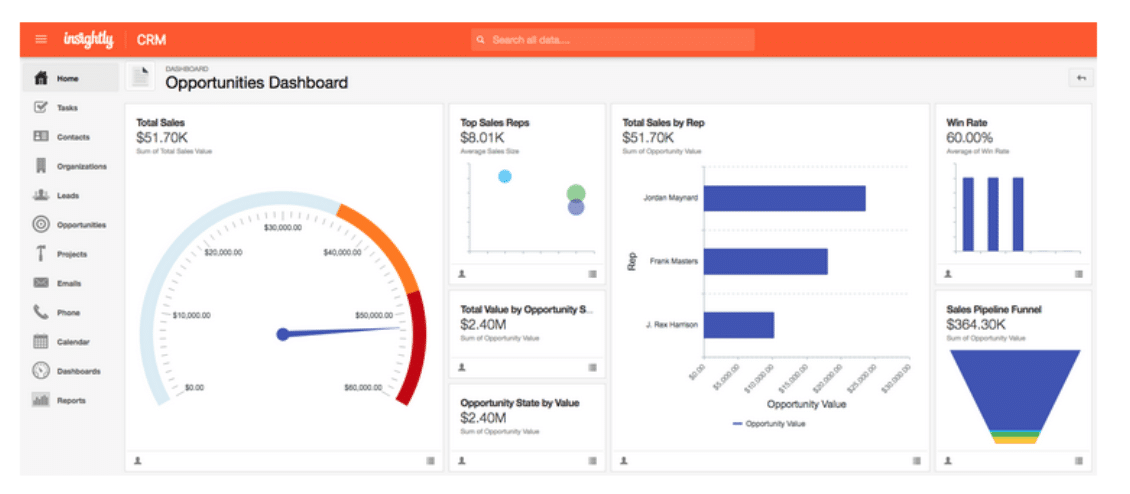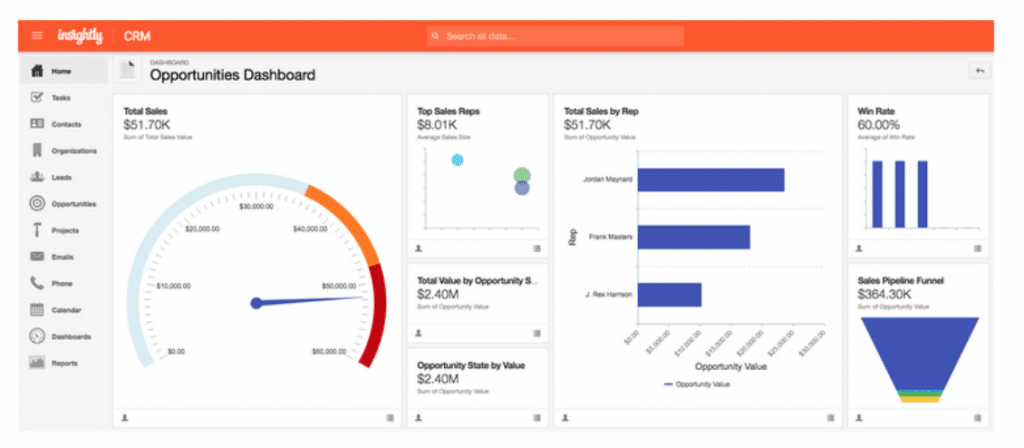 Insightly CRM pricing
First up, let's take a look at how much a company should expect to pay if they wish to take advantage of the Insightly CRM platform. These platforms can cost quite a significant amount of money, which is why it is important to look at whether the system would be an affordable option for a business.


Insightly CRM comes with three plans that the customer can choose from when they subscribe. All plans are billed on an annual basis.
Plus Plan ($29 pm / $348 billed once per year) – the basic plan that gives you access to 100,000 records, 2,500 emails, 50 custom fields, and the project management features. You also get access to custom reports, charts, and tasks.
Professional ($49 pm/ $588 billed once per year) – gives you access to 250,000 records, 5,000 emails, 100 custom fields, and the access features that comes with the plus plan. You also get access to the custom dashboards, 100 shareable insight cards, and role-based permissions.

Enterprise

($99 pm / $1,188 billed once per year) – this plan comes with unlimited records, 10,000 emails, 200 custom fields, unlimited shareable insight cards, Lambda gateway, dynamic screen layouts, SAML-based Single Sign-On, and more.
Features of Insightly CRM
Insightly CRM is a feature-rich platform that gives you what your business needs to succeed in regards to customer relationships but also goes beyond customer relationship management in order to deliver better value for your money. This platform offers a number of great features that help to accelerate sales and makes sure you can deliver a personalized experience to each customer.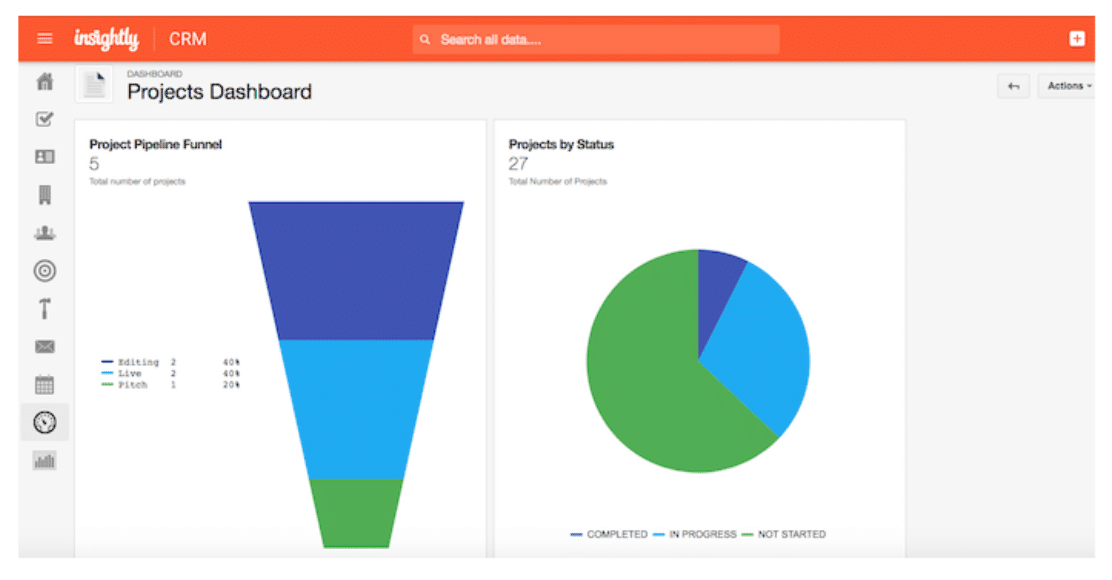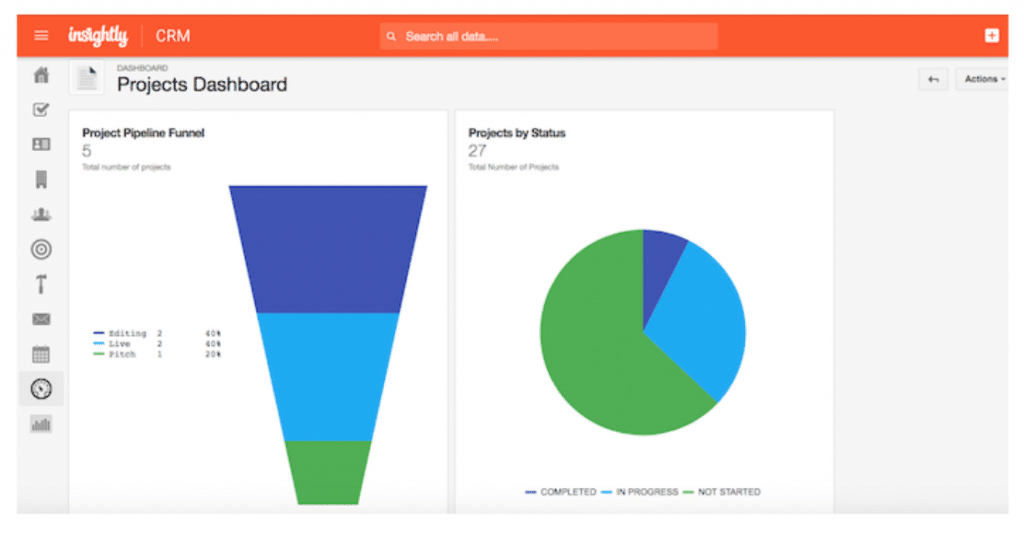 The platform was built to provide your company with the following benefits and features:
To ensure you can build better relationships with your customers by gaining insight into each customer that helps you know what they expect from you.

By knowing your customers, you can easily match them with the right agents in your company, ensuring better success.

Sales pipe management solutions integrated into the platform helps to automate several functions involved in a sale and project management.

Project management also comes as part of this solution, ensuring that you can set up projects and link them to customers to keep a track on what you are doing for which clients.
Insightly CRM also easily connects with existing applications that your company may already be using. Integration solutions offered by the platform currently include:
Google Mail

Google Docs, Slides, and Sheets

QuickBooks

MailChimp

Slack

Pandadoc

DropBox

Box

Ninja Forms

Flow Xo

Facebook Lead Ads

Lead Liaison

Toky

Support Bee

HubSpot
Customer support
When subscribing to a platform like Insightly CRM, it is important to ensure that customer support is readily available to ensure your company can obtain support when you run into any particular issues. Fortunately, Insightly CRM comes with multiple support channels that can be utilized. The company has an office in California and has an email address that can be used for support requests. Furthermore, this company also has a presence on Twitter, LinkedIn, and Facebook – you can contact the company on these platforms as well.
Apart from providing these support channels, you can also use the Insightly CRM help center to gain answers to commonly asked questions. A community feature also allows existing customers to help each other.
What's missing in Insightly CRM?
Even though Insightly CRM offers a significant number of features, there are some particular problems that should be brought up. First of all, only the more expensive memberships come with access to the custom dashboard feature – which means smaller companies that may only be able to afford the plus plan would not gain access to some of the more useful features that come with the Insightly CRM platform.
Additionally, the fact that contacts and leads are not listed in the same location and rather separated is also something that may be considered a "missing" feature.
In short
Integrating the right Customer Relationship Management platform into your business can boost your relationship with clients, improve collaboration between teams in your company, and ensure that you can serve each client to the best of your ability. Many options are available, but many of them lack the essential features needed to ensure effective customer relationship management.
Insightly CRM offers a fully functional system that gives you the opportunity to keep track of your clients. The platform is perfect for businesses in all industries and seamlessly integrates with platforms like Google Mail, Google Apps, and Microsoft Outlook. While not the most affordable option on the market, the system was developed to provide a professional solution that will help you build better relationships with your customers, instead of getting in the way.