InfusionSoft (by Keap) is a CRM, sales, and marketing solutions software service designed for small and medium businesses. It offers advanced marketing features to small businesses at cost effective prices and is a centralized platform that allows users to integrate and operate all their sales and marketing tools from a single dashboard, which users in the ecosystem by way of collaborations with external services.
Its complex configuration and features require domain expertise or constant help from their customer support team, however, which is easily accessible and cooperative. Large enterprises might find it too bulky to use, while individuals might not have the budget, time, or the experience to successfully set up – and manage – their campaigns.
We might receive compensation from the companies whose products we review. We are independently owned and the opinions here are our own.
Infusionsoft features
InfusionSoft marketing automation has predefined marketing elements that make creating campaign funnels easier through its simple drag and drop goals. Users can introduce time delays, use if/or functions to allow for customized responses for different event outcomes, and also run tests to zero-in on the most effective marketing content.
Unique features include:
A/B testing for campaigns with up to 5 variations

Segmented contacts and personalized emails for different user responses

Landing Page templates with customization to design new pages with considerable ease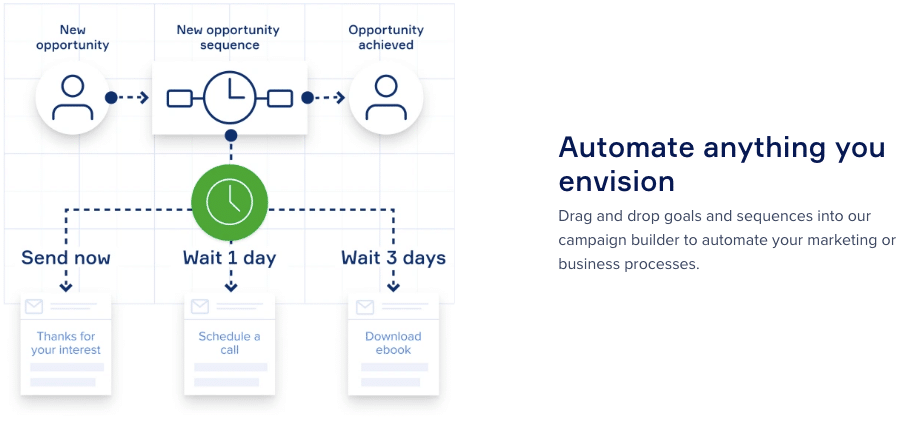 Check out our roundup of the Best Marketing Automation Software
Infusionsoft pricing
The basic plan for marketing automation services costs $199/month, while Pro and Premier plans cost $299/month and $399/month respectively. These packages are inclusive of services related to CRM and email marketing.
Even the Basic plan is feature rich and there's no limit on the creation of landing pages, contacts, emails sent, or campaigns.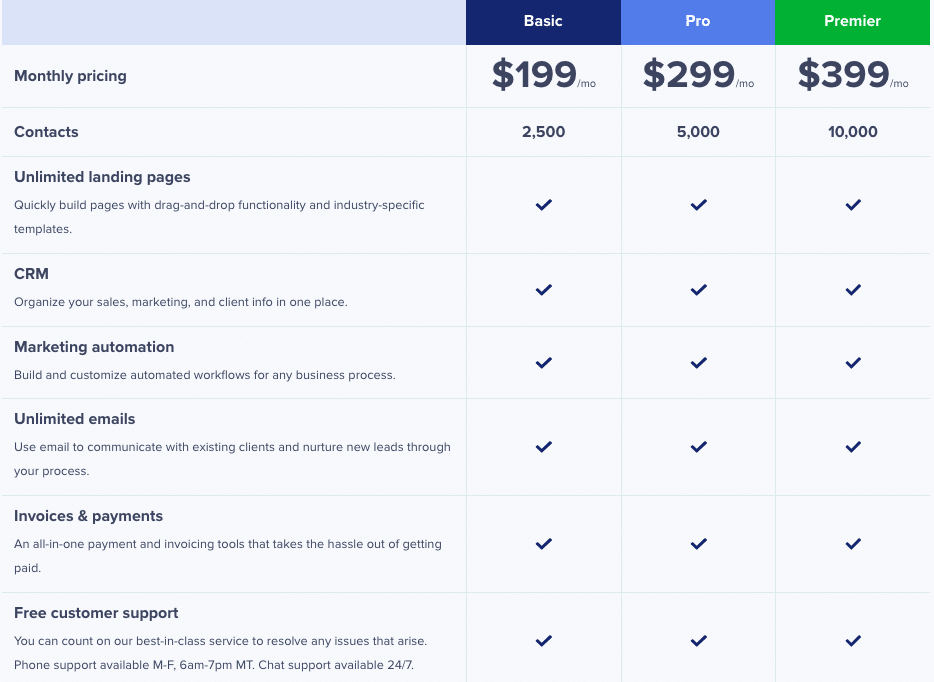 Infusionsoft customer support
InfusionSoft has a stellar customer support team available to walk subscriers through the configuration, set up, creation and management of marketing campaigns, as well as troubleshooting.
There are timing restrictions on phone support, however. Chat support is available 24/7, but direct communication with a customer service representative is only available Monday through Friday during normal business hours in the US.
Pros
Power users can optimize the API using the CRM integration module to work in conjunction with multiple channels like SMS marketing and Facebook messenger to create an automated marketing juggernaut that caters to all online marketing needs from a single platform.

There's an excellent customer support team available to help you manage the tools on your own

The visual email campaign builder, along with the 'Landing Page' templates library, are in a class of their own
Cons
Complicated tools and features have a very steep learning curve

It's time-consuming to master the software and utilize resources optimally

It lacks a lot of basic critical features like graphical reports that are immensely important to improve marketing strategy

Customer support is helpful and knowledgeable, but not available 24/7 for clients worldwide
Rating breakdown
Overall: 

3.5

Features: 

4

Price: 

4

Ease of Use: 

2.5

Customer Service: 

3.5