GetResponse's Marketing Automation suite is optimized for better leads generation, improved email marketing, intuitive customer tracking, and feedback reports that create customer nurturing channels for inbound marketing. It provides visually appealing automation workflows that are easy to understand and implement. The software is not exclusive to any particular business size, and different price plans target customers ranging from individuals and small and medium businesses to large scale enterprises.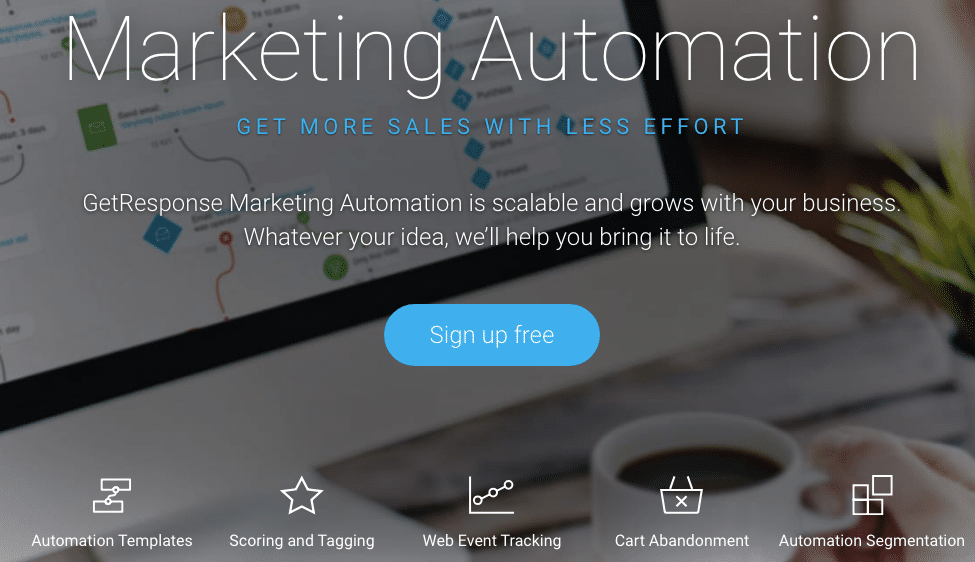 GetResponse features
GetResponse has quite a few marketing automation aces up its sleeve that help it stand out against some of its more well-known competitors. Users can create unlimited personalized automated workflows, assign scores to customers to evaluate their potential for the business, identify trends in traffic flows to a particular product or declining sales in a specific vertical, segment contacts lists, and create one-on-one brand experiences for customers.
Additional features include:
A visual drag and drop workflow builder that breaks down complex campaign strategies into simple algorithms with easily identifiable tasks and steps

The ability to create unlimited automated workflows with the help of predefined 'Conditions' to send appropriate 'Action' responses for events that adhere to specific 'Filter' criteria

Conversion paths creation for subscribers to turn them into customers with user data tracking analysis combined with compelling outreach campaigns with the 'Advanced Tagging and Scoring' feature
GetResponse pricing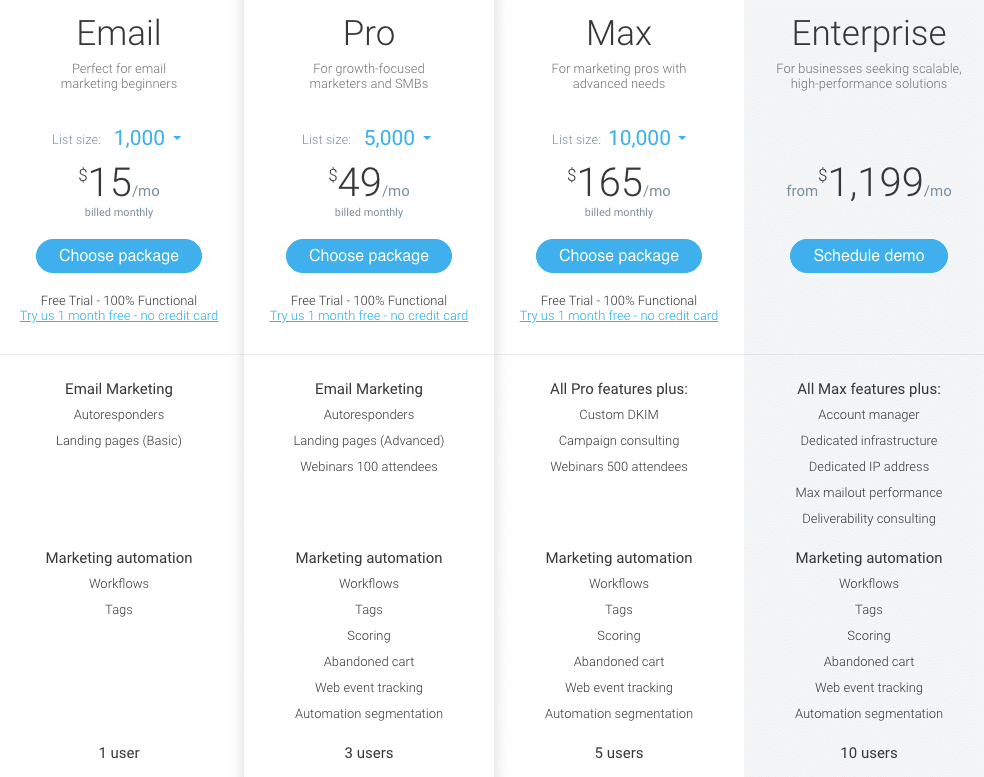 The GetResponse Marketing Automation suite isn't offered separately from its marketing packages. It is offered along with the regular plans. Varying levels of marketing automation features are offered with these packages, which start at $15/month with a 1,000 contacts limit, which is designed specifically for marketing beginners and small businesses with small list sizes. The $165/month package includes 10,000 contacts is best for medium-sized businesses with larger mailing lists and a more robust email marketing strategy. This package unlocks all marketing automation features. Enterprise plans begin at $1199/month.
There's a free trial period of one month. Paying in bulk for annual packages brings down the prices by as much as 18% for a 12-month plan and a whopping 30% for a 24-month plan.
GetResponse customer support
GetResponse offers 24/7 live chat support, email support in 7 languages, and maintains a library of helpful tutorials and guides. Subscribers can also reach out via various social media platforms. The response team is prompt and knowledgeable and mostly garners positive feedback.
Pros
Attractively priced packages with excellent email delivery success

CRM integration with simple drag-and drop-features improves the automation experience.

Intuitively designed UI for ease-of-use
Cons
While the Pro and Max plans are cost-effective, the 'Email Plan' for beginners isn't such a great value since contacts are capped 1,000

Tricky and unclear billing, with repetitive contacts from segmented lists increasing the total contacts count

The predesigned templates for emails and forms look outdated and are overloaded with too many design elements
Rating breakdown
Overall: 

4.9

Features: 

5

Price: 

4.5

Ease of Use: 

5

Customer Service: 

5