ActiveCampaign is more than just an email marketing software. In addition to that functionality, the company looks to provide an all-in-one marketing and sales solution by offering marketing automation, a sales Customer Relationship Manager, as well as messaging.
This is a really robust offering, but some customer complaints have been that the company falls short in each of these areas because they spread themselves too thin. Still, ActiveCampaign does offer some impressive features that many of their competitors do not, making them worth a try.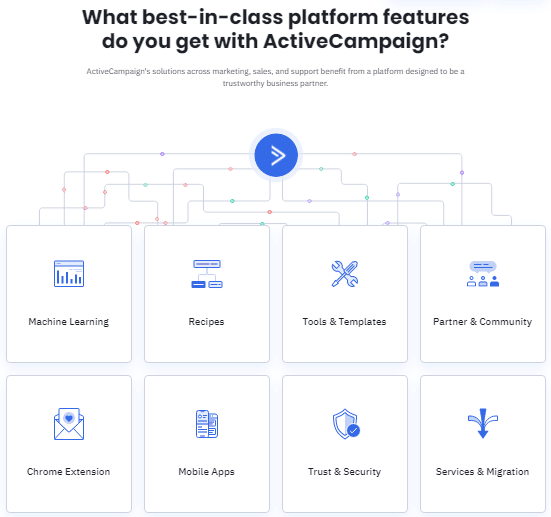 How it's different
ActiveCampaign wishes to be the all-in-one solution for any organization that sells and actively markets to current and prospective customers. In addition to a fairly easy-to-use email campaign creator, ActiveCampaign integrates all your marketing data into a CRM system, allowing you to track people's behaviors with your marketing and then target them for dialed-in marketing later.
This helps ActiveCampaign stand out from their competition some, as it allows users to have an immense amount of data and target points to create effective marketing campaigns. The messaging features allow you to send SMS messages and also gives you the ability to have onsite event tracking for real-time response.
Who it's best for
ActiveCampaign is best for businesses looking for more than just an email marketing software solution. In offering a wide range of marketing and sales needs, the company does give up some basic features and simple functionality in their email marketing platform. It's not the easiest to create basic email marketing campaigns with ActiveCampaign, and therefore, businesses that are just starting out or only want to handle simple tasks might prefer to look elsewhere.
For more advanced clients, though, ActiveCampaign could be a solid solution. If your business doesn't already have a CRM system but wants one, this could be a great option for you. By running your CRM and email marketing through ActiveCampaign, it will allow you to consolidate your services and provide for easy integration and data tracking of your marketing efforts.
Pricing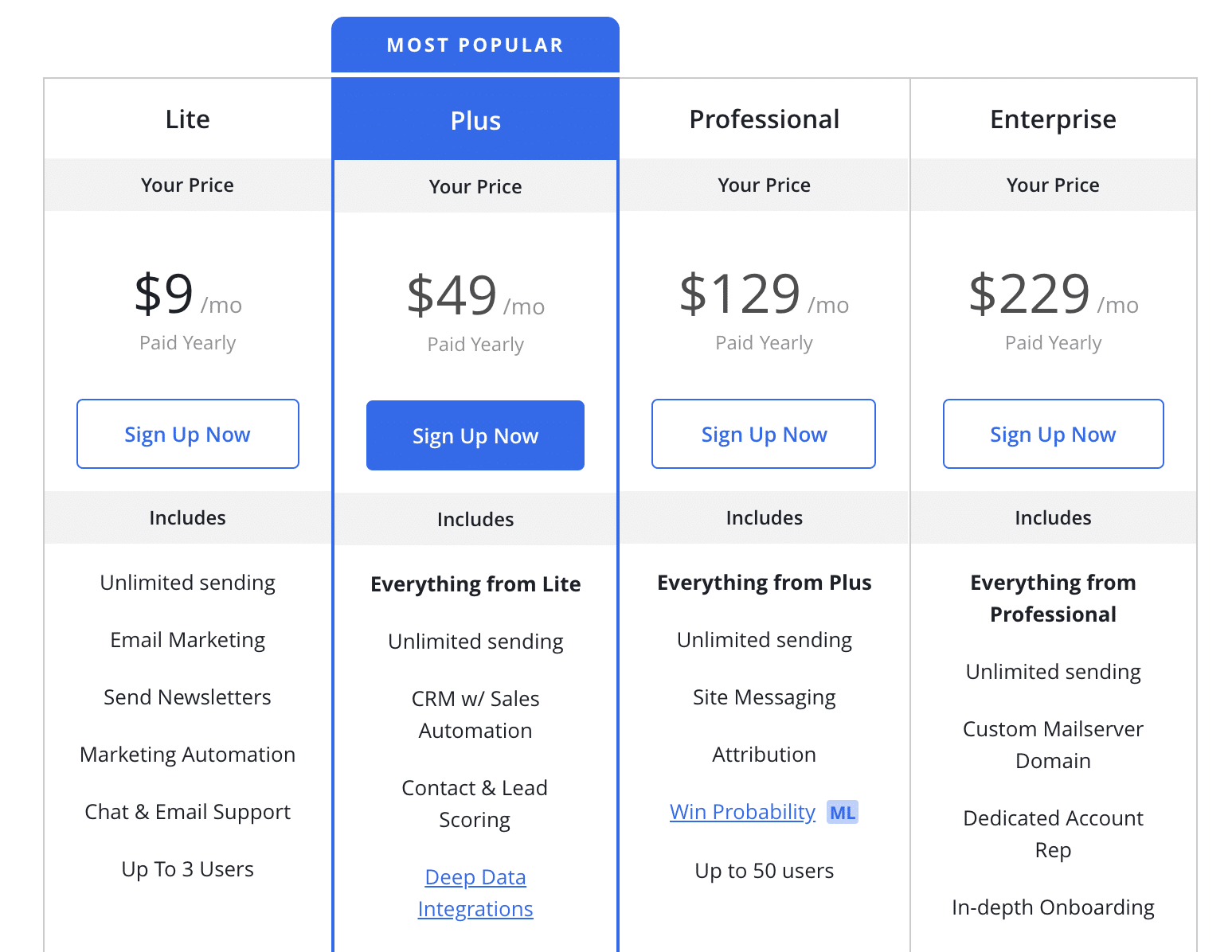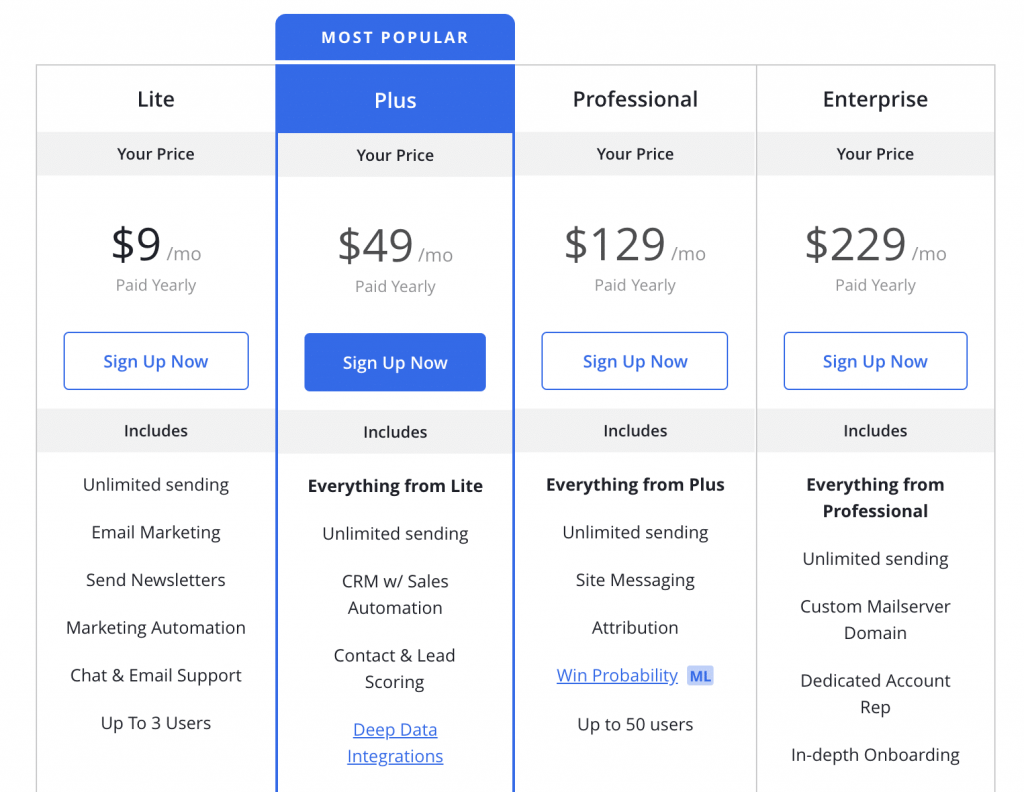 ActiveCampaign offers four plans, each that offers different features. The pricing to use the software can get a little tricky, though, as the cost for each plan increases based on the number of contacts you have in your email marketing lists.
Here are the pricing tiers for each plan, based on a contact list of 500:
Lite: $15 per month, but only includes basic email marketing and three users
Plus: $70 per month, including CRM and sales automation and up to 25 users
Professional: $159 per month, including up to 50 users
Enterprise: $279 per month, including features such as phone support, a dedicated account rep, a custom mail server domain and unlimited users
As mentioned, the pricing for some of the plans will increase as the number of contacts on your list increases. For example, 1,000 contacts will cost the same on all plans except for the Lite, which will increase to $29 per month. To get a true estimate on how much the plans would cost your company, it's best to go to their website and play around with their pricing page.
Each plan offers a discount if you pay annually, and they offer a free 14-day so you can try the software.
Customer support
ActiveCampaign provides a nice selection of resources on their website, including scheduled one-on-one training, weekly webinars, pre-recorded videos, and other training modules. For direct customer support, ActiveCampaign handles issues either through 24/7 live chat on their website or a ticketing system that you have to fill out a form for on their site.
One of the big downfalls of ActiveCampaign is they only offer phone customer support if you are on the Enterprise plan. Phone support is not offered for any of the other plans.
Pros
Good fit for businesses that want to do more than just email marketing

All-in-one solution for marketing, sales, and CRM

Lite plan starts as low as $9 per month if paid annually

Offers ability to send SMS messages to customers and prospects

Provides great real-time data sources
Cons
Not a good fit for smaller businesses or those just starting out with email marketing

Email marketing portion of platform is clunky

Not as easy to use as some other competitors

Pricing is hard to figure out at times, and can get very expensive

Provides phone customer support only for customers on most expensive plan
Rating breakdown
Overall

:

4.05
Features:

4.6

Price:

4.1

Ease of Use:

3.8

Customer Service:

3.7