Social media channels are an essential part of doing business today. They are valuable tools for businesses to communicate with fans and customers, stay in touch with what people are discussing online, and building a brand. In short, being active on social media is not optional for most businesses; it is a necessity.
In general, most social media management tools aim to bring all social profiles together in one place for easy management by a single individual or team collaboration. They simplify the process of managing multiple channels by eliminating the need for businesses to visit multiple websites and write multiple pieces of content just to reach their fans on the most popular channels. In addition to simply posting content, some platforms also enable users to schedule posts well in advance and the more feature rich platforms can even suggest optimal times for posting content to make the scheduling process easier.
Another important feature with most social media management platforms is the additional analytics they offer. These analytics can be very basic from charts that show how user engagement is increasing over time, the number of followers a business has gained over a specified period, and which types of content perform best on various social platforms.
Some management tools take things a little further with more advanced analytics like suggesting optimal times to post content, monitoring keywords or hashtags, and tracking competitor social media performance. Some can even incorporate Google Analytics. For businesses with limited in-house resources, these analytics can offer professional-level insight into social media performance without having to tackle the cost of hiring a data scientist to sift through the information themselves.
Ultimately, above all, social media management tools are meant to make social media marketing more time efficient, less costly, and more effective. With these tools, businesses of all sizes can start producing better content, reaching more fans, and growing their brand.
Why you need them
The challenge that many businesses have encountered with social media management is that there are simply too many different networks and social media activities to keep up with. This either leads to an inefficient use of time as marketing team members try to manage multiple channels with multiple updates or it means that businesses may end up ignoring valuable social channels where their fans may be active.
Instead of compromising, social media management tools streamline the process of developing and posting social content. Where a business would previously have to visit multiple websites and compose multiple updates, they can now post a single update to all of their channels at once, and even schedule updates for the future to help build out a content calendar for their brand .
Of course, social media isn't just about posting and sharing content. It is equally important to listen to fans and followers online. In many respects, this is the most challenging part of managing multiple social media profiles. Businesses must visit the various social media websites they use, check their notifications, and then respond accordingly. Additionally, they need to create customer-centric selling opportunities through their posts and interactions. Social media management and marketing tools consolidate all business interactions and notifications for social media monitoring of their target audience, as well as customer feedback, questions, and concerns, from a central location. It's like an email inbox for all social media channels.
Many social media management tools offer more advanced features or target specific niches of businesses to help set their offering apart from the competition.
When you need them
Any business that has experienced the frustration of managing multiple social media accounts should look into the services offered by these social media management platforms. The alternative to using these platforms would be to hire someone in-house that can examine social media data and build custom reports which would be, obviously, a significant expense. Even if a business were to choose that route, it still does not solve the inefficient reality of managing all social media platforms from multiple websites.
Here are a few other signs that a business should consider looking into subscribing to a social media management platform:
Customer questions or interactions on some platforms have been missed leading to slow replies or poor service

Managing a range of social media accounts has begun to feel exhausting, time-consuming, and frustrating

Businesses are missing out on important conversations that may be trending online leading to missed opportunities for generating topical, viral content

Users want to dive deeper into analyzing the performance of their social media updates to continue improving their online presence
How to choose the right social media management tool
While each social media management tool has a basic suite of features, there are also some features that may be unique to certain platforms. Choosing the right tool for a business will largely boil down to the unique needs of the business as well as the budget available.
Here are a few important questions to ask and features to consider when shopping around for social media management tools:
What platforms is the business active on? Does the platform in question support all social networks that are important?

What type of content is being posted? Should the social media management tool cater to visual brands and media content or is blogging more important?

How many users are managing content on the platform and do managers need the ability to manage workflows, create content calendars, or assign tasks right inside the platform?

Are there any third-party integrations like Zendesk or Slack that are important to the business?

How much data is the business looking for when it comes to reports and analytics?
Features
Social media management platforms can have a range of features. Some features are very advanced and may be unnecessary for beginner users while other users may crave those deeper analytics and recommendations.
Here are some of the features available that users should consider when choosing a social media management platform:
Look for content creation and scheduling capabilities. This is the most basic feature most users will be looking for. Is there a limit to the number of posts allowed, how far in advance can scheduling be done, and can a single post be scheduled to more than one social media channel?

How do users interact with the platform? Most platforms are available via the web but some platforms also offer mobile apps. For teams working on-the-go, having the availability of a mobile app may streamline social media management even more.

Most platforms offer some level of social listening. This can highlight trending keywords and even complete complex tasks like scouring social media for negative mentions. This can be a valuable feature for helping create content and identifying potential customer issues even if they are not directly interacting with the brand.

Some social media management platforms also offer content curation and suggestions. This can take a lot of legwork out of the creation process. Look for platforms that can suggest trending articles and topics to assist with content development in addition to the more basic features of posting and scheduling content.
Pricing
Many social media management tools offer a free trial and some may even have free plans available for users. Price ultimately boils down to the types of features being offered. Users can get the best bang for their buck by first identifying the features that are important to them and then finding the platform that offers all of that for the lowest price.
In general, as more advanced analytics are offered, pricing increases. Small businesses with basic needs may be able to keep their budget low by opting for a platform that does everything a social media management platform should do without all of the bells and whistles.
Ease of Use
Above all, a social media management platform should make managing social media content easier and more efficient. Most platforms put an emphasis on this and offer well-designed interfaces to accomplish this. Some advanced features like bulk uploading of content, built-in photo editing, and content suggestions can help beginners get started with creating great social media content.
Appearance and usability of these platforms will have a personal preference element to it so it's important for businesses to review several options.
Customer Service
Every social media management platform has some level of customer service available. Users should look for the tools that offer additional resources wherever possible. For example, some platforms have blogs, case studies, videos, webinars, forums, and even one-on-one onboarding support in addition to the standard support channels like email and live chat.
On some platforms, the level of support available may vary between price levels so it's important to ensure that the desired level of support is included in the plan that is being chosen.
Here is our list of the best social media management tools.
---
Hootsuite

Hootsuite is one of the most popular social media management tools available. There is a range of plans designed for businesses of all sizes. One feature of Hootsuite that is not available from most competitors is the ability to integrate over 250 different apps to increase the functionality of the platform. Hootsuite also has one of the largest selections of supported social media channels which makes it ideal for users who may be active on social media networks beyond just the major names like Facebook, Twitter, and Instagram.
See the full review of Hootsuite here.
---
Sprout Social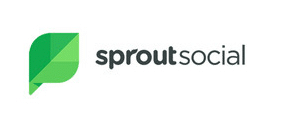 Sprout Social is another big name in the social media management world. This platform puts a major emphasis on data and analytics with some of the most advanced analytics tools available. Users can monitor their competition, get detailed engagement reports, and benchmark their content against their peers. The team management tools in Sprout Social also give larger teams more advanced control over their content creation with a built-in content calendar, approval workflows, and assignment of tasks to specific users. The highest tier plan even allows for the creation of custom chatbots for streamlining conversations online even further.
See the full review of Sprout Social here.
---
SocialPilot

SocialPilot gives users looking for a simpler experience everything they need at a lower pricing tier than much of the competition. While users may miss out on some advanced analytics, they can still enjoy standard reports that cover all of the important stats they need to know. Even at the lowest pricing tier, SocialPilot allows multiple users to manage dozens of social media accounts. The addition of content creation and discovery makes generating that next great viral post even easier as well. Lastly, as a company that never ceases to update and improve their product, their latest mid-2019 update is a feature that allows users to boost Facebook posts right from within the SocialPilot Dashboard – saving the user both time and effort. 
See the full review of SocialPilot here.
---
Buffer

Buffer takes the complicated process of social media management and streamlines everything to make it as simple and intuitive as possible for users. Their user-friendly interface makes it one of the easiest platforms for new users to pick up. However, with that simplicity comes some compromise. More advanced users may notice a lack of features like keyword planning and support for social networks beyond the big names. Buffer also limits the number of scheduled social media posts per account, which means more active users may find the tool to be lacking.
See the full review of Buffer here.
---
Viraltag

Viraltag implements many of the basic social media management features that users look for in a platform and then puts a twist on it with a focus on brands who use visual content for much of their social media content. Fashion brands, beauty brands, and influencers will appreciate the built-in photo editor and a large variety of templates to choose from. Viraltag also uses advanced analytics to determine the best performing posts and then automatically recycles them when appropriate to make the most out of previously successful pieces of content.
See the full review of Viraltag here.
---
TweetDeck

TweetDeck is a free tool offered by Twitter to help users manage unlimited Twitter accounts using a customizable dashboard. Being that this is an official Twitter product, users will find many advanced features available to help them make the most of the social network. Of course, the downside to this free platform is that it only supports Twitter and users will still have to find other solutions for their various social media channels. In addition, advanced analytics and post planning tools are absent from the platform.
See the full review of TweetDeck here.
---
Zoho Social

Zoho Social brings social media management to the cloud with its intuitive platform that supports the major social media networks. Teamwork is a major focal point in Zoho Social with features like their content calendar, task assignment, and the ability to see in real-time which users are working on which tasks. This makes collaboration simple and eliminated the need for external resources. Some major platforms like YouTube and Pinterest are missing from Zoho Social which means visual brands may find that their needs are not completely addressed.
See the full review of Zoho Social here.
---
MeetEdgar

For users who want to quickly create content and get analytics to help them build more effective content, MeetEdgar offers an extensive suite of tools. One of the most impressive features is the ability to have MeetEdgar use the Smart Compose functionality to pull relevant content from blog posts and then draft a social media update instantly. This drastically cuts down on the amount of time needed to build social media content and, instead, users can focus on building great blog content.
See the full review of MeetEdgar here.
---
Agorapulse

For users who demand the most in-depth data to boost their brand on social media, Agorapulse is a social media platform that aims to meet those demands. Their deep analytics tools go beyond the basics to help with things like keyword planning, competitive comparisons, listening, and content development. All of this comes together in a sleek platform with a unified inbox so that marketing users can easily manage all channels and interactions from one place.
See the full review of Agorapulse here.
---
Sendible

Sendible is a social media management platform designed with content marketing agencies in mind. Businesses that service the social media channels of their clients will greatly benefit from the unique management tools packed into Sendible. For example, detailed and professional reports can be generated right from the platform with a single click, making client presentations and reviews simpler than ever. Managing teams with content calendars, workflow approvals, and task assignments are also available from Sendible. In addition to managing social media content, users can draft and post blogs to many of the popular platforms like WordPress and Blogger. Lastly, Sendible has many useful content tools that help marketers create better posts for social media: from tailoring posts per network to creating, editing, or optimizing high-quality images through integrated platforms like Canva (if not their own image editor). 
See the full review of Sendible here.
---
eClincher

eClincher is another tool that puts a major emphasis on data and analytics. Users can see keyword planning suggestions to help them develop their next viral post as well as location monitoring, hashtag listening, and suggested content ideas. All of this makes the content creation process much less time-consuming. With the eClincher platform and unified inbox, creating and managing all social media channels feels efficient and intuitive. Higher tier plans introduce teamwork tools like content calendars as well.
See the full review of eClincher here.
---
Promo Republic

Creating stunning visual content for social media is made easier with Promo Republic. Their vast selection of available templates and the built-in design tool allows users to craft professional content in minutes. Once the content is created, the single, unified Promo Republic dashboard allows users to post their beautiful content to all of their channels with one click. No need for additional software. Some niche social networks are missing from Promo Republic and the analytics is more basic than some competitive offerings.