Lemonade Insurance

Instant quotes and quick claims process
Low premiums in many states
Plans can be canceled at any time

Visit Lemonade

The Hartford

Affordable rates
Partners with the AARP for more discounts
Range of coverage options

Visit The Hartford
Why homeowners insurance is needed
Buying a home is often the most significant investment people will make in their lifetime. It only makes sense to make sure that it's protected in case disaster strikes. No one ever expects a natural disaster, fire, or flood to destroy their house or belongings, but it happens every day. The best protection against these unforeseen damages is homeowner's insurance through a reputable company.
Insurance is a requirement made by the bank when there is a mortgage on the home and it's usually built into the monthly mortgage payment cost.
A good home insurance policy provides homeowners with the funds for large-scale damage and even lost/stolen personal property in some cases.
When homeowners insurance is needed
Homeowners insurance typically provides replacement cost coverage for major expenses due to weather-related damage like floods and injury liability. Insurance also provides for costs outside of natural disasters, like replacing the roof every 15 to 20 years.
Liability coverage is another major cost that is covered if somebody is injured on the property, and the homeowner is determined to be liable.
There are many things, both big and small, that a homeowner's insurance policy will help cover the cost (whether it is a newer or an older home), making it extremely valuable to homeowners.
What to look for when choosing a homeowners policy
The right insurance provider can be a daunting task for both new and seasoned homeowners. The most important things a homeowner will want to evaluate in a potential insurance company are things like:
The variety of coverage options offered
The number of discounts
Coverage limits
The customer satisfaction rating of each Insurance Company
Available educational resources
Website and app user-friendliness
Some homeowners will find themselves in unique situations that need specific and coverage options and limits. Once a homeowner knows their particular needs, they can begin researching insurance companies that can meet or exceed them.
Lemonade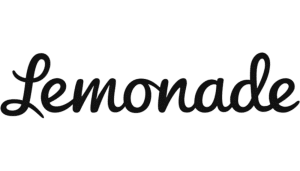 Lemonade is a relatively new company, founded in 2015. It's growing rapidly, however, and now operates in most US states as well as several European countries.
Lemonade is "insurance for the 21st century". It's a technology-first company that uses tech and AI to keep costs down. The result is lower premiums for customers, as well as an easier process to sign up, submit claims or manage coverages.
The signup process with Lemonade is completed online or through the Lemonade app, rather than at a local insurance office. In fact, the signup process is handled by an AI chatbot named Maya! This is one of the many ways that Lemonade both speeds up the process of getting insurance and lowers the cost of premiums.
Pros
Instant quotes and quick claims process
Low premiums in many states
Plans can be canceled at any time
Easy switching process from other insurers
Good customer service
Cons
Not available in all states
Lemonade is also a company dedicated to social causes and improving the world. They are a Public Benefit Corporation and a certified B Corp. Plus, a portion of premiums is donated to charity each year. In 2021, over $2.3 million was distributed to worthy causes in the US and abroad.
In addition to homeowner's insurance, Lemonade also offers renter's insurance, term life insurance, and even pet insurance. Car insurance is not yet available but is coming soon to the Lemonade platform.
Lemonade is best for those who want low premiums and an easy signup and claims process — and those who would prefer to use technology rather than visit a local insurance agent. Unlike most competitors, you won't find Lemonade insurance agents in your area, and there are no physical offices to visit.
Lemonade is a simple, easy-to-use insurance provider that also offers low premiums. However, one of the main drawbacks is that the options to customize coverage are fairly limited. Compared to some competitors, the customization options are lacking.
The other drawback is availability. For homeowner's insurance, Lemonade is only available in around half of US states.
Lemonade availability 
Lemonade offers homeowner's insurance in 24 states currently, but they are expanding quickly.
Homeowner's insurance is currently available in Arizona, California, Colorado, Connecticut, District Of Columbia, Georgia, Illinois, Indiana, Iowa, Maryland, Massachusetts, Michigan, Missouri, Nevada, New Jersey, New York, Ohio, Oklahoma, Oregon, Pennsylvania, Tennessee, Texas, Virginia, and Wisconsin.
The Hartford

Founded in 1810, The Hartford is one of the oldest insurance companies still around today. The company's first Insurance offering was for fire protection on the East Coast. The company has adapted to the changing times ever since. Their primary customer focus is adults who are 50 plus years old and members of the AARP.
The Hartford offers a wide variety of policy types and upgraded coverage options geared towards retired or near retired customers. The company tends to give more generous discounts to homeowners who choose to upgrade their existing homes with energy-efficient and green options.
The company was given three out of five stars in the 2019 J.D. Power study for overall customer satisfaction. This is in line with industry standards, so customers should experience minimal frustration when they need to file a claim. The Hartford has also been awarded "World's Most Ethical Company® 12 times over the years by the Ethisphere Institute".
Pros
Partnership with AARP for additional discounts.
Affordable rates and relevant coverage options for older adults.
It has a new home discount for first-time buyers for customers in California and New York.
Range of coverage options from liability to renters insurance.
Cons
Must have home or auto policy to get other types of policies.
Only available to AARP members in some states.
The Hartford very clearly favors adults who are 50 years of age or older. One of the unique coverage options they offer as part of homeowners' insurance is additional coverage for personal property in assisted living settings.
They offer extra discounts on insurance rates for repairs/upgrades made to make the home more 'green' or environmentally friendly. Environmentally friendly homes can reduce living expenses like utility bills. There is an additional retirement credit if a customer/spouse is retired and works less than 24 hours a week. The Hartford is the best option for AARP members who have new energy-efficient homes or those who've upgraded to their older homes.
 Allstate
Allstate has been around since 1931 and remained a solid choice for new and seasoned homeowners. The company offers a range of standard insurance products and multi-policy discounts to reward homeowners with multiple assets.
Allstate is very involved with local communities through its vast network of agents. They offer reliable coverage and customer service in the event of a claim while keeping insurance premiums at a moderate price point. The company provides an extensive collection of resources aimed at helping new homeowners navigate the overwhelm of buying a home.
Pros
There are many discount opportunities for homeowners.
Plenty of helpful guidance to new homeowners like blogs and app features. The escape route feature lets families create escape routes in case of a fire.
The website is user-friendly and comprehensive.
Cons
It only received a 3 out of 5 stars rating in the 2019 J.D. Power round-up of best homeowners insurance companies.
Customers with high-value homes and assets might need more coverage and protection than the homeowner's policy offers.
Allstate has always prided itself on giving back to the community through disaster relief programs and donations. "Allstate's innovative and strategic funding of 150 grants/sponsorships to organizations serving Chicago, Charlotte, and Dallas/Irving youth makes a positive difference in their lives."
Allstate has scaled up the involvement of agents in community support programs over the last few years. This means the company is more in tune than ever with the needs of local customers.
New homeowners will find that Allstate homeowners insurance is an excellent choice for protecting that significant investment and a lot of helpful resources along the way. Current and seasoned homeowners will appreciate the coverage options and generous discounts that Allstate offers.
Amica

Homeowners looking for a few unique coverage options and the highest rated customer service satisfaction scores can't go wrong with Amica. Founded in 1907, the company began offering auto, fire, and theft insurance and added homeowners insurance in 1956. The company is still a shining example of a customer-focused business model with modern coverage options.
Though the company is on the smaller side, they make up for it with add-ons like upgrades for home-based businesses and the full replacement cost of lost or stolen personal property. Amica offers a robust 20% discount when homeowners also use the company for automobile coverage.
They also offer homeowners access to a network of over 2,000 vetted home repair contractors. The home repair assistance program through Contractor Connection is a valuable resource to both new and seasoned homeowners.
Pros
It has been rated 5 out of 5 stars by J.D. Power for customer satisfaction for the last 18 years in a row.
Dividend policy payments, which are bonus payments to thank customers for choosing that company. They fluctuate and depend on each year's profits. They usually happen when the company has a better than average year.
Cons
Limited benefits and coverage depending on the state (like dividend payments).
The stellar customer service homeowners receive year after year is not by accident. Amica is always making sure that the highest standards of service are delivered, which is why it's one of the best home insurance companies. The mid-sized insurance company is frequently rated as a top place to work in local communities. Happy employees lead to happy customers in the eyes of Amica, and their satisfaction surveys prove it.
Homeowners looking for outstanding support from service representatives and unique coverages will find the perfect balance with Amica. The company offers additional value through its partnership with Contractor Connection for many home repair needs. For those homeowners that also bring their auto insurance with them, they'll enjoy a generous 20% discount at Amica.
State Farm

Currently, the most popular homeowners insurance company, State Farm boasts a massive network of agents in all 50 states. Started in 1922, State Farm is consistently recognized as a top employer in the U.S., a leader in the community, and a green partner. Both new and experienced homeowners will find an ideal balance of coverage options and pricing, along with some banking services.
Their website and mobile app are top-notch and extremely user-friendly. Fair pricing and standard policy coverages have put the insurance provider on the map. In 2019, State Farm was rated 4 out of 5 stars in customer satisfaction by a J.D. Power study comparing homeowners insurance companies.
Pros
Cons
Few discounts advertised compared to others in the industry.
While the massive insurance company offers a vast range of product lines, including banking and investments, the products do lack depth. The standard coverages and upgrade options are there. Still, some homeowners will find that they need policies with other companies for truly tailored coverage.
New homeowners will love the country's massive network of insurance agents and fair prices of State Farm homeowner's insurance. The tools and calculators on the company website will be helpful to new homeowners and are geared towards self-service. The company has exceptional financial strength, so policyholders can rest easy knowing that their home is covered by the largest insurance company in the nation.
Nationwide
Founded in 1925, Nationwide is one of the country's older insurance agencies and offers a considerable array of homeowner insurance policy coverage options. The company promotes insurance education for all of its customers so they can be better informed about how their policy will (and will not) protect their investment. They also offer benefits like life insurance and commercial property coverage.
New homeowners can find plenty of guidance and resources on the Nationwide blog and resource section. While the application and claim filing processes are simple to fill out, customers may not get the result they were hoping for after filing a claim.
Nationwide has a customer satisfaction rating of just 2 out of 5 stars, which is just below the average of 3 stars. No homeowner wants to file a claim, but that is the point of insurance, so it's important to know claims are handled well.
Pros
Wide range of flexible coverage options.
Lots of discount opportunities., especially when bundling options like home and auto.
Easy application and insurance claims filing forms.
Cons
2 out of 5 stars in the 2019 J.D. Power customer satisfaction of homeowners insurance survey.
The company has room for improvement when it comes to handling claims and customer satisfaction but also offers a wide range of discounts. For seasoned homeowners that understand how to handle insurance claims, this might only be an inconvenience. New homeowners need to be sure of what their policy covers,  as some gaps could mean thousands of dollars in out-of-pocket expenses.
The company has one of the most comprehensive offerings of coverages and specialty upgrade options. This makes Nationwide an ideal choice for homeowners who want specialized coverages or have unique needs.
Liberty Mutual

This insurance company might be one of the most modern and forward-thinking options customers have when it comes to homeowner insurance policies. Liberty Mutual was founded in 1912 but has adapted very well to advanced technology and user-friendly self-service portals. It makes it easy to get free insurance quotes online!
The company's mobile application and desktop websites are quite robust. Each has plenty of options for homeowners to choose from, so they don't often need to talk with an agent for routine tasks or simple questions.
The company receives a slightly below-average rating of 2 out of 5 stars on the J.D. Power study in 2019. While this might be frustrating for some customers, Liberty Mutual is one of the more generous insurance companies when it comes to the number of discounts offered.
This is an important trade-off for homeowners to consider.
Pros
Tech conscious company with many customers needs that can be taken care of online.
Plenty of discounts like those for military members that purchase auto policies.
A wide array of policy options including home, auto, renters, and condo insurance.
Cons
Inflation protection is one of the unique coverages Liberty Mutual offers. This adjusts the coverage amount offered on the home policy each year to account for inflation. Choosing this option will make the homeowners' insurance rates more affordable.
For both new and seasoned homeowners, Liberty Mutual is a great choice. They offer many different types of policies and discounts, but homeowners may find the claims process frustrating. This is a great home insurance company choice for customers that prefer self-service with robust digital interfaces.
Progressive

Started in 1937, Progressive offers one of the widest varieties of insurance policy coverage options. The company is very budget-friendly, even offering their signature "name your price" calculator. This tool allows potential customers to dictate what they can afford, and the tool will return different coverage options in that price range for their homeowner's insurance.
Progressive doesn't write its own homeowner's insurance policies; they have partnered with ASI to write the homeowner's insurance policies for them. This means that during the underwriting or any claims processes, customers will be dealing with the ASI customer service team, and not Progressive.
In the 2019 J.D. Power homeowners insurance study Progressive, through ASI, receive a 3 out of 5 Stars rating for customer satisfaction.
Progressive acts as a broker and uses different partner companies to write policies for them. This is how they are able to offer some of the most affordable homeowners insurance rates and so many coverage options.
Pros
Generally some of the most affordable rates including a 12% discount when bundling auto policies.
Large library of resources for new homeowners like blogs, FAQ sections, and detailed technical resource guides.
Cons
Progressive is just a broker, so claims are handled by the actual third-party insurance company.
The company has done a great job of pulling many resources for new homeowners and prides itself on insurance education. Customers will have different service experiences depending on which partner company wrote their homeowner's insurance policy.
For new and budget-conscious homeowners, Progressive is a great choice with a variety of coverage options and self-service resources on its website.
USAA
Since its founding in 1922, USAA has been a dedicated insurance provider for military members and their families. The company goes above and beyond in customer service standards that it provides to its members. USAA offers the standard array of insurance coverage options and discounts all at very competitive rates.
USAA received a full five out of five stars for customer satisfaction in the J.D. Power study, and customers will find the claims process extremely easy to navigate. The company has useful tools, resources, and networks available to homeowners both win buying and selling their homes. For example, they can select from USAA approved local Realtors and companies.
Pros
Superior customer service and claims processes.
Competitive rates and discounts. Some examples include those for homeowners without a claim in 5 years and if homeowners install ADT security systems.
Plenty of policy options. They also have other services like banking and brokerage accounts, which lets investors can grow their capital.
Cons
Only available to service members and their families.
Home Sharing coverage is a unique policy feature offered by USAA as more adults cohabitate with their parents or even other families and roommates. This coverage means that everyone who lives in the house is protected without needing separate policies.
USAA homeowner's insurance is one of the best choices out there for service members and their families. They have exceptional customer satisfaction ratings and unique policy coverages that have adapted to modern living situations. The company offers competitive rates and comprehensive coverage, but it's only available to military service members and their families.
Bottom line
There are a lot of choices out there when it comes to selecting a home insurance provider. So homeowners need to do thorough research to find the best option to fit their unique coverage needs and budget.
Since homeowners insurance is a general requirement by banks that hold the mortgage, homeowners will want to balance the monthly cost and customer service ratings.
Some insurance companies are more expensive and offer fewer discounts, but homeowners will sail through the claims process without any frustration. Other companies are very budget-conscious, keeping costs low, but homeowners may find themselves having to wait longer to receive payments for claims.
Buying a home is a big decision, and protecting it should be given just as much consideration.