When you think of modern marketing strategies, you probably think of things like text message marketing, social media marketing, email marketing, and other cutting-edge advertising methods that have become standard pieces of the marketing puzzle for businesses of all sizes.
Despite all of the latest and greatest marketing strategies being employed by businesses, however, direct mail marketing is still going strong. In fact, businesses that use direct mail see 10 to 30 times higher responses from customers in comparison to digital marketing. That's a pretty significant jump in responses, and something you should definitely be excited about if increasing company revenue is important to you.
So, why does direct mail marketing work so well? And most important, what are the downsides of using direct mail advertising for your business? Can you manage the costs, or is this just one more thing on your plate?
There are many reasons why you should consider direct mail marketing. Having a solid foundational understanding of its advantages and disadvantages, as well as the options available to you, will ensure you make the best decision for your marketing budget – and your business.
Why do you need direct mail marketing?
If you own or operate a small or medium-sized business, then you already know that your marketing budget isn't exactly an unlimited pool of money. You need to utilize the most cost-effective means of reaching your target audience and get the best return for every dollar. In recent years, the growth of online advertising has led many budget-conscious marketers and business owners to spend an increasing portion of their budget online. In fact, nearly half of all marketing dollars go to online advertising.
Of course, this means marketers are still spending a lot of money offline too. And one of the most effective ways to reach people in this modern, connected world is good old-fashioned mail. That's right, you get your bills online, you do your banking online, and you can even buy groceries online. But, one of the most effective ways to get a person to act on a marketing message is to send them a piece of direct mail.
There are a number of theories as to why this is true. Some people believe online advertising has become oversaturated, and this theory makes a lot of sense.  A recent study found that people working in an office environment receive an average of nearly 80 emails per day. What this means is that you're competing against a lot of other "noise" to make your message stand out. Would you rather have your email mixed in with dozens of other marketing emails, or be one of the few pieces of mail sitting in someone's mailbox?  One method gives you a much higher chance of actually catching the eye of the person you're marketing to.
There's also something to be said about physical communication in our increasingly digital world. People can hold your offer, coupon, or invitation in their hands. They may place it on their counter where it may catch their attention or the attention of someone else multiple times. Something like a coupon can be put in the car for easy use. Many advertising mediums give you one opportunity to capture the attention of the person you're trying to reach. If they walk away from the TV for 30 seconds or delete an email without opening it, that opportunity is gone. With a physical piece of marketing, you stack the odds in your favor that your message will be seen.
Plus, even though our world is moving to more and more digital communication methods, people still enjoy checking the mail to see if they have received anything. In fact, 40% of people say they actually look forward to checking the mail. Perhaps most surprising from that survey is that age groups below 65 didn't report much of a difference in their enjoyment of getting mail. That's right, even Millennials like to check the mail. The myth of the online-only young person is a dangerous trap to fall into if you're developing a marketing plan.
The bottom line?  Direct marketing through the mail flat-out works.
When do you need direct mail marketing?
There are a few situations when you'll find direct mail marketing to be an important part of your overall marketing plan. Of course, when you develop a marketing plan, you need to create a budget and strategy. Without a clear plan and budget, any marketing strategy will ultimately fall short of expectations.
Determine the message you are trying to get to people, how you want them to act on that message, and how you plan on delivering that message. If direct mail seems like a good way to help get the message out, then you'll need to figure out how much of your budget to allocate to it.
There are some specific types of campaigns when it may prove to be more helpful than others, particularly when it comes to direct mail marketing for real estate. Another great example is for limited-time sales events at a car dealership or retail store. These direct mailers are like getting a physical invitation to a party. It's much different than getting an email invitation or hearing about it on the radio. Best of all, someone can keep your direct mail piece in their home or vehicle leading up to the event, so that they are reminded of the date. This, in turn, means they are more likely to come.
Coupons are also a great form of marketing that works well with direct mail. People enjoy having physical coupons that they can take with them to the store. If you send out several coupons, people can review all of the options and see the products and deals you have available. It's almost like getting them to visit the sales page on your website.
Another great time to use direct mail marketing is when you want a great, easy way to track marketing response. Not all small and medium businesses have the time or marketing staff to do deep data analytics on marketing campaigns. When someone brings in a piece of direct mail, you can easily track the success of your marketing. This is incredibly helpful if you are testing several different types of marketing to see which will work best for you in the future. With direct mail, you can often see the results of your marketing walk right back into your business with the customers you mailed.
How to choose the right direct mail marketing company
Like with many other marketing strategies, there's an almost limitless number of direct mail marketing companies you can work with. But what should you look for when comparing direct mail marketing companies to ensure you that make the right decision for your business?
There are a handful of important features you'll want to look for based on your own unique needs. Many direct mail companies will attempt to help you make the most of your budget by taking care of some of the more challenging parts of direct mail marketing themselves. Design is one of those aspects of direct mail marketing that can prove to be difficult for inexperienced designers. Unfortunately, however, hiring a professional designer is cost-prohibitive for many small and medium-sized businesses. Luckily, many direct mail marketing companies include powerful design tools that are easy and intuitive to use. Simply choose from basic templates and then drop in the images and text you wish to include. This makes it quick and easy to create an effective direct mail campaign.
Of course, once you have created a great direct mail campaign design, you actually have to get that design into the mailboxes of your prospective customers. This can prove to be a time-consuming task, especially if you don't have a list already created. Many direct mail marketing companies allow you to buy pre-created lists or target specific areas that are relevant to your business. Now, instead of knowing the exact addresses of people you need to target, you simply need to know the type of person you want to target and the locations you're looking to reach, and the direct mail company will do the rest.
You also need to get your direct mail pieces into the mailboxes of the people you are trying to reach. Printing out your own mailers and taking them to the post office to send out can be an expensive and time-consuming process. Perhaps one of the most valuable features of direct mail marketing companies is their ability to print and mail your direct mail campaign at the best bulk prices available. This way, you don't actually have to worry about mailing everything out yourself, nor buying postage, or printing anything. This is perfect for busy business owners and marketers who simply don't have the time to be standing in line at the post office. Many direct mail companies will handle the entire process for you, from A to Z.
One final thing to consider is the types of direct mail products offered by the companies you are considering. For many businesses, a basic direct mailer is sufficient. Some businesses, however, may want specialized direct mail campaigns with complicated printed materials that may not be readily available from all companies. At the end of the day, being able to identify the right company for your needs begins with creating a marketing plan and imagining what you hope to see from your direct mail campaign, and then finding a company that can supply those needs.
How much will your direct mail campaign cost?
Of course, one of the most important parts of any direct mail campaign is the cost. After all, you need to make sure that the return on your marketing investment is worthwhile. So, how much will your direct mail marketing campaign actually cost you? There are several factors that determine the cost of this kind of campaign.
First, there is the cost of the materials and printing. Generally, direct mail marketing companies will charge you based on a bulk order with the price per unit going down as your total number of units increases. The type of paper used, the number of colors in the images and text, and the size of the printed materials have the greatest influence on the per-unit cost. More elaborate direct mail materials like flyers with multiple folds will ultimately cost more than a simple postcard-style piece of mail. When considering pricing, you'll need to balance your budget with the quality of materials you want to deliver.
If you don't have your own mailing list that you will be using, there may be a cost associated with buying a mailing list or having one compiled for you. This can be very valuable if you're running a broad campaign to bring in new customers.  The good news is that most direct mail marketing companies do a great job of building effective lists that will meet your targeting requirements. One thing to note, however, is that you can save money by using your own direct mail list for existing customer promotions. This demonstrates the importance of building a complete list of customers with contact information. Once you have a complete list, you can then use it for a variety of marketing purposes, and save costs on your future direct mail campaigns by eliminating the need to buying marketing lists.
The final cost of direct mail marketing relates to the actual cost of mailing out your marketing materials. Direct mail companies have a distinct advantage over DIY mailing campaigns because of the volume of campaigns they send out. As a result, they are typically able to offer far better rates for direct mail campaigns than if you were to walk into the post office yourself. Regardless, depending on how many pieces you are sending out, mailing costs will likely be one of the most significant costs for your direct mail marketing campaign.
For most direct mail marketing companies, the total cost for printing, list building, and mailing is typically presented as a combined cost, which allows you to calculate the actual cost per mailer that you're sending out. Using this information, you can then project a targeted response rate to predict your return on investment. If your costs are creeping to a point where you require a 5% response rate or higher to break even, you may need to consider whether this campaign is going to be worth it. Direct mail campaigns tend to see an average of around a 4.5% response rate.
---
Vistaprint
Vistaprint is one of the most well-known names when it comes to custom printing. Their services span a wide range of printing needs, one of which is direct mail marketing. Perhaps the best feature of Vistaprint, especially if you're new to designing direct mail marketing campaigns, is their easy-to-use design platform. The intuitive platform allows you to create a professional direct mail postcard with no need for prior design experience. This simplicity does come with a downside, however, as Vistaprint doesn't offer the same range of direct mail products as some competitors. In addition, their cost per unit is higher than comparable services. If you need simplicity, the cost may definitely be worth it in the end.
---
PsPrint
For budget-friendly options, PsPrint is one of the best direct mail marketing solutions on the market. However, the service does require a bit of design experience as they do not provide a self-serve design platform like other companies in the market. However, you can pay for a designer from PsPrint to create your direct mail marketing campaign materials at an additional cost. The platform and service feels very no-frills and basic but the cost savings when looking at your materials on a per unit basis may be worth it, especially if you are operating on a limited marketing budget. If you do have a design background or an employee in your marketing team that can take on that challenge, PsPrint can be an effective service to control costs.
---
Gunderson Direct
Gunderson Direct is a direct mail marketing company headquartered in Hayward, California. They offer a suite of useful marketing services and cover every aspect of the mail marketing process.
Businesses can go to Gunderson to run their mail marketing campaigns from start to finish. They offer creative design services, strategic planning, production, and mailing, plus detailed analytics to review campaigns. They can also help blend physical mail and digital marketing efforts, resulting in a more effective overall marketing strategy.
Gunderson takes an ROI-focused approach to every campaign and aims to make every launch a profitable one for their clients. They specialize in B2B and particularly aim to serve Software as a Service (SaaS) companies. With that said, they do accept clients from most industries, with a focus on medium to large firms.
Pros
All-in-one services
15+ years of industry experience
Creative design services for mailers
Advanced analytics provided after each campaign
Expertise in B2B direct mail
ROI-focused marketing campaigns
Experience working with hundreds of high-profile clients
Offers a free ROI calculator on their website
Can handle large scale marketing campaigns
Option to use your own mailing lists, or Gunderson's resources
Cons
Primarily works with larger companies – minimum orders may be high
Pricing information requires a custom quote
See the full review of Gunderson Direct here.
---
PrintingforLess.com

PrintingforLess.com is, above all, a discount printing service. No matter what marketing materials you need, they can help you get it printed at some of the most competitive rates in the business. They're also an EDDM vendor which means they help support the USPS direct mail program for your small business. The service is not as friendly to use as some of the more advanced options on this list and the analytics for building highly targeted lists are not available but, for an affordable EDDM solution, you will find exceptional service and guarantees from PrintingforLess.com.
---
Mail Shark

Mail Shark tailors their direct mail marketing solutions to your specific needs. If you want to DIY your direct mail campaign, their EDDM print solution puts the power (and cost savings) into your hands. If you want a full-service direct mail campaign from design, to printing, to mailing; they can do that too. And, finally, if you just want your materials printed and dropped at your door, they offer low-cost professional printing services. The free design services and weekly payment plan makes Mail Shark a very budget-friendly solution for small businesses working on a tight budget. Plus, best of all, they have support staff to walk you through the process. Think of them as a part of your marketing team.
---
Modern Postcard

Modern Postcard has one of the largest ranges of products for your business to use in direct mail marketing campaigns. In addition to standard postcards, Modern Postcard offers brochures, folded cards, and many different sizes or formats. The design tool can be used to create a professional direct mailer or you can use the in-house Modern Postcard designers if you are willing to pay the additional cost. Perhaps the best feature from Modern Postcard is the advanced targeting and tracking to build a truly data driven campaign that will, hopefully, yield better results. You can target specific demographics and lifestyles which provides you with even more control than some other direct mail platforms and a level of targeting usually expected from digital marketing platforms.
---
InfoUSA

InfoUSA puts a heavy emphasis on data for marketers which can give you unique insights to help you build the best direct mail marketing campaign for your business. They offer deep, pre-created databases of customers to help you build a customized, targeted solution. Once you have settled on a target demographic and a design, their next day print and ship guarantee means that you aren't waiting for weeks to even begin seeing results from your campaign. Customers will begin getting their mail materials quickly. Plus, even with all of these additional features and integrations, InfoUSA has very competitive pricing to other direct mail marketing companies.
---
PrintLabelandMail

The website for PrintLabelandMail looks like a bad advertisement from the glory days of popup advertising but don't judge a book by it's cover. This flexible service offers you a range of ways to get your direct mail marketing campaign out to your customers. Whether you need full-service mailing from design to list building to mailing or whether you simply need mailers printed and delivered to you for a DIY campaign, PrintLabelandMail has the right option for you. Not only that, their marketing services can help connect other areas of your marketing to make one cohesive campaign from direct mail to door hangers to flyers to magnets and more. Their drip mail service also takes the effort and planning out of continuous direct mail campaigns for you. Simply set it and forget it!
---
Every Door Direct Mail
Every Door Direct Mail (EDDM) is a service provided by the United States Postal Service. Since most people are familiar with using USPS, and may even already have an online account, this makes EDDM a logical and convenient next step for direct mail marketing. Every Door Direct Mail offers an easy-to-use online platform that allows to create a direct mail marketing campaign from initial design, to targeting, and even scheduling of mailings based on dates. Once everything is built to your liking, you can pay online and simply drop off the materials at the post office. EDDM has approved third-party vendors for printing and design if you need more than what the service offers and, using those vendors, you can customize a marketing plan to suit your unique needs at a cost that fits your budget.
---
SmartPress

SmartPress rolled in the popular service PostcardBuilder to make one complete direct mail marketing company to serve small and medium businesses. Their full-service marketing offering gives you the ability to utilize their professional design team, advanced marketing lists, and large suite of print products from basic postcards to more complex brochures. The website is clean and simple to navigate to help you easily build an effective campaign. Their costs are higher than some competitors but that reflects the full-service offering they have. If you are an experienced designer or have your own marketing list developed, this may not be the right platform for you.
---
Cactus Mailing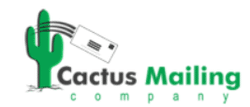 Cactus Mailing is a direct mail marketing provider that offers design services, printing, and mailing. Their platform is dated when compared to other options on the market and doesn't have a design tool that puts control in your hands. If you already have designed materials then the ability to simply send in designs and have your campaign started is a nice benefit. However, for businesses that want more features and support, the limited offerings from Cactus Mailing may prove to be too limited with a lack of benefits for your investment.