New Jersey has a solid claim for being considered one of the best states to live in: great food, diverse communities, large swathes of parkland, and–of course–the Shore. Thinking about a move to the Garden State? It's time to find out what New Jerseyians already know. Have a glance at New Jersey's top five best cities to live in for advice on where to move in the state.
1. Jersey City
New Jersey City is the state's most liveable city. Located just across the Hudson River from New York City, New Jersey City is closely connected to the Big Apple, both economically and physically, via transit connections, but benefits from cheaper rent prices and a lower cost of living, making it a great place to commute from if Manhattan life is beyond your budget.
2. Lawrence Township
Lawrence Township, New York's #2 most liveable city is a world apart from #1 New Jersey City. Although it is located in the New York metro area, the affluent suburb of 33,000 is quiet, and peaceful, with a number of streams and walking trails within city limits.
3. Bridgewater
Bridgewater is located near the middle of the state, a bit outside of major metropolitan areas. The city boasts a median household income of over 100,000 largely due to a strong economy boosted by the presence of a number of Fortune 500 companies and pharmaceutical companies like Sanofi.
4. Mount Laurel
Placing fourth is Mount Laurel, a suburb of Philadelphia with a high median income that is home to Laurel Acres Park, an expansive public park with hills, a fishing lake, baseball, and soccer fields. The city is also home to NFL Films.
5. Basking Ridge
Filling out New Jersey's top 5 is Basking Ridge, a small yet thriving community that is home to the headquarters of Vencore Labs, Verizon Wireless, Barnes & Noble College Booksellers, along with a number of other large companies providing many job opportunities to potential residents.
[table id=98 /]
Did your city make the list? Share the good news!
Feel free to share this badge of recognition. Please include attribution to https://www.chamberofcommerce.org/.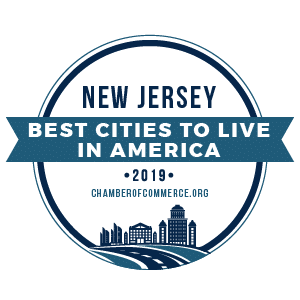 Methodology
We ranked a total of 2,509 qualified cities (those with populations above 25,000 and enough data for analysis) by five factors: employment (number of establishments, median earnings); housing (owner-occupied housing with a mortgage, monthly housing costs); quality of life (work commute, poverty levels); education (percentage with a bachelor's degree or higher); and health (obesity ratios).