Line2

East to use and setup
Low cost
Professional virtual receptionist

Visit Line2
RingCentral

Use on any device
Easy to set up, use, and manage
Secure and reliable

Visit RingCentral
Phone.com

Affordable
Fast and simple setup
Pre-configured phone

Phone.com
Although office communication has changed with the invention of new technologies like Slack, high-speed internet connection, smartphones, and forums; the proper small business phone system will continue to be an important asset. For example, 57% of business prospects would prefer to talk to a company representative, instead of using an email or chat system. This proves that having proper business phone systems, especially those with VoIP, or Voice over Internet Protocol is imperative for success.
A VoIP simply lets a user make phone calls over the internet instead of circuit-switched telephony used by the traditional Public Switched Telephone Network (PSTN). This feature allows business owners to make calls at just the cost of their internet.
What is a VoIP?
A VoIP, or Voice Over Internet Protocol, lets small business owners conduct phone calls over the internet. These phones allow business owners to make calls, including long distances ones for just the cost of their internet service. They also come in many forms which are physical phones with built-in IP technology and an RJ-45 Ethernet connector or a voice capable computer that uses hardware or software. In addition, some VoIP tools include software such as Skype or even using computer hardware like Magic Jack. Magic Jack has a standard RJ-11 phone jack that can plug into any computer's USB port, making it simple to take calls on the go.
IP technology and ethernet connectors are tools that connect physical phones to the internet. These resources also prevent having to use copper wires to connect phones to a larger routing exchange like in the past. Also, business owners won't have to change phone numbers when moving over to business phone systems like those that use VoIP, which saves time and money.
Top VoIP benefits
Besides letting business owners make calls on the go for a low cost, VoIP systems have many benefits including, but not limited to:
Phone numbers that follow you and your employees
This feature makes it easier to conduct conference calls. Since VoIP uses converged data, a small business owner and the employees can create as well as participate in conference calls with minimal issues. Using a system based on this data also prevents calls from being dropped and poor signals. Besides these tools, many VoIP systems have automated features like auto attendants and on-hold music. The auto-attendant feature lets conference calls attendees know how many people are on the call and the on-hold music acts as a buffer between people speaking. Also, many service providers incorporate caller id, so business owners can recognize callers.
Integration with numerous software applications
As mentioned earlier, many business phone systems integrate with software platforms which would make each system a cloud phone. A cloud phone or softphone, doesn't use a hard copy phone, but instead only uses the internet, with Skype being a common example. Having a software-based phone system can let businesses call by just typing numbers into an app or computer screen. To use this type of cloud phone system, it's imperative to have either a microphone and or headset. A headset is recommended as it will help improve the sound and prevent hard to understand calls.
Flexibility with multiple services and devices 
In addition to making phone calls around the world, VoIP systems also have other benefits like e-fax machines. In the past, small business owners would have to use a hard copy fax machine that might be faulty or take days to send the information to the right person. Fortunately, e-fax makes it simple to send important documents over the internet efficiently and without headaches. Also, VoIP services can be used to reduce the number of voicemails that companies receive.
For example, larger firms like Coca Cola, have established unified communications systems built on VoIP technology to send calls from a primary line to secondary lines like mobile phone after the first few rings. This feature not only reduces voicemails but also prevents important communication from falling through the cracks.
Easy set up on existing internet providers
Many business VoIP systems have quality tech teams that make it simple to set up the platform on existing internet providers. These technicians are highly trained and know which software to use along with how to transfer function without delays. Also, many of these services are either included in a one time, transparent setup fee, or just the monthly subscription rate.
Reliability
One main objection to using VoIP systems for business needs is that phone calls might drop if the internet fails. Luckily, many VoIP systems have call forwarding features, which can send the call to a mobile phone or laptop. Many VoIP providers also have technicians along with call forwarding features that prevent these inconveniences.
Line2

Line2 is well-suited for smaller businesses with simple communication requirements that need a second phone number.
The voicemail transcription feature allows you to receive transcribed voicemails directly to your email account. This will give you and your employees more time to review each message and call your customers back promptly.
All of the plans include unlimited text messaging, enabling you to contact your clients via text message. Since many people do not have the time to answer phone calls, sending an SMS is one of the best ways for you to reach them and vice versa.
Every plan, including the Basic plan, offers access to a toll-free number. Having a toll-free number will make your business look more professional, which is a huge plus for any customer-related business.
Although many companies do not rely on fax machines anymore, you can still receive faxes and get them straight to your inbox. Sending and receiving faxes are still reliable ways of communicating, and it is nice to see that Line2 provides limited fax features included in their service.
The auto-attendant feature is a call-answering process that may add a more professional look to your business. You can use a real-life or virtual auto-attendant to greet your callers and divert the call to the respective department.
Call reporting is an analysis feature used by growing companies to analyze the data of their calls. It helps businesses understand inbound and outbound calls, view and analyze key tracking metrics, monitor call logs, and understand what the customers need.
See our full review of Line2 here.
RingCentral

Features
RingCentral is one of the best business phone systems as it offers a nice mix between available features and pricing.
Besides having basic tools like unlimited calls in the US/Canada and voicemail to text; it also has more advanced resources like unlimited internet fax, large-scale video conferencing, and automatic call recording.
The automatic call recording can help sales and customer service reps pick up details they might have previously missed. In addition, this feature can be used to record calls for training purposes. So, small business owners could use recorded calls to train sales and customer service reps to be prepared for common scenarios.
This platform is also more tech savvier than basic options as it allows users to have instant messaging and even online meetings with screen sharing. The screen-sharing tool can be very useful for salespeople that want to demo products to persuade prospects.
More importantly, it has an uptime of 99.999% meaning that it's only down for a few minutes per year compared to competitors that might have hours of downtime. It also has professionals that work in data centers who monitor and optimize the platform 24/7/365 to prevent errors caused by cybersecurity breaches, natural disasters along other operational errors.
Price
RingCentral also has straightforward monthly pricing for each user based on 4 main packages from basic to advanced which are
Essentials ($29.99/mo.)
Standard ($34.99/mo.)
Premium ($44.99/mo.)
Ultimate ($59.99/mo.).
These four options have standard benefits like voicemail to text, multi-line conferencing unlimited US/CA calling, and toll-free numbers.
However, more comprehensive packages like the Ultimate deal, have e-fax, call recording, and unlimited video conferencing for up to 200 people. Other options have these tools as well, but they have lower limits like video conferencing for up to 4 and 100 people.
Similar to other larger providers, RingCentral does offer volume-based discounts based on the number of users. So businesses could save approximately 10% per person each time they add new users beyond 2, 100, and 1,000.
Business owners can also save up to 33% if they choose to pay for this office phone system service on an annual basis. This would be helpful for business owners that want to save money, use only the basics, and develop a long-term relationship as the Essentials option drops to $19.99/mo. when paid upfront.
Customer service
While RingCentral has many features for affordable pricing, it doesn't have good customer service reviews per an aggregate 1.1-star review on Consumer Affairs. Some top complaints highlight that the customer service is excessively slow with wait times lasting more than 30 minutes and phone calls dragging on for over an hour. Like Ooma, it's received negative feedback from customer service reps that have limited English skills.
Despite the negative press, it has good reviews that emphasize the easy-to-use and real-time mobile app. Other positive reviews have mentioned that the e-fax feature is very reliable and saves time from having to use a fax machine. One reviewer owned a tax consulting firm and liked how the fax allowed her to securely share important documents with clients electronically.
Ooma
Features
Ooma is a great platform for smaller businesses as it has the fundamental features of a new phone system for a low price. For instance, it has unlimited calling in the US and Canada, conference calls, on-hold music, and a virtual receptionist. While these features aren't as extensive as others; they could be sufficient for very small businesses.
Related to this, many small business owners with few employees usually wear many hats with installing the phone systems being one of them. So, Ooma could be a good fit for them, as it's received positive reviews for being easy to set up.
Like other VoIP providers, users can use this system to have conference calls and they can keep their old phone numbers as well. Also, business owners that want to set up a 1 800 number can easily do this with Ooma.
Some advantages of setting up a 1 800 number include having a more professional appearance and a presence in every state. Besides providing these options, Ooma also offers its clients a mobile app, allowing employees to answer calls from their mobile devices while traveling.
Also, Ooma is a reliable provider as its uptime has been estimated to be around 99.99%. This impressive statistic demonstrates that business owners will have minimal downtime, but it would be better if this figure had more 9s after the hundredth decimal.
Price
One of the best traits about Ooma is its low and simple pricing which starts at just $19.95 per person each month. This pricing stays the same regardless of the number of users a business has.
Ooma's low pricing is another reason why it's one of the best VoIP business phone systems for bootstrapping owners. Besides this monthly pricing fee, it also has set up fees for various products like two user IP desk phones and Business phone starter packs at $199.98 and $127.98, respectively.
Also, it provides its user with flexibility by not having any contracts along with straightforward pricing arrangements. These factors prevent clients from being overcharged and have established Ooma as a trusted brand.
Customer service
Ooma has good ratings for its customer service reps and ethical terms which can be seen by its 3.1-star review on Consumer Affairs. Unlike larger providers, it has fixed, low pricing, no contracts, nor hidden fees. It also has positive feedback for helping clients save money by not having to work with a cable company nor landline carrier.
Despite its positive reviews, Ooma has negative feedback regarding customer service reps with limited English skills. More companies are outsourcing tasks like customer service to countries to take advantage of cheap labor. While many of these foreign workers might have good intentions and are technically proficient; they lack English proficiency. Excessive outsourcing of call management services to these countries is a very "penny smart, pound foolish" strategy as it could cost companies more in the long run.
Nextiva
Features
Nextiva is another VoIP provider that also offers important tools like chat software, business analytics reporting, cell phone routing, and CRM integration.
The three main packages are business communication, customer relationship, and collaboration. The communication package includes all of the features, with customer relationships just providing the CRM and related tools.
Its collaboration program is similar to Slack as it will be used as an employee instant messaging system.
Due to these packages, Nextiva can be described as a mid-range provider since it offers various features at a lower price point than larger competitors.
The business communication option lets business owners conduct both video and voice conferences as well as have business texting systems. Like other VoIP businesses, it ensures to separate business and personal phone lines by having business correspondence go through the mobile app.
One of its biggest differentiating factors is the automation workflows, especially the macros. For instance, business owners can pre-populate common answers to questions like "when are products restocked."
This feature saves them time from having to constantly research the answer and improves the customer journey. Also, this tool can be integrated with chat software, which automates important steps in the buyer process.
Price
Nextiva's pricing is broken down into three price points for each of the three major products. The collaboration product is still in beta mode and the customer relationship package doesn't include phone service.
Therefore, this section will review the pricing structure of Nextiva's flagship product, the business communication suite. This platform has phone and customer relationship tools, which range from $20 to $30 per month based on the different add-on features.
For example, the simplest package is the Basic which costs just $20/mo. per user and has fundamental tools like an unlimited calling.
Pro is a more expensive option at $25/mo. per user and adds comprehensive features like unlimited web conferencing.
The most expensive option is the Enterprise option which has all of the Pro features but also includes automation tools like a chat software.
Customer service
Nextiva has mixed customer service reviews, which can be seen by its 6.5/10 rating on Trustpilot. Many of the negative reviews mentioned that Nextiva had long contracts that were tough to break.
Related to this, these reviews also stated that Nextiva had hidden, excessive fees like those for renewing the product. Other reviewers were disappointed with their sales reps and they felt the salespeople lied to them about product features as well as pricing.
Despite its negative feedback, Nextiva has been praised for its high uptime, which lets it manage high call volumes without any issues. It has also received positive feedback for its ability to track all prospect contact history through time logs.
8×8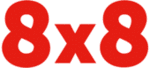 Features
8×8 is a top-notch, tech-savvy VoIP phone provider for small businesses. It has many features like unlimited calling, text, video, voicemail to text, web conferencing systems, call routing tools, and more. These tools help businesses with their communication needs and let them contact prospects in various ways.
One feature that stands out is the voicemail to text application, which lets business owners read the voicemail in text format. This helps save them time from listening to excessive voicemails and it will let them determine which calls to return.
As with many VoIP companies, employees and business owners can use this software on mobile devices, desktops, and tablets, which lets them work in ways that are most convenient for them.
While these features are impressive, 8×8's best trait is its reliability. As stated earlier, many business owners are reluctant to have a VoIP system as they fear it won't be as reliable. Yet, 8×8's platforms have some of the best uptimes in the industry and intricate architecture, which ensure its reliability.
In fact, its uptime is 99.9999%, which means there is very minimal downtime. Also, it's important to know that no VoIP company can promise 100% uptime as it's impossible to have no downtime. However, the difference between decimal places is huge as uptimes of 99.99% and 99.999% have downtimes of 52.56 and 5.16 minutes, respectively.
Price
Fortunately, 8×8 has very clear pricing structures on its website. It has four main tiers which are X Series X2, X Series X4, X Series X6, and X Series X8. The telephone system pricing is based on each user per month and this company does offer volume-based discounts. For example, the X Series X2 would cost $28 per person each month for businesses with 1-99 employees. This price drops down to $24 per person for businesses with over 100 employees and large businesses with over 1,000 employees can utilize this service for $22 per person.
Also, each pricing tier starts out with basic features like auto-attendant and gradually adds more intricate benefits like Interactive Voice Response (IVR) to the more expensive packages. IVR might sound complex, but it's simply an automated phone tree that allows users to press buttons based on automated questions to speak with the desired person. For example, if someone calls a business, an IVR will ask them to press certain buttons for desired actions like pressing 1 if they want to speak to sales or pressing 2 to speak with customer service.
Customer service
Overall, 8×8 has decent customer service reviews which can be seen by its total 3-star rating out of 156 reviews on Consumer Affairs. Its positive reviews have stated that the customer support reps solved problems quickly and were very technical. They also mentioned that the telephone system is very easy to use and that the prices are affordable.
Unfortunately, 8×8 has received negative feedback for inadvertently billing customers after their cancellation date. Other dissatisfied users have mentioned that there were hidden fees and contracts, which added excessive costs. These disappointed reviewers stated that the service should be more upfront with contracts and offer more flexible terms.
Grasshopper

Features
Grasshopper is one of the more unique business phone systems as it's 100% virtual, unlike many traditional phone systems that have hardware like physical phones. Instead, it allows business owners and employees to make as well as receive calls from any device like a personal phone. Grasshopper provides each business with a separate business phone number, which routes calls to these devices. Also, this company segregates business and personal calls by showing incoming calls on the mobile app. Not only will this help businesses stay organized, but it will also let them appear more professional to potential prospects and clients.
Grasshopper has other features like business texting, voicemail to text, and Gmail integration. Like its call side of the business, it ensures that business and personal numbers are separated when using business texting. The Gmail integration feature makes it easy to see calls and texts from Gmail accounts. Similar to other competitors, it also has toll-free business numbers like 1 800, 1 888 phone lines along with custom business numbers like 1-800-GOT JUNK. Also, it lets business owners keep their old numbers if desired and offers them the option to use local numbers so prospects will see that the business is calling using a local three-digit code.
Price
Grasshopper is a smaller platform but offers two simple pricing packages which are the Phone System and Ultimate Email packages. These two options cost $29/mo. and $35/mo. regardless of the number of users, respectively. In addition, it also enables users to try each package for 7 days free. While these prices are low and transparent, it doesn't have any apparent discounts for prepaying nor by having more users. However, prospects can always inquire with sales to obtain a custom quote for their unique situation.
The Phone System includes a business phone number, desktop/mobile apps, text messages, and call forwarding. Besides these features, it also provides users with on-hold music, custom greetings, inbound fax, and the ability to handle multiple calls at a time. The Ultimate Email system has all the tools of the basic Phone System but includes advanced features like email integration, call blocking, and timeline view. These advanced tools provide more value for just an extra $6/mo., with the timeline view standing out as it allows businesses to see a clear picture of a prospect's contact history.
Customer service
Overall, Grasshopper has pretty high customer service reviews as can be seen by its 4.5-star rating on popular software review site, Capterra. Many of these reviews state that it was easy to set up and use. They also stated that the customer service representatives were knowledgeable, efficient, and had proficient English skills. This is excellent as simply having high-quality representatives that can speak and understand English proficiently will put Grasshopper ahead of companies that outsource customer service to foreign workers.
Some of the main areas for improvement include not having the ability to integrate with CRM systems like Salesforce. Larger VoIP companies offer this and CRM integration will make it easier for companies to stay organized. Another reviewer was pleased with Grasshopper but wished it charged lower rates for international calls.
Mitel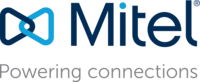 Features
Mitel is one of the hybrid business phone systems, meaning that it offers both cloud and on-premises PBX systems. This feature makes Mitel a great choice for larger businesses that have call centers in multiple locations. Related to this, Mitel also has analytics solutions that can help monitor performance. For example, Mitel Performance Analytics proactively manages each users' network, allowing them to identify voice and network concerns before any noticeable quality issues occur. By watching for these problems, it will help business owners prevent inconveniences that could negatively impact customer support tasks like excessive downtime and background noise.
Besides this feature, it also offers basic business phone service tools like toll-free numbers, conference calling, softphones, mobile apps, and voicemail to text. In addition, it has CRM integrations and can work with popular choices like Salesforce, Saleslogix, and Microsoft CRM. Like other competitors, it lets customers use an Interactive Voice Response tool that enables callers to select contact options from a phone tree.
Price
Since Mitel is a larger company, it's more feature-rich than smaller competitors but this makes its website harder to navigate. Unlike Grasshopper, it has multiple web pages and subcategories that viewers have to sift through before finding a pricing sheet. However, it does have a mix and match pricing page with three main packages (Essentials, Premier, Elite) that cost $20.99, $26.59, and $38.49, respectively. Keep in mind that these prices are per user per month and not a flat rate. Also, pricing can vary based on users and additional features, so interested buyers should contact sales for a custom quote.
The Essentials option has all the standard communications solution features like toll-free numbers and mobile apps, with the Premier option building upon this by adding CRM integration along with call recording. These two advanced tools can help large customer service teams stay more organized, not miss important tasks, and learn from each call. Business owners can use call recording to ensure that their employees aren't saying offensive nor inaccurate things to prospects and clients. Lastly, the Elite package has all of these tools and goes further by offering archiving features. Business owners can archive past texts, quotes, and communications, which can be used to verify important historical business transactions.
Customer service
Per Capterra, Mitel has mostly positive reviews and a total of 4 stars out of 5-star rating. Many of the positive reviews stated that customer support reps greatly facilitated the setup process. Also, most reviewers mentioned that there was little lag time between calling and being connected to an agent. Besides this, the website makes it easy to contact sales or customer service via phone, chat, or contact form. This website also has a comprehensive blog with resources that teach viewers about various VoIP concepts.
Some consistent negative feedback highlighted that many of the features were redundant and hard to use. Therefore, business owners should really customize their package to include tools that they will need. Related to this, many customers noticed that some of their systems were difficult to use and had a steep learning curve. Mitel could improve this by having more streamlined training and even gradually stop offering infrequently used tools.
Bottom line
Communication mediums have greatly changed over the last few decades from dial-up internet, email, to instant messaging systems, VoIP phone systems, and more. However, it's still crucial for small business owners, especially those that own at least one contact center, to still incorporate a solid business phone system. Despite the rise in technology, most prospects with buying intentions still want to speak with a sales representative over the phone. Therefore, a proper system will help increase sales and improve service. Prior to buying, it's wise to know basic information about these products along with the best options for business phone systems.