There comes a time when an owner is ready to sell their business. In 2018, the number of businesses sold hit record levels, according to statistics gathered from BizBuySell. During that year, more than 10,000 businesses were sold on the market.
The report shows sale prices were also on a three-year climb in 2018, which is good news for owners looking to make an exit. While the current climate is a bit uncertain in the wake of the Coronavirus pandemic, experts are optimistic that markets will rebound. 
Business owners who are planning to sell will likely search for a business broker. A broker is similar to a real estate agent, but in this case, the broker helps facilitate the sale of a business rather than a house. 
A broker isn't required to sell a business, but many owners research a broker's role and the benefits of hiring one. To help an owner conduct that research, we've created this guide, which will cover: 
What is a business broker?
To use a broker or not
When do you need a business broker?
How to choose a business broker
The best business brokerages to consider
Check out our guide on How to Sell a Business
What is a business broker?
A business broker is a trained professional who helps people buy and sell companies. A broker will provide a valuation of the company, advertise its sale, help find potential buyers, vet buyers, facilitate questions, and oversee the selling process. 
To use a broker or not
As mentioned, a business broker isn't required to sell a business. While a broker is a resource that many businesses lean on to go through the complex process of selling a company, there are owners who choose to sell their company on their own. 
In a DIY situation, an owner would list his or her company on a business listing site like BizBuySell in hopes of attracting buyers. The entire process is in the hands of the owner. Everything from setting the sale price, finding potential buyers, vetting buyers, answering questions, getting paperwork drawn up, and closing the deal is all left to the owner. 
Most owners are driven to sell their own company to avoid paying a broker a commission, but research shows only 12% of owners who go through a DIY sale are highly satisfied with the results. 
Selling a company takes significant time, which is one of the main reasons owners use a broker. 
In the end, many owners feel as though having a broker not only saves time but it also provides an impartial third party to provide business valuations and ensures that important steps aren't missed along the way. 
When do you need a business broker?
Selling a business takes time, expertise, and a lot of patients as the two parties go back and forth. Business brokers can help ease stress and manage the workload. 
For owners who aren't quite sure if they want to involve a broker in the sale of their business, here's a look at why some owners believe brokers are needed: 
To get an accurate valuation of the company
Do you know how much your company is worth? Many owners have an ideal sale price in their minds, but it's not usually a realistic one. A business broker can come in and objectively look at the company, its assets, and its profit margins and provide guidance on an asking price that's fit for the current market. 
This process results in what's called a business valuation. 
When confidentiality is a must
Most owners want to sell their company discreetly. Ideally, the sale happens without customers, suppliers, and competitors knowing about it, or at least not until things are wrapped up. A business broker knows how to advertise a small business without naming them and can use non-disclosure agreements to keep potential buyers from advertising the sale. 
For marketing and advertising help
As an owner, you know the business inside and out, but do you know where to find prospective buyers for the company? A business broker can help with advertising. Brokers use specific advertising channels and rely on contacts in the business who can spread the word. 
To save time
Selling a business is not a quick sale. While there are companies that sell in a month, it's not common. Most sales happen within six months to two years. (Yes, it can take up to two years to close a deal). Hopefully, things move faster than that. However, given the time it takes to sell a company, many owners want someone to handle the sale while they continue to run the business. 
Help with negotiations
When an offer is on the table, one of the most valuable skills a broker can offer is their negotiation skills. The broker can provide advice on the price, the structure of the deal, and whether or not the requests of the buyer are reasonable. 
Awareness of regulations and laws
There are certain rules that a business sale must follow, and a broker can provide guidance in this department too. Without this knowledge, a sale could fall apart during the final stage because the owner wasn't aware of certain conditions that needed to be met. 
How to choose a business broker
For owners hoping to utilize a business broker for the sale of their business, there are certain steps to follow to find one. To help find a trusted business broker, owners need to do more than a Google search. 
Finding and hiring a business broker is a lot like hiring an employee. There's an entire process behind selecting the right broker. To help, here are steps to follow to choose a business broker: 
Start with a recommendation
Ideally, an owner will get a recommendation from a friend or colleague. Consider asking your lawyer, accountant, or investment manager for referrals too. 
Search IBBA or BizBuySell
The International Business Brokers Association offers training and networking for business brokers and also has a directory that owners can look at. It has about 1,000 brokers listed. Look for ones in your area with expertise with the type of business you're selling. 
There's also an online marketplace that has business listings called BizBuySell. This site, which is a well-known resource in the industry, also has a directory of business brokers that can be searched. 
Conduct interviews
Just as an employee would be interviewed, so should a business broker. Owners should interview 3-4 candidates to locate the best business intermediary. Before the interview, of course, an owner should review resumes, recommendations, and online reviews as well. 
During the interview, talk about the broker's years of experience, how the process works, and the successful deals that the broker has worked on. 
Full-time vs. part-time
While there are qualified brokers who work part-time, it's probably best to pick a broker who works full-time. Owners want a broker who's dealing with sales regularly, has gained experience and is well-known in the industry. Part-time brokers usually have other day jobs, which may get in the way of selling your company. 
Ask about a marketing plan
A good business broker will create a marketing plan for your company. The plan will explain how to position the company on the market, where it will be advertised, and include details on how to bring qualified buyers to the table. 
Talk about payments
Brokers make money off the sale of the company. Usually, a broker takes a commission between 5-15%. It's important to know how much the broker's commission is before agreeing to work together. 
The commission may be broken into the broker's commission and the brokerage commission. In other words, part of the commission goes to the broker and another part goes to the company the broker works for. 
Be aware of any broker that charges an upfront fee. Asking for money before a sale takes place is not typical and should be avoided. 
Make a selection
After doing your due diligence, it's time to pick a broker to help you through the sale process. This person should be skilled, experienced, and it should be someone you're comfortable working with.
The best business brokerages to consider
If you've decided to reach out to a broker, it's important to know that there are hundreds to choose from. Every broker has something different to offer, and as you might expect, the amount of experience, specialized skills, and closing rates will differ for each. 
To help owners narrow their search, here's a list of popular brokerages.
---
Peterson Acquisitions
Peterson Acquisitions is a brokerage company started by Chad Peterson, a self-employed, self-starter who bought and sold several companies and has started a firm to help others through the sale process. 
Peterson Acquisition takes a fairly aggressive approach to selling a company, which is probably why he works with some well-known companies. The closing rate at Peterson Acquisitions is 90%, which is higher than the national average. 
There are video testimonials on the company homepage to view as well.   
This broker is ideal for larger companies with revenue of $1 million to $100 million. 
Best fo

r

: Companies with revenues north of $1 million. 
Pros

: Experience, closing rate

Cons

: Commission rate unknown
---
Woodbridge International


Woodbridge International takes a unique approach to selling a business. The company creates a 150-day auction process, which they claim is the best way to get top dollar for a company. For owners looking to sell their company quickly, this is a great option. As mentioned, the sale process can sometimes drag on for two years. 
Woodbridge International boasts a database of 350,000+ buyers that they leverage to help owners sell their company quickly and efficiently. 
The company has 21 offices around the U.S. and has several decades of experience in brokering business deals. 
Like Peterson Acquisition, clients that use this firm have higher revenue. Companies must have revenue between $5-250 million to work with Woodbridge International. 
Best for

: Companies with high revenue looking to sell quickly. 

Pros

: Multiple locations across the globe, a unique selling process

Cons

: Commission rate unknown
---
Murphy Business and Financial Corporation, LLC

Murphy Business and Financial Corporation has 25 years of business experience and has 36 offices scattered across the U.S. to help owners with the sale of their company. 
Murphy Business and Financial Corporation offer assistance to many different kinds of companies but specifically mention machinery and equipment, commercial real estate, and franchise on its website. 
The company lists all of its current sales discreetly on its website. At any one time, there are roughly one thousand companies listed for sale through Murphy Business and Financial Corporation.
The company specializes in creating a marketing plan, qualifying potential buyers, and negotiating terms of the sale. 
Best for

: Smaller companies in the machinery, equipment, commercial real estate, or franchise industries. 

Pros

: Online listings, specialized business listings

Cons

: Revenue requirements are unknown
---
Sunbelt Business Brokers


Sunbelt Business Brokers works with companies large and small. Companies with annual revenues of $500,000 up to $50 million work with Sunbelt Business Brokers. 
The company talks about its Main Street roots and emphasizes its track record with small-to-mid-sized business owners who have put a lot of sweat equity into their company over the years. They work with owners to set the best sales price and achieve the goal within the shortest amount of time, according to their website. 
Like others, the company does list companies for sale on its website. Also on the site, owners can find a library of free resources that discuss the selling process. 
Best fo

r

: Middle-market companies. 
Pros

: Experience selling smaller companies

Cons

: Commission rates are unknown
---
Synergy Business Brokers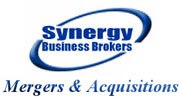 Synergy Business Brokers are geared toward small businesses. Companies making $200,000 to $5 million work with this company. 
The company boasts several regional awards for its offices in the northeastern part of the United States. 
Synergy Business Brokers do focus on specific industries, which include: 
Construction, manufacturing, healthcare, technology, professional services, distribution, engineering, software, home, and environmental services, transportation, education, imports, and HVAC. 
The company does belong to a broker association: International Business Brokers' Association.
Best fo

r

: Smaller companies in specific industries located in the NE.
Pros

: Specialized industries

Cons

: Limited number of offices