What is a business credit card?
Business credit cards are similar to personal credit cards and allow companies to borrow money to use for spending on goods and services, in exchange for interest payments or annual fees.
Credit cards usually feature a credit limit, which prevents holders from borrowing more than a certain amount in a calendar year.
Why do small businesses get credit cards?
To cover costs its unable or unwilling to pay with revenue, traditional loans, or other sources

For the travel benefits that come with the card, like access to airline travel lounges, preferential access to hotel upgrades, or trip cancellation or postponement coverage

To cover the cost of travel with travel miles – a type of reward some credit cards offer that cardholders earn through purchasing goods and and services that they can use to cover some or all of the cost or airline tickets or hotel stays

To gain access to valuable fringe benefits, like purchase protection, insurance, or extended warranty

To build their credit score, allowing them to borrow more and at better rates in future in case they need to
What should small businesses look for in a credit card?
High reward payouts
Even the best business credit cards aren't free money. Small businesses that get them will pay through:
Interest payments (the size of which will depend on the APR, or "Annual Percentage Rate")

Annual fees

Or both
This means that a business making this investment should seek out the biggest possible rewards for their money, regardless of the type of purchase reward the card offers.
For example, a card that offers two-times the amount of dollars spent on a purchase in points (often expressed simply as 2X points by credit card companies) is more rewarding than one that offers one point per $1 spent.
How cardholders can redeem their rewards
Points, travel miles, and cash back all sound great. However, if they can't be redeemed conveniently to cover purchases they're not useful.
For example, the Spark Miles for Business card from Capital One wasn't always as sought after as it is now. Prior to November 2018, cardholders couldn't transfer their miles to travel partners like airline frequent flyer programs, which limited its value.
However, Spark Miles cardholders can now transfer their miles to any of twelve different airlines, making them far more flexible and, ultimately, useable.
What rewards can be redeemed for
Some credit card companies have great partnerships – meaning points or miles can be redeemed for a variety of privileges. American Express is notorious for this and carrying an Amex card often entitles holders to great deals at hotels or important upgrades.
Small businesses considering their options should, therefore, pay attention to the benefits a card features, as these can be valuable perks that employees may also enjoy.
This can potentially:
Improve recruitment

Reduce turnover

Boost job satisfaction
The type of purchase rewards
There are three main types of credit card rewards:
Points – which can be redeemed towards the cost of future spending
Travel miles – which can be used to cover the cost of specifically travel related expenses
Cashback – entitling the cardholder to a certain amount of money to be credited to them either for each dollar spent or after hitting certain reward milestones in their spending
Credit cards usually offer just one of these types of rewards.
When considering which business card to choose, owners should consider carefully what they want out of their card and what will benefit them most.
For example, if employees don't travel much (and most is in-state anyway) then travel miles might not make the most sense.
If employees or executive officers travel often, however, a card offering travel mile rewards may seem like a better option.
Specific reward categories
Some credit cards reward cardholders more or less favorably for spending in certain categories.
For example, the SimplyCash® Plus Business Credit Card from American Express offers 5% cash back on goods and services from US office supply stores. In this case, "US office supply stores" is considered the purchase or reward category.
Examples of other reward categories include:
Travel purchases, like car rentals or extra airline baggage

Telecoms services, like internet or phone bills

Gas and mileage

Shipping costs and mail goods and services like postage and packaging

Professional services, such as outsourced HR functions or recruitment

Computer and electronics supplies

Office furniture and equipment
These different areas may be rewarded at different levels by credit card providers. A card might offer 5% cash back on travel purchases, but only 3% on gas, for example.
As a result, businesses should consider carefully where they spend most of their money and look for a credit card that favors that category of spending.
Low (or no) introductory APR
Some credit cards offer introductory APR levels that are more generous than their standard rate to encourage sign-ups. In practice, most cards that do this drop the APR entirely, with a 0.0% rate for a given period, usually between three to six months (though sometimes longer).
While this is useful to any business that wants to save money, these cut introductory rates are particularly good for new startups who aren't yet bringing in much money.
They can use the card for purchases that will fuel their growth while not having to pay any interest until several months later when they've hopefully started to bring in more revenue.
Small businesses with less available cash flow should consider a card with this approach to APR.
Low ongoing APR
Of course, introductory periods don't last forever and not every card has one. Paying attention to what providers call the "standard APR" rate – which just means the amount of interest on the balance a cardholder usually pays – can save a considerable amount of money.
As a guideline, an APR towards the ten percent mark is considered very affordable for a business card, while an APR of 22% or higher is generally considered fairly expensive.
Cards at those higher rates are usually meant for companies with weaker credit scores (a measure of how likely debt specialists think they are to keep up with payments) and generally have fewer exciting benefits and lower rewards.
Low (or no) annual fee
An annual fee is a charge paid by the cardholder to be able to use the card. It's a single flat payment due once per year.
Some cards don't have one, while others charge several hundred dollars. The average is just under $100.
It's common for some card companies to wave the annual fee for the first year the account is open.
When deciding on which card to apply for, the size of the annual fee should be weighed against the company's ability to pay.
Which cards have annual fees
The business cards reviewed here each have the following annual fees:
No annual fees
Bank of America® Business Advantage Travel Rewards World Mastercard®

The Blue Business℠ Plus Credit Card from American Express

Spark® Classic from Capital One®
Has annual fee
The Chase Ink Business Preferred card ($95 annual fee)

The Spark Cash for Business from Capital One (also $95)

The Spark Miles card from Capital One ($95)

The Business Platinum® Card from American Express ($450, soon to be $595)
---
Best for small business expenses
Many small businesses share a common set of frequent expenses. As a result, some providers now offer credit cards specifically developed for small businesses.
Purchase categories common to the majority of local companies include:
Office supplies, like printer cartridges, and legal forms

Computer hardware, software, and online services

Advertising, whether local TV, in print, or online

Gas for local travel
After carefully reviewing the available options, the SimplyCash® Plus Business Credit Card from American Express emerged as the best choice for small businesses with these spending patterns.
The SimplyCash® Plus Business Credit Card from American Express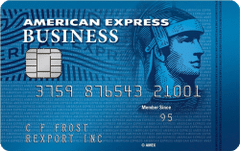 This is a cash back business credit card with tiered purchase categories offering different reward levels.
Reward type:

Cashback

Annual fee:

None

Standard APR:

14.49% – 21.49%% variable, depending on credit score

Pros:

A good introductory period followed by a reasonable standard APR

Great spending categories for small businesses at good rates

No annual fee

The flexibility to choose one purchase category for 3X cashback

Spending above the limit is allowed

Cons:

A fairly average list of fringe benefits for an Amex card

A somewhat complex reward structure with lots of fine print
Why small businesses should consider it
This card rewards spending in areas most small businesses make their purchases

5% cash back on goods and services from US office supply stores

5% cash back from US wireless telephone services

3% cash back on an optional third category (if none is selected, it defaults to paying for gas from US stations)

1% on other areas of spending
The other eight areas applicants may choose for their third option include multiple categories where small businesses spend money:
Airfare bought directly from airlines

Hotel rooms purchased directly from hotels

Car rentals from selected companies

US gas stations

US restaurants

Selected US media advertising

US shipping purchases

US computer technology purchases, included cloud services, software, and hardware (only from selected providers)
There's also 0% APR for the first nine months, which is second only to The Blue Business℠ Plus Credit Card from American Express which offers fifteen months at zero percent APR.
This makes the card even more affordable for local businesses, who may have emergency spending to take care of and wish to defer card payments until a later date.
---
Best for small business e-commerce
Businesses that sell online – often called eCommerce – have certain characteristics that might make some business cards more suitable than others:
They spend more on online advertising

They may buy from abroad, meaning foreign transaction fees may apply

Retailers in eCommerce companies may incur significant shipping expenses

Travel may be important to visit suppliers, perhaps to inspect manufacturing processes and guarantee quality

Internet and phone services form a vital part of their business, which is conducted almost entirely remotely or online
Based upon these characteristics, the Ink Business Preferred Credit Card from Chase appears to be the best option for small online businesses currently on the market.
Chase Ink Business Preferred Credit Card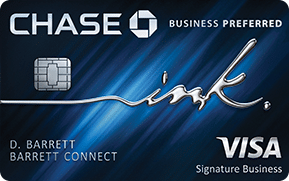 This points-based card offers significant travel benefits and rewards spending on online advertising.
Reward type:

Points

Annual fee:

$95

Standard APR:

17.99%–22.99% variable

Pros:

Great rewards for shipping purchases

Rewards spending on online advertising with social media or search engines at the same rate

Meaningful travel rewards

Respectable introductory reward points

Easily transfer points to a wide range of travel partners

Cons:

Slightly higher APR than average

After the first $150,000 of spending in a year for each category, rewards drop to 1X points

Annual fee not waived for the first year, unlike some alternative cards
Why small businesses should consider it
Each new anniversary year of opening the account, cardholders earn three points for each dollar spent in the following categories up to the first $150,000:
Travel

Shipping purchases

Internet, cable, and phone services

Advertising purchases from search engines and social media sites
All of these categories are potentially very useful to eCommerce companies, particularly shipping and online advertising.
Although this drops to 1X points after the first $150,000, that's quite high spending that many small enterprises will struggle to meet, so it may not be a big issue.
The fringe benefits and ability to redeem points towards sporting and cultural events can also be a present bonus for cash-strapped online entrepreneurs who may have tight budgets.
---
Best for small businesses credit score
Not every business has a founder or owner with an excellent credit rating. For those with more average credit scores, there are cards designed to help build credit. These cards often:
Offer fairly few benefits compared to options with more restrictive acceptance conditions

Tend to charge a higher APR

Offer relatively basic extra benefits shared by virtually all cards, like fraud alerts, online statements, and purchase protection
These cards can still be valuable and affordable, however. Based upon the needs of owners with fair to average credit, the Capital One® Spark® Classic for Business appears a sensible option for those seeking to build their credit score
Capital One® Spark® Classic for Business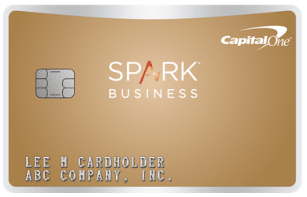 This cash back card has relatively few rewards but opens the door to credit for those without an excellent rating.
Reward type:

Cashback

Annual fee:

None

Standard APR:

25.24% variable APR

Pros:

Accessible for applicants with fair or average credit

No annual fee

A simple reward structure with a flat rate across all business purchases

Reports to credit bureaus, allowing cardholders to build their credit score

Cons:

Fairly limited benefits and rewards

An unimpressive 1X cash back rate
Why small businesses should consider it
While not just anyone can get this card – it's for businesses only – and it does require at least a fair credit score, it does provide a path to better creditworthiness.
Although this card may not offer an incredible range of additional benefits or particularly strong cash back incentives, it provides the simple access to business credit that many may struggle to find elsewhere and offers them a route to more selective cards in the future.
The simple cash back system also has the advantage of being easy to grasp, meaning business owners won't have to spend their time poring over fine print to understand how to make the most of their card.
As the Spark® Classic for Business offers 1X cashback on all business purchases, everything the business buys can count towards that reward.
---
Best for new startups
Not every startup has hundreds of thousands of dollars in funding, or billionaire angel investors to call upon. For these companies, a business credit card can be a useful lifeline as they get off the ground.
Business cards with the following features tend to work well for new startups:
A long introductory period with 0% APR, to defer credit payments for a limited time until the business can start earning revenue

Low or non-existent annual fees for tight early budgets as a sign-up bonus

A wide range of purchase categories, or even a generous percentage reward on all business purchases, as early-stage companies tend to spend in several different areas
The Blue Business℠ Plus Credit Card from American Express may be the best card for these requirements.
The Blue Business℠ Plus Credit Card from American Express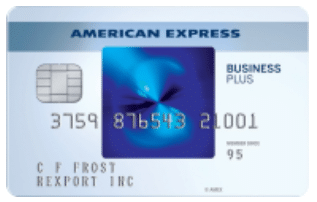 Reward type:

Points

Annual fee:

None

Standard APR:

13.49%, 17.49%, or 21.49% variable

Pros:

A very long intro APR period at 0% (fifteen months)

No annual fee

No categories to keep track of, meaning all spending is treated equally

Excellent travel rewards and perks when redeeming points

Although this is a points card, these can be redeemed for cash back

Cons:

No introductory bonus points at present (although they have been offered in the past and maybe again)

Once standard APR kicks in, it may be towards the more expensive end of the market, depending on creditworthiness
Why small businesses should consider it
With no annual fee and a long intro APR period of fifteen months from account opening at zero percent, this card is extremely affordable in the initial stages of a startup's life when cash is at a premium.
Businesses can use their credit to expand and lay the foundations for growth with significant amounts of spending. Companies that may find this useful include:
Programming companies needing large amounts of computer hardware for their team to build an app yet to be released (and therefore not yet making money)

Local businesses preparing to launch (or relaunch) by buying equipment such as point-of-sale systems or decorating. Examples include hardware stores, coffee shops, or boutiques

A sole proprietor with a side business making and selling jewelry in their spare time who needs to buy tools or materials
As an American Express card, this card has valuable membership rewards, particularly for the Amex travel rewards program with benefits like preferential treatment at Starwood hotels.
The Blue Business℠ Plus card also features all the standard fringe benefits to be expected, like free employee cards.
---
Best for cash back
Spark Cash for Business from Capital One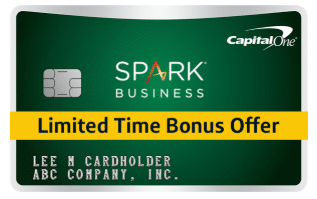 Reward type:

Cashback

Annual fee:

$95

Standard APR:

19.24% variable

Pros:

Generous 2% cash back on all purchases

Simple reward structure without complicated categories or fine print

Skip the annual fee for year one

A competitive sign-up bonus worth up to $2,000 for the first six months

No minimums to redeem cash back

Cash back does not expire

Cons:

A fairly standard group off additional bonuses and perks
Why small businesses should consider it
While it requires better credit to get, the Spark Cash for Business card offers better cash back terms than other cards in the Spark range like the Spark® Classic for Business, which only offers one percent cash back on all purchases.
This card comes with a generous tiered sign-up bonus as a spending incentive:
A $500 cash bonus for spending $5,000 in the first three months

An extra $1,500 for spending $50,000 in the first six months
This card may suit businesses who don't care about complicated reward systems or travel perks and prefer a simpler cash back system.
The 2% cash back on all business purchases arguably the main reason this card is attractive.
This card may suit businesses who don't care about complicated reward systems or travel perks and prefer a simpler cash back system. Examples may include:
Busy entrepreneurs with no time to spend working out the best way to maximize their rewards

Innovative startups with unusual spending needs that don't match up neatly with categories.
---
Best for business travel
There are several strong options available to companies. They offer different travel rewards and are suited to companies of different types. Because of this, here are the top travel-focussed business card and two runner-ups:
Best card for travel: Capital One® Spark® Miles for Business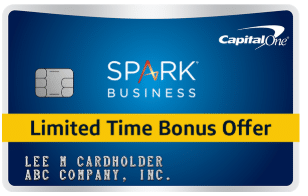 This card is one of five cards in Capital One's Spark collection of business cards and focuses on travel rewards.
Reward type:

Travel miles

Annual fee:

$95

Standard APR:

19.24% variable

Pros:

Unlimited travel miles at the best-in-market 2X rate

A highly competitive introductory offer

No seat restrictions when booking flights with redeemed travel miles

Travel miles from every business purchase, with no restrictive categories

Don't pay the annual fee in the first account anniversary year

Cons:

Other cards have useful travel benefits not available from Capital One, like the Business Platinum® Card from American Express's  Fee Credit for Global Entry ($100) or TSA Pre✔™

Fewer travel partners than American Express
Why small businesses should consider it
This card is ideal for small businesses with a range of expenses in other spending areas but who still spend money on travel, even if it's only a few times per year.
The Spark® Miles card allows businesses to earn unlimited 2X travel miles while purchasing any goods or services they already buy. This means that any purchases made throughout the year can be channeled toward offsetting (or eliminating) the cost of travel, which can be high.
For example, an entrepreneur with a side business like selling clothes on the internet could use a Spark® Miles card to buy a new computer, pay for the eCommerce platform and processing fees, or buy inventory.
Those miles could then be redeemed to cover the cost of a trip to visit a supplier and verify the quality of their products without creating a prohibitive cost.
For a business like this, the Spark® Miles card is better than alternatives because it doesn't, prioritize certain purchase categories, meaning even companies without extremely frequent air travel can still gain top tier travel rewards for when they do.
As a sign-up bonus, small businesses can get up to 200,000 extra miles in the first six months:
50,000 miles after spending $5,000 in the first three months

150,000 miles when they spend $50,000 up to the six-month mark
When added to the regular travel miles earned, that equates to 300,000 travel miles in just six months.
The consensus is that this equals around $4,200, making this a uniquely generous rewards card in the first few months.
First runner up for travel: The Bank of America Business Advantage Travel Rewards World Mastercard® credit card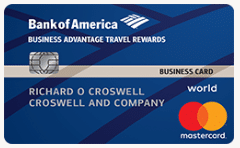 Reward type:

Points

Annual fee:

None

Standard APR:

13.49% to 23.49% variable

Pros:

No annual fee for a card with some of the strongest travel rewards

Generous point earning potential (unlimited)

Earn points on all purchases, but more for travel

Can redeem points as cash back and gift cards for flexibility

Cons:

A lower rate of reward for non-travel purchases than the Spark® Miles card

A more complicated reward structure

The standard APR rate is quite expensive toward the top end
Why this card is great for travel
While it's true that the Spark® Miles card from Capital One has great rewards for everyday purchases, the 1.5X points for non-travel purchases offered with the Business Advantage Travel Rewards World Mastercard® is still impressive.
When the 3X points on travel booked through the Bank of America Travel Center (which works with Expedia) are factored in, this card begins to look significantly more attractive to frequent travelers.
The 3X rate applies to:
Flights

Hotels

Vacation packages

Cruises

Rental cars

Baggage fees
This Bank of America card may suit l businesses with regular spending in a range of areas – such as office supplies, technology costs, and shipping – who travel often but have fairly low overall spending requirements.
Examples of businesses like this include:
Business coaches who travel to meet clients

Professional speakers

Small-scale manufacturers with distributed supply chains who regularly travel to meet suppliers and manage operations
Second runner up for travel: The Business Platinum® Card from American Express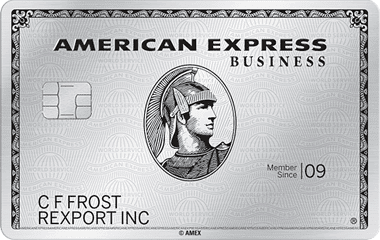 Reward type:

Points

Annual fee:

$450, rising to $595

Standard APR:

None

Pros:

No APR, meaning no interest payments

An extremely full set of travel benefits and perks

A 35% rebate on flights (like cash back, but for points)

A fairly generous sign-up bonus

Cons:

A very high annual fee

Need to pay the balance each month
Why the Amex Business Platinum® Card is a good option for travelers
All the rewards for this card are heavily geared towards encouraging travel.
The Business Platinum® Card is suited to businesses with:
High monthly spending but sufficient cash flow to pay off the card balance every month

Regular and expensive business travel
Businesses with delivering highly-priced one-to-one consulting whose employees regularly travel domestically or internationally to meet with clients might find this card useful because:
Employees and company executives would make use of the travel perks

These businesses can offset the costs of frequent business travel with their accumulated rewards

The lack of foreign transaction fees makes stays abroad are more affordable, though this is a standard feature of most business travel reward cards

The large amounts of revenue from their highly-priced services would allow these types of businesses to pay the monthly balance and comfortably afford the high annual fee